2023 Honda Classic Picks: Our Staff's Favorite Bets
With the Honda Classic just a day away from getting started, we asked our team of golf handicappers for their favorite pick. Let's take a look at their favorite Honda Classic bets for this week.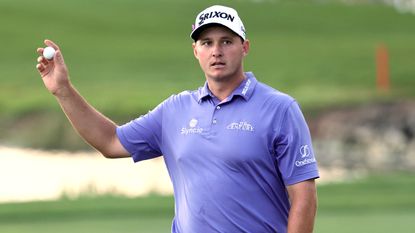 (Image credit: Getty Images)
Last week's Genesis Invitational had an absolutely stacked field, feeling like a major championship at points when you looked at the leaderboard. This week, the Honda Classic has a much different looking field. It is a very logical rest week for the world's best, with the Arnold Palmer Invitational and PLAYERS Championship around the corner. Still, the field will be headlined by defending champion Sepp Straka, Sungjae Im, Shane Lowry, Aaron Wise, and Billy Horschel, amongst others.
But who should we be backing to perform this week? Luckily for us, our team of golf handicappers and experts is here to give us their Honda Classic best bet for the weekend.
Geoff Fienberg, Brian Kirschner, Bradley Todd, Sam Eaton, and Tom Jacobs all look at the Honda Classic and break down their best bet in whichever market they decide. It could be an outright winner, it could be a top-20 finish, or it could even be a top-countryman play.
So, let's take a look at our experts' favorite Honda Classic bets.
Looking for the best betting offers for this week's Honda Classic? Then sign-up using the offers below, for your chance to secure guaranteed money on your favorite PGA Tour golfers. Alternatively, claim one of our HUGE first bet offers which will allow you to increase your stakes stress-free and provide you with an opportunity to win bigger on this event!
Honda Classic Staff Picks
Geoff Fienberg
Off four consecutive cuts made coming into The Honda, An is showing solid form at the moment and has two previous top 5 finishes at this event on his resume. I'm confident in Ben An this week to produce another performance in Palm Beach Gardens. The putter always remain a concern for An, which is the reason I'm not even more bullish on An's consistency and form but PGA National has seen many historically poor putters contend to the very end off the strength of their irons and simply keeping the ball out of a water hazard.
Swipe to scroll horizontally
Ben An Top 20 Odds Comparison

| Sportsbook | Odds | Payout ($100 Wager) |
| --- | --- | --- |
| FanDuel Sportsbook | +240 | $340 |
| DraftKings Sportsbook | +230 | $330 |
| Caesars Sportsbook | +180 | $280 |
| BetMGM Sportsbook | +160 | $260 |
Straight away, we can see the importance of odds comparison, as you can win as much as $340, and as little as $260 when you bet $100 on Ben An to finish in the top 20.
Tom Jacobs
I have gone for SH Kim in the outright market, and or many that may be too ambitious, but a top 20 finish is well with within his grasp at an event that should suit. So far in his rookie season SH Kim has finished inside the top 20 four times, including twice in 2023, at the Sony Open (T12) and the Farmers Insurance Open (T20).
He's already shown he can get himself firmly in the mix with a T4 finish at the Shriners, where he shot 64-66 over the weekend. It was only the brilliance of Tom Kim in the final round that proved an issue for him that week.
Sony form correlates nicely with this course, and I suspect he can go well here, after a solid T33 finish last week at Riviera.
Swipe to scroll horizontally
SH Kim Top 20 Odds Comparison

| Sportsbook | Odds | Payout ($100 Wager) |
| --- | --- | --- |
| Bet365 Sportsbook | +280 | $380 |
| FanDuel Sportsbook | +270 | $370 |
| DraftKings Sportsbook | +230 | $330 |
| Caesars Sportsbook | +230 | $330 |
Once again we see another fine example of why it is key to compare odds before placing top 20 wagers on the Honda Classic. SH Kim is as big as +280 and as short as +230 to finish inside that number. The disparity between rivals, FanDuel and DraftKings is important as both are available in many states.
Sam Eaton
Going for four in a row...This might seem a little bit obvious given he won this event last season, however, the course is perfect for Big Sepp, plus his putting is warm/hot at the minute. He hasn't had the best of runs of late, but showed signs at Sentry of getting his off the tee game back.
For a winner he's being over-looked in the outright market given the strength of the field.
Swipe to scroll horizontally
Sepp Strake Top 20 Odds Comparison

| Sportsbook | Odds | Payout ($100 Wager) |
| --- | --- | --- |
| FanDuel Sportsbook | +270 | $370 |
| DraftKings Sportsbook | +230 | $330 |
| Caesars Sportsbook | +200 | $300 |
| BetMGM Sportsbook | +180 | $280 |
With Sepp Straka's top 20 odds, we can see a huge difference between FanDuel and BetMGM, which leads to a $90 difference in terms of payout, with your $100 wager. Make sure to check these odds before placing this bet.
Brian Kirschner
I am going off the beaten path a little here with my play this week but I think Vegas is great play in all respects this week, especially in the first-round leader market. The 2019 first-round leader at Honda Classic, is hitting the ball great right now and I think he is set to fire a low round Thursday.
Over the past three tournaments, Vegas has gained an average of 6.3 strokes tee to green but has really struggled with the flatstick. However, Vegas has had a lot of success putting at Honda and Bermuda is his best surface.
There is nothing better than a 45/1 sweat on a Thursday and I think Vegas is due for a first-round lead in Palm Beach.
Swipe to scroll horizontally
Jhonattan Vegas First Round Leader Odds Comparison

| Sportsbook | Odds | Payout ($100 Wager) |
| --- | --- | --- |
| DraftKings Sportsbook | +5000 | $5100 |
| FanDuel Sporrsbook | +4800 | $4900 |
| Caesars Sportsbook | +4500 | $4600 |
| BetMGM Sportsbook | +4000 | $4100 |
When comparing Jhonattan Vegas' First Round Leader odds, there is a HUGE $1000 difference when it comes to payouts from DraftKings and BetMGM. Make sure you are checking out the +5000 odds at DraftKings rather than the +4000 odds at BetMGM, for this wager.
Bradley Todd
Kuchar closed with a round of 67 at Riviera last week on his way to an 8th place finish. He hit the ball extremely well tee to green; Ranking 7th OTT, 7th on App and 7th ATG. He was just let down by the flatstick but I'm hoping a return to his preferred bermudagrass greens might just do the trick. Kuchar is a past winner of this event, albeit at a different course. The last time he made an appearance at PGA National was back in 2011. He's played there four times before, making the cut each time, with his best finish of 17th coming on his last visit. He's currently ranked 65th in the world rankings, meaning he's not qualifying for a spot in the Masters. With the major fast approaching, there has got to be some extra motivation for him to play well this week. Kuchar is a nine-time winner on the PGA Tour but hasn't won on there since 2019. I will be backing him in the outright market but I feel the safer bet is for him to finish inside the Top 10 at 3/1. Kuchar has finished in the Top 10 in 2 of his last 4 starts; he's back playing well and stands out as one of the class acts in this field.
Swipe to scroll horizontally
Matt Kuchar Top 10 Odds Comparison

| Sportsbook | Odds | Payout ($100 Wager) |
| --- | --- | --- |
| DraftKings Sportsbook | +300 | $400 |
| Caesars Sportsbook | +300 | $400 |
| FanDuel Sportsbook | +290 | $390 |
| BetMGM Sportsbook | +220 | $320 |
Comparing Matt Kuchar's top 10 odds, we can see a huge $80 difference between the payout at DraftKings and Caesars, compared to BetMGM. Do not settle for less this week, at the Honda Classic.
Andy Lack
While Adam Svensson is coming off a ninth-place finish at the Genesis Invitational, and JT Poston is coming off a missed cut on the number, results can be deceiving. Poston actually struck the ball better than Svensson at Riviera, and he now returns to a course that should suit his game to a tee. To go along with four made cuts in five appearances at PGA National, Poston also possesses a strong resume on water-logged courses emphasizing middle iron player, with high-end finishes at TPC Twin Cities, TPC Sawgrass, and TPC Southwind. I expect Poston to bounce back from a disappointing performance at Riviera and roll easily over Adam Svensson in Florida.
Tom Viera is a Conent Associate with OddsChecker and an experienced sport betting and fantasy analyst. He brings a vast knowledge of all things sports gambling to Golf Monthly's stable of content creators.