Bet365 Promo Code: Bet $1, Get $365 Guaranteed on the Valspar Championship
Claim the Bet365 promo code today, and you will turn $1 into $365 guaranteed on the Valspar Championship.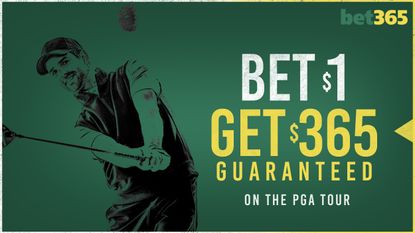 (Image credit: OddsChecker)
The best PGA Tour promotion just got better, as the Bet365 promo code now pays out a $365 guaranteed bonus, from just a $1 PGA Tour wager.

That's right... Last week you were able to bet $1, get $200 guaranteed on The Players Championship, but this week at The Valspar Championship, you can now enhance that guaranteed payout even further, to $365!
You read that correctly... You can now bet $1, get $365 on Justin Thomas, Jordan Spieth, the two-time defending champion, Sam Burns, or any other of your favorite outrights in the Valspar Championship field. Just claim this Bet365 promo code now, and win bigger at this week's PGA Tour event!
With this Bet365 promo code you are effectively boosting your Valspar Championship picks to 365-1, and you are winning no matter what. So if your pick fails to make the cut this weekend, have no fear. You are going to turn $1 into $365 guaranteed on the PGA Tour this week, with Bet365. All that is left to do is CLICK HERE or the "Claim $365 Now" button below, to secure this HUGE win!
You may be reading the above thinking... "This is too good to be true" and you would certainly be forgiven for thinking like that. The good news is, this Bet365 promo code is 100% true, and there are no strings attached. Simply sign-up for a Bet365 account today, and with your first bet, you will bet $1, get $365 guaranteed!
In terms of sportsbooks, Bet365 is arguably one of the best, not just in the United States but worldwide, when it comes to golf betting. They offer a magnitude of markets, where you can back your chosen golfers in a variety of ways, whether that be to win, top 10, lead after round 1, or even make/miss the cut! Claim the Bet365 promo code now, and you can wager $1, and win $365 guaranteed on the Valspar Championship this week.
Follow the steps below to sign up for this jaw-dropping promotion now!
Step One: CLICK HERE or on the 'Claim $365 Now' button below, to unlock your $365 Bet365 promo code
Step Two: Complete your Bet365 registration
Step Three: Deposit $10+ into your new Bet365 account
Step Four: Bet $1 on ANY Valspar Championship market of your choice
You are done! You have no fulfilled the criteria and have secured $365 worth of bonus bets, which will pay out at the conclusion of the Valspar Championship this Sunday.
Win $365 Guaranteed on Any Valspar Championship Market With the Bet365 Promo Code
With this Bet365 promo code your options are limitless, so you could either bet on favorites like Justin Thomas or Jordan Spieth, or you can look further down the betting board at popular outsiders like Adam Hadwin and Davis Riley.

Sam Burns will be going for the three-peat this year, but did he do enough at The Players Championship last week, after a bad run of form, to come into this one with enough confidence?

Boost any of the above golfers to 365-1 with the Bet365 promo code, as you guarantee your returns, by signing up and betting just $1 on this week's PGA Tour action.
Valspar Championship Odds - This Week's Favorites on Bet365
Justin Thomas, despite his poor form, leads the market this week on Bet365 Sportsbook and that makes sense given his talent level compared to the rest of the field. At +1100 will he be making your betting slip this week? Remember with the Bet365 promo code, you can boost this number to +36500!
Jordan Spieth is a former winner of this event (2015) and given he is in better form than Justin Thomas, he may well be the preferred option when looking for someone to bet on after claiming the Bet365 promo code. Jordan Spieth is currently +1200 to win at Bet365 Sportsbook
It doesn't matter whether you back these two leading favorites, England's Matt Fitzpatrick who is +1600, or any other player in the field. Your first $1 bet will simply secure a $365 bonus, no matter what, thanks to the Bet365 promo code!
In addition to hosting the Lost Fore Words golf podcast, Tom Jacobs has been writing betting articles on golf for the past decade. Tom also co-hosts the DP World Tour Picks & Bets show on the Mayo Media Network, and has his finger on the pulse on all the major Tours. A long-suffering Nottingham Forest fan, Tom also enjoys watching Soccer on the weekends!