Bet365 Promo Code: Get +250 Odds on Tiger Woods Making the Cut Plus a $200 Bonus
Bet365 have Super Boosted Tiger Woods to +250 to make the cut at the Genesis Invitational. Read about that and the $200 Bet365 promo code below!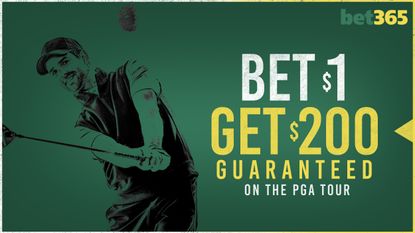 (Image credit: OddsChecker)
This week, Tiger Woods returns to Riviera Country Club, to play the Genesis Invitational. This will be Woods' first start since the 2022 Open Championship, and to mark this occasion, Bet365 Sportsbook have boosted Woods to +250 to make the cut this weekend.

On top of this Bet365 Super Boost, you can now also claim a $200 guaranteed bonus, just for betting $1 on this week's PGA Tour event, thanks to their jaw-dropping Bet365 promo code.

So what are you waiting for? Get involved in the Genesis Invitational this week, with Bet365, as Tiger Woods looks to make the weekend, and cash your +250 tickets!
This offer is incredibly exciting, as it gives you the opportunity to bet on Tiger this week, whilst still tempering expectations on what he can achieve. All you need the great man to do is make the cut, which is something he has done at an incredibly high rate during his career.

Tiger Woods first started playing PGA Tour events in 1992, and since then he has missed just 30 cuts in his career - one missed cut a year isn't bad, right? So if you think he makes another weekend here, claim the +250 Bet365 Super Boost now, and win some money backing the GOAT this weekend.
If you haven't already got a Bet365 account, and are currently unable to take advantage of the offer above, then claim this Bet365 promo code now, and you will unlock a bet $1, get $200 guaranteed bonus!
How to Claim the Bet365 Promo Code
Step One: CLICK HERE or on the "Claim $200 Guaranteed" button below to unlock this Bet365 promo code
Step Two: Complete your Bet365 Sportsbook registration

Step Three: Deposit $10+ into your new account

Step Four: Bet $1 on ANY Genesis Invitational market
Step Five: Claim a $200 guaranteed bonus, even if your first PGA bet loses, thanks to the Bet365 promo code
Tiger Woods Genesis Invitational Record: Will Tiger Make the Cut?
Interestingly, this is one of the courses Tiger Woods has never won at on the PGA Tour, and it is the one he has played the most without a victory. With that said, we are not looking for him to win, he just needs to make the cut, so you can cash your +250 Bet365 Super Boost.

Let's look at Tiger Woods' Genesis Invitational record below:

Starts: 13

Made Cuts: 9

Missed Cuts: 3 (+1 WD)

Top 10's: 5

Best Finish: 2nd (1998, 1999)
As we can see from the above, Woods has largely been successful here, with five top 10's in 13 starts, including two runner-up finishes. He has missed the cut just three times, but one of those did come on his last start here in 2020.

It feels like Woods has taken the necessary time away to get his body right again this time though, and with the +250 Bet365 Super Boost, betting on him to make the weekend seems a much more attractive prospect.

Also, there has never been a better time to get involved with betting PGA Tour golf on Bet365, as you can bet $1, get $200 guaranteed on the Genesis Invitational, with this Bet365 promo code. So even if you are not sure what Tiger can do this week, make sure you are turning $1 into $200 at the event, no matter what.
How to Best Use Your Bet365 Promo Code
The Bet365 promo code is effectively letting you boost any golfer in the field this week to 200-1, as you bet $1, get $200 guaranteed, even if your first bet loses.
So instead of taking single-digit odds about Jon Rahm (+750) or Rory McIlroy (+900) you can effectively get +20000 odds on either of the two best players in the field. That is supreme value, and it gives you the confidence to bet on this weekend's event, without worrying about your stakes.

There is nothing else left to do then, than to pick out your favorite bet for the Genesis Invitational, and then bet $1, get $200 on that golfer, with the Bet365 promo code.
In addition to hosting the Lost Fore Words golf podcast, Tom Jacobs has been writing betting articles on golf for the past decade. Tom also co-hosts the DP World Tour Picks & Bets show on the Mayo Media Network, and has his finger on the pulse on all the major Tours. A long-suffering Nottingham Forest fan, Tom also enjoys watching Soccer on the weekends!