Andy Sullivan on his maiden Masters
We speak to Andy Sullivan ahead of his first Masters about what playing at Augusta means to him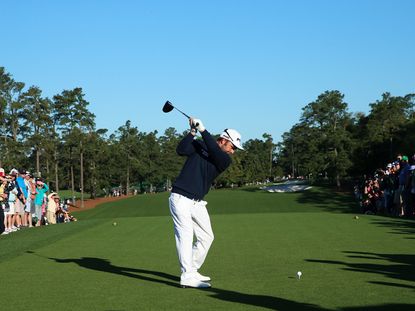 (Image credit: Getty Images)
Golf Monthly Newsletter
Golf tips and expert instruction, golf club reviews and the latest golf equipment.
Thank you for signing up to . You will receive a verification email shortly.
There was a problem. Please refresh the page and try again.
We speak to Andy Sullivan ahead of his first Masters about what playing at Augusta means to him and how he has prepared for the week ahead
Five years ago, Andy Sullivan was working at Asda and watching the Masters on TV with the rest of us. Now, the Nuneaton man is due to tee it up himself at Augusta for the first time. In this exclusive interview, Sullivan offers a candid insight into his early Masters memories, how he intends to lap up the experience and whether he has a chance of donning the coveted Green Jacket himself...
What are your earliest Masters memories? Sitting on the sofa for four days! I'd say, 'I am going to watch The Masters and that's it!' Every year would be the same – it's probably the only golf tournament that I watch apart from the Ryder Cup. I also remember having to go into work the next day [stacking shelves at Asda] and I was on such a downer. You've just had four days of unbelievable golf and then you remember you have work in the morning, that's terrible. It's going to be weird to be there this year. I'm going to record it and watch myself back, I think. That's how much I love watching The Masters!
What about the last few years, when you've been on tour? Yes, 100 per cent. There is no European Tour event that week so 100 per cent I would be at home, sitting on the couch, and mummy would have to run around after Ruby [Andy's two-year-old daughter] that week!
What does it mean now that you are competing at the highest level? Is it just as exciting or a bit more business-like? I'm just a kid in a sweetshop. I can't wait to get there. I might have to go there a couple of days early because I think I'm going to be blown away by the whole aura of the place. I cannot wait to get there, it's going to be an incredible week.
Is there a buzz among the players about it? I've talked to Fitzy about it [Matthew Fitzpatrick] and we are both just massively excited to get there. You watch it on TV and you think, 'wow, I'd love to have the chance.' For me, I never thought I'd have the chance to play it, so to be going there is incredible. I'm just chomping at the bit.
Is it a career milestone? I wouldn't say it's even a milestone, because when I started out on my golfing career, I never thought I was going to get there. Even last year, when I had the chance of getting into the field, I was a bit blown away by the whole thing. It took over how I played because all I could think about was that I could be going to Augusta, and I just forgot to play golf.
Where does it rank among the Majors for you? Because I am British, The Open is the biggest Major for me, but The Masters comes a very close second. I think The Open is probably the one I wanted to play in the most, but from a viewing perspective, The Masters is always the one, so to be going there is a dream come true!
What will your preparation consist of? Hopefully I'll get out there the week before. I think I'm going to try and get in as many practice rounds as I can, just because there's only one guy since 1935 [Fuzzy Zoeller] who's gone there and won it on his debut, so I think that says to me I need to play the course as much as I can.
And the actual week itself, will you go in with the same practice routines? Yes, I think I'm going to do the same things. When the tournament weeks come round, I don't do a lot of practice. I literally do an hour maximum on a Wednesday. So for me, it will just be business as usual. I think the hardest thing will be taking it all in.
Will friends and family travel with you? Yes, I think a few of Sully's Army are going to be out there! The t-shirts [they wore at the DP World Tour Championship] might make another appearance. They are waiting in the wings, desperate to get the call! I'd definitely like to take friends and family. It's something you don't get to experience every day, so I want to try and take as many as I can out there.
What's the ideal in terms of accommodation – staying in a hotel or being in a house with friends? I've never really got an ideal. I am very relaxed when it comes to things like that. They both have benefits. If you stop in a hotel, you have time in your own space to chill out, but in a house, you've got friends and family around so you are always very relaxed. There are pros and cons to both, really, but I'm not fussy either way.
What are your expectations? Win, obviously! [Laughs]. I know it's going to be a big task for me, seeing as there are not many guys who go there and do well on their debut. For me, I feel like I've got a bit more experience in the Majors now, after playing the last three last year, so I feel a lot more comfortable going into it. If I can take the attitude I had in the last six weeks of last season, I'm hopeful that I will have a good week.
What do you mean by attitude? I knew the only person who could stop me playing well was myself, because I was swinging it so well. On the Thursday of Dubai, I remember turning around to my manager and I said to him, "Look, I am the only person who can mess this up this week. As long as I don't get in my own way, I am going to play well." And I played fantastically. If I can take that sort of attitude with me – obviously it would be nice to be going there swinging it well, as well as I did in Dubai – but if I have that attitude, I think I can do pretty well.
When you said getting in your own way, what did you mean? I work on a big thing – acceptance. When I perform my best, I can accept hitting a bad shot and making a mistake. I think when you get in your own way, you can't accept that and then you take it forward on the next few holes. I know it's such a cliche and you hear everyone say 'take one shot at a time', but when you play well and you've got that clarity of vision and thought, that's exactly what you are doing. I can remember doing it the whole week in Portugal and doing it the whole week in Dubai. Just one shot at a time. I thought of nothing else.
What did you learn from last year's USPGA and US Open? There's just a massive aura about the whole thing. Majors are just different from normal tournaments and I approached them in the wrong way. I think I went there and I was far too aggressive at both of them. I was trying to knock the flag out on every hole, which is ridiculous. What helped me settle in to it was that I played practice rounds with Justin Rose at the US Open and Whistling Straits for the PGA. Going round, picking his brain, asking what he does was great. I think I'm better equipped to go to the US in Majors and prepare the way these guys do. To be able to pick the brains of a Major winner was fantastic.
What's been the biggest improvement in your game over the last year? I think my short game in practice has always been as good as it has been recently, I just haven't taken it on the course as much. I suppose I've relaxed and let it come out. I've always had a very good short game, but I think last year I took it onto the golf course more than I had in years gone by. When I've played poorly, my short game has pulled me out of the rubbish quite a few times.
Will you have a special outfit ready for Masters week? I'm sure I will have a few green and yellow outfits out there just for The Masters. My mum matches things up well for me. Everyone thinks I'm joking when I say she sorts my outfits out for me before I go to events. But she actually does, getting them all colour coordinated! I think a little short fat guy like myself pulls it off quite well, you know! I actually quite like wearing the bright colours as it sort of brings out my personality. I'm quite bubbly and bright, so I enjoy wearing the bright colours!
- Andy Sullivan is an ambassador for clothing brand Conte Of Florence.
David joined Golf Monthly in 2015 as a content editor for the magazine and regularly contributes to the website. He has worked in magazine publishing and editing since 2003. He is a keen golfer and up until recently was a member of Blackmoor Golf Club in Hampshire. He has covered various big events and tournaments for GM, the highlight of which was witnessing Tiger Woods win his 15th Major at Augusta in 2019. Email: david.taylor@futurenet.com