East Lothian Golf Guide: Where To Play And Where To Stay
East Lothian's own David Jones, AKA The UK Golf Guy, offers up his expert tips to help you get the most from your time on Scotland's Golf Coast...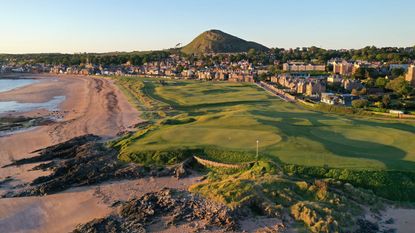 East Lothian's own David Jones, AKA UK Golf Guy, offers up his expert tips to help you get the most from your time on Scotland's Golf Coast...
East Lothian Golf Guide: Where To Play And Where To Stay
In Scotland, you're never far from a golf course.
Some tourists try to chase around the country, ticking off the big name, bucket list courses as quickly as possible.
The problem with that is you will be exhausted when you arrive on every first tee, and you never really get to know an area at all.
Instead, why not consider staying in one place and exploring it in more depth?
I'm a bit biased - I live in Gullane! - but I think East Lothian fits the bill for such a trip perfectly.
It's within an hour's drive of Edinburgh's airport or train station and when you arrive you will be welcomed by a wonderful coastline packed with some of the best links golf in the world.
When to go
East Lothian is one of the sunniest and driest parts of the country, and while it's a brave person who doesn't pack waterproofs just in case, you can get lovely days pretty much any time of the year.
April and May are usually good choices as the golf courses are blooming and are often pretty dry.
Green fees go up quite a lot in the peak summer months so Spring or Autumn usually make for a good value trip.
Where to play
There are so many courses to choose from so you will not be stuck for choice! Here are five of my favourites:
The West Links - North Berwick
If I could play one course every day for the rest of my life it would be the West Links at North Berwick.
I reckon it's almost impossible to play North Berwick without a grin on your face from beginning to end.
The 1st is a mid iron and wedge to a devilish green perched on a cliff top, and it keeps getting better from there!
On many holes you can find yourself hitting from the beach, on others you will need to navigate over ancient walls.
There are more quirks here than you will see on pretty much any other course on the planet but that hasn't stopped it ranking as one of the top 50 in the world.
It's simply a delight.
You finish up with a driveable par-4 but out of bounds and lots of parked cars lie waiting on the right hand side for an errant drive.
An adrenaline fuelled finish if there ever was one!
Dunbar
Dunbar lies about twenty minutes to the east of North Berwick and has quite the golfing pedigree having hosted The Scottish Amateur Open, the British Boys Championship and final Open Qualifying, amongst others.
The course is an absolute treat to play.
It's bounded by the Firth of Forth on one side and a wall on the other.
You won't find a huge amount of rough, instead you have to worry more about a wild shot sailing over the wall or into the water.
It's a fun course but don't be lulled into a false sense of security by the scorecard – when the wind blows you will need your 'A Game' to score well.
Gullane 2
You can take your pick of any of the three Gullane courses when you visit East Lothian, but make sure you fit one in.
All three have magnificent views over to Edinburgh and Fife and provide a proper links test.
The conditioning at Gullane is always immense – you'll be hard pressed to find better greens anywhere in the land.
Gullane 2 is the middle of the three courses in every sense.
Where Gullane 1 can be a bit of a brute at times, and Gullane 3 is a very short course, Gullane 2 has the best of both.
Fun holes, a good test and views to die for!
Musselburgh Links
This is a bit of a wildcard, but a round at the nine hole Musselburgh Old Links would be well worth a stop on your way out of Edinburgh towards Scotland's Golf Coast.
It claims to be the oldest golf course in the world – with records of balls being hit here since the 17th century!
The Open came here in 1874 and was played here six times in those early years.
The place absolutely oozes history and to get the most of your experience you should arrange in advance to hire some hickory clubs so you can play the course as Old Tom would have done all those years ago.
The course is largely unchanged since then and it's a great glimpse of how the game was played when guile and imagination were the order of the day.
Luffness New
As you drive into Gullane from the west it feels like you're in golfing heaven, with courses everywhere you look.
The last course before you reach the village is Luffness.
For many years Luffness was a hard tee time to get, but in recent years they have been far more accommodating of guests.
Expect to get a real 'old Scottish' experience - many of the members here are also members down the road at Muirfield.
It's well worth stopping for lunch, the wine cellar is one of the best you will find at any golf club!
The course is a classic Scottish links.
It may not have quite the quirkiness of North Berwick, or the views of Dunbar but the green complexes are really excellent and there is plenty to keep things interesting.
Like all the courses in this area, the conditioning at Luffness is always fantastic.
Related: 10 best Scottish golf courses under £100
Where to stay, eat and drink?
Golf is part of the DNA of East Lothian and golfers will be welcome everywhere but, for me, there are two options to get the most from your East Lothian trip. North Berwick is a golf town with a good selection of restaurants and pubs to enjoy.
It's an easy drive from all of the courses you'll be playing.
There are many small hotels and bed & breakfast options as well as numerous Airbnbs.
Make sure you choose something close to the town centre so you can walk everywhere easily.
There are plenty of good food options in town.
If you are looking for something relaxed then Herringbone or Zitto would do the trick.
For something a little bit grander, Osteria is well worth a visit
Another good choice of base would be Gullane.
It's a bit smaller than North Berwick but is even more golf obsessed.
You can enjoy food in the wonderful Italian 'Main Course' just opposite the 1st tee at Gullane 1 or have a pint in 'The Old Clubhouse' just next to the children's course!
If you are looking for high end options then there are two to consider here.
The Bonnie Badger is a hotel/pub/restaurant owned by the Edinburgh restaurateur Tom Kitchin.
Greywalls is an East Lothian institution, a hotel with rooms overlooking Muirfield and fine dining courtesy of Albert Roux.
If you are a lover of links golf, and the history of the game, then a pilgrimage to East Lothian is a must.
Wherever you end up staying and playing you are assured of a warm welcome, and a good game!
Read more from David at www.ukgolfguy.com (opens in new tab)
David Jones is a keen golfer from Gullane, East Lothian. He runs the
ukgolfguy.com
(opens in new tab)
website where he shares his experiences of playing some of the best golf courses in the world.