Jack Nicklaus at the USPGA Championship
How Nicklaus equalled Walter Hagen's record wins tally in the USPGA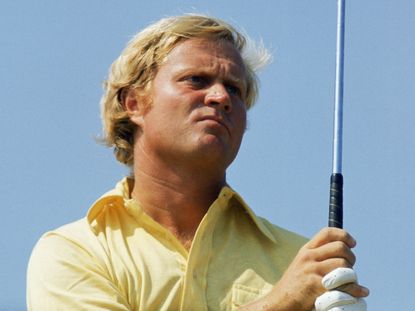 (Image credit: Getty Images)
How Nicklaus equalled Walter Hagen's record wins tally in the USPGA
After his win in1980, the wins tally by Jack Nicklaus at the USPGA Championship equalled the tally of Walter Hagen at the USPGA Championship. Both had recorded five wins in the tournament, the most by any player.
Nicklaus' five wins had all been in strokeplay. Hagen's were all in the matchplay era.
Nicklaus' 1980 victory came after one by him in the US Open a few weeks earlier. It also came after a year in which Nicklaus had suffered the worst season thus far of his professional career, when, at 39 years of age, he had gone through the 1979 season winless.
It was a fine return to form - Nicklaus outclassed the field at that 1980 USPGA Championship by seven strokes, a record for the tournament in its strokeplay manifestation. This victory margin has subsequently been surpassed by Rory McIlory, who eclipsed the rest by eight shots in 2012.
It had not looked that way at halfway, when Nicklaus was a shot behind the leader, Gil Morgan, but Nicklaus shot 66 on the Saturday to go three shots clear.
It was the 17th of Nicklaus' 18 Major titles. His final Major win was to come six years later in the US Masters of 1986.
Nicklaus' first win at the USPGA had come in 1963 at Dallas Athletic Club. Jack Nicklaus had entered the final day in third spot, three shots behind Bruce Crampton. He ended it, having carded three-under 68 in the Texas heat, with temperatures over 100 °F, two strokes ahead of runner-up Dave Ragan.
The savage heat caused problems not only to some of the players out the course but to Nicklaus afterwards at the presentation ceremony. He could hold the metal Wanamaker Trophy only with the aid of a towel.
In 1971 Nicklaus led wire-to-wire for a two-shot victory to complete a second career Grand Slam, having now won each of the four Majors twice. (He was to complete a third Grand Slam in 1978.)
In 1973 he equalled the then record-winning margin of four, set by Dudley Wysong in 1966, after rounds of 72, 68, 68 & 69.
Then in his home state of Ohio, Nicklaus won his fourteenth Major and fourth USPGA Championship. The runner up was against the Australian Bruce Crampton. Crampton was never to win a Major, but was runner up in four of them - all of which were won by Nicklaus.
Contributing Writer Golf courses and travel are Roderick's particular interests and he was contributing editor for the first few years of the Golf Monthly Travel Supplement. He writes travel articles and general features for the magazine, travel supplement and website. He also compiles the magazine's crossword. He is a member of Trevose Golf & Country Club and has played golf in around two dozen countries. Cricket is his other main sporting love. He is the author of five books, four of which are still in print: The Novel Life of PG Wodehouse; The Don: Beyond Boundaries; Wally Hammond: Gentleman & Player and England's Greatest Post-War All Rounder.