Walter Hagen at the USPGA Championship
How the flamboyant Hagen won a record number of USPGA Championships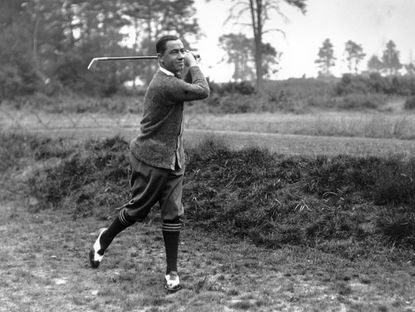 (Image credit: Getty Images)
Golf Monthly Newsletter
Golf tips and expert instruction, golf club reviews and the latest golf equipment.
Thank you for signing up to . You will receive a verification email shortly.
There was a problem. Please refresh the page and try again.
No-one has won more USPGA Championships than the flamboyant Hagen, although his record was later equalled by Jack Nicklaus
The record number of wins in the USPGA is held by two men - Walter Hagen and Jack Nicklaus, with five each.
Walter Hagen won all his five titles when the USPGA Championship was played a matchplay tournament (opens in new tab).
Hagen's first USPGA title came in 1921, in the fourth running of the USPGA. It was Hagen's second appearance in the event, having been a semi-finalist in the inaugural event in 1916.
By then he had already won two Majors - the US Open of 1914 and 1919.
The USPGA field in 1921 was of 32, and the competition was played as a series of 36-hole matches. Hagen made it to the final easily, with victories by 6&4, 6&5, 8&7 and 5&4.
Then in the final he beat the USPGA champion of 1916 and 19119, Jim Barnes, by 3&2, to win the Wanamaker Trophy (opens in new tab).
Hagen did not defend his title the following year preferring to play in exhibition matches. He played in hundreds of these during his career. He was a popular draw not only for the quality of his play, but for his debonair character and dashing appearance for the times with his expensive, brightly coloured tailored outfits.
This sense of priorities may seem an odd decision for someone who wrote in his autobiography that "My game was my business and as a business it demanded constant playing in the championship bracket, for a current title was my selling commodity". But at that period the USPGA was not considered as a 'Major' championship.
In 1923 Hagen lost the 36-hole final to the defending champion, Gene Sarazen, at the second extra hole.
Then in1924 he started a four-year winning run, defeating in the respective finals Jim Barnes, 2 up; Bill Mehlhorn, 6&5; Leo Diegel 5&3 and Joe Turnesa, 1 up.
The winning run came to an end when he fell 2&1 to eventual champion Leo Diegel in the quarter-final of 1928. This brought to end a winning run of 22 consecutive matches by Walter Hagen at the USPGA Championship.
He had lost the trophy literally (opens in new tab) and figuratively. He had. it seems, lost it back in 1925 when, it is said that he paid a cabbie $5 to return the Wannamaker Trophy to his hotel while he stopped off at a nightclub to celebrate
The following year Hagen was again vanquished by Diegel, this time in the semi-final, 3&2.
After that he faded as a force in the tournament. Only once did he even get as far at the last 16, and that was in 1940.