Can we expect a shock Masters winner?
We look at the pointers as to who might triumph this year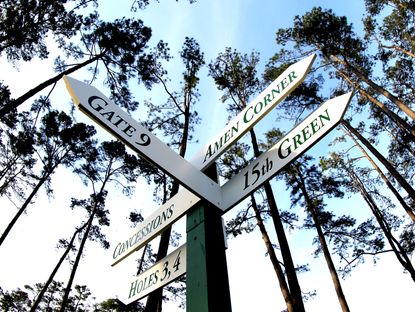 (Image credit: Getty Images)
The US Masters is the only one of golf's Majors to be played over the same course each year. This provides some good pointers as to who might triumph this year
Lowdown:
The US Masters is the first Major of the season and one of the hottest tickets in sport (opens in new tab). Experience of playing the course (opens in new tab) has normally been the key to victory.
Since the first two Masters in 1934 and 1935 only one man has won the Masters on his first appearance there - Fuzzy Zoeller, in 1979. On average, first-time winners have played in the event six times previously.
The last 15 US Masters winners had all made the cut in the previous year's tournament.
Between 1977 and 1987 seven of the US Masters champions were in their 20s when they won. But since then only Tiger - who is a perennial exception to many of golf's stats - Jose Maria Olazabal (1994), Trevor Immelman (2008) and Charl Schwartzel (2011) have won when in their twenties.
It is unlikely that the US Masters champion will come into the tournament other than on the back of some consistent decent form. The past dozen US Masters winners all had at least two top-10 finishes already that year.
So this is not a tournament where the winner comes out of a clear blue sky. The Masters does not normally throw up shock winners such as Todd Hamilton, Ben Curtis or John Daly.
Venue: Augusta National, Augusta, Georgia Date: April 9-12, 2015 Course stats: par 72, 7,435 yards Purse: $9,000,000 Defending Champion: Bubba Watson (-8)
TV Coverage: Thursday 9 – Sky Sports 4 from 7pm Friday 10 – Sky Sports 4 from 7pm Saturday 11 – Sky Sports 4 from 7pm, BBC TV timings to be confirmed Sunday 12 – Sky Sports 4 from 6pm, BBC TV timings to be confirmed
Player Watch Rory McIlroy – Can he do the Majors Grand Slam and add the final bit to that trophy cabinet at Holywood GC (opens in new tab)? Ryder Cup captain Darren Clarke thinks so: "He's going to win there some time, it's only a question of when. That high draw when his swing is on is just perfect around there. He moves the ball both ways, he flights it whatever way he wants, he's got those soaring, high long irons that Tiger hit in his prime." In 2011, McIlroy blew a four-shot lead in shooting the worst round from a final-day leader to lose to Charl Schwartzel, so many may see victory as long overdue.
Bubba Watson – Last year's winner (opens in new tab) also won in 2012 so has the game to succeed here. Was 3rd in the recent WGC-Cadillac. Eight men have won two US Masters within three years, but only Jack Nicklaus has won three out of four (1963, 1965 & 1966).
Lee Westwood – Not many people's tip as a potential winner. But he has an impressive recent US Masters record with a 7th place finish last year and T8, T3, T11 and 2nd in the four years before that. Has top-10 finishes in his two European tournaments this season and then came 12th in the WGC-Cadillac.
Key hole: 11th, White Dogwood. (opens in new tab) This is the start of Amen Corner (opens in new tab) and the hardest hole on the Augusta National course when the pin is on the left of the green, as it tends to be on the first two days.
Skills required: Making greens in regulation. When Bubba Watson finished tied 5th in the GIR stats for last year's tournament, having made 50 of the 72 greens, it was only the third time in the past 11 years that the champion has not been in the top 4 for this stat.
Contributing Writer Golf courses and travel are Roderick's particular interests and he was contributing editor for the first few years of the Golf Monthly Travel Supplement. He writes travel articles and general features for the magazine, travel supplement and website. He also compiles the magazine's crossword. He is a member of Trevose Golf & Country Club and has played golf in around two dozen countries. Cricket is his other main sporting love. He is the author of five books, four of which are still in print: The Novel Life of PG Wodehouse; The Don: Beyond Boundaries; Wally Hammond: Gentleman & Player and England's Greatest Post-War All Rounder.