How to get US Masters tickets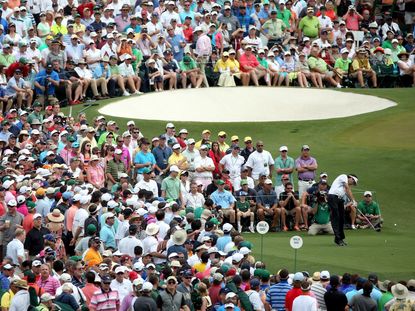 (Image credit: Getty Images for Golfweek)
US Masters tickets are among the hardest to get hold of in spectator sport. But there are ways to get hold of one. You just need a bit of luck or deep pockets.
Tickets to watch the US Masters at Augusta National Golf Club are among the hardest to get hold of in spectator sport. It used not to be the case. Ironically, this is exactly why it is now so hard to purchase tickets.
In its early days the Masters struggled financially and did not attract huge crowds. The organisers had to work hard to woo people to come to it, both media and spectators. Anyone who had bought a ticket previously was entered on a patrons list and were contacted and urged to buy tickets for the next one. This was no more than standard marketing practice. It was only when the Masters became oversubscribed that this patrons' list took on a new significance.
The US Masters began in 1934, but it was 1966 when it had its first 'sell-out' tournament as demand had finally caught up with supply. Demand then began to exceed it and in 1972 the patrons' list was closed and a waiting list for it had to be instituted. This waiting list itself was closed in 1978 due to the numbers already on it. It was briefly re-opened in 2000 but was closed again later that same year.
If you are not lucky enough to be on the patrons' list, here are four other ways to try to get US Masters tickets:
1. From a patron. Patrons are allowed to give their US Masters tickets to family, friends and acquaintances.
2. From a ticket agency. Expect to pay a lot as demand so greatly exceeds supply that a four or five figure dollar sum will be required.
3. From a ticket tout. Ticket touting is legal in Georgia, so long as it occurs more than 500 yards from the event site. However buying US Masters tickets from touts incurs all the usual risks, such as the potential for buying a forgery.
4. By public random lottery. In 1995 Augusta National started making some tickets to practice days available to the general public by way of a random lottery, and in 2012 they extended this process to the competition days. The does not say how many US Masters tickets are available by this method. But at the time club chairman Billy Payne said the number was "significant" but with "hundreds of thousands of requests, it's not a real good chance." The deadline for applications is June 1 of the preceding year, and applications have to be made online (opens in new tab). Those lucky in the random lottery are notified in mid June. Only one application is allowed per household. Although applications can be made for as many days as the applicant wishes, no-one can win tickets for more than one day.
Contributing Writer Golf courses and travel are Roderick's particular interests and he was contributing editor for the first few years of the Golf Monthly Travel Supplement. He writes travel articles and general features for the magazine, travel supplement and website. He also compiles the magazine's crossword. He is a member of Trevose Golf & Country Club and has played golf in around two dozen countries. Cricket is his other main sporting love. He is the author of five books, four of which are still in print: The Novel Life of PG Wodehouse; The Don: Beyond Boundaries; Wally Hammond: Gentleman & Player and England's Greatest Post-War All Rounder.