In Rory's footsteps at Holywood Golf Club
A visit to Holywood Golf Club in County Down gives Roderick Easdale delusions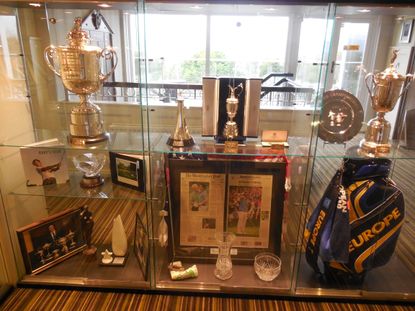 A visit to Holywood Golf Club in County Down gives Roderick Easdale the strange delusion that he is almost as good a golfer as Rory McIlroy
A visit to Holywood Golf Club showed to me that I am almost as good a golfer as Rory McIlroy. Frankly, I have long suspected it, but thus far have lacked any definite proof. Or even any vague proof come to that.
But now I have it.
Rory McIlroy has only won one more club championship than me.
Rory McIlroy has only been his club champion once. It was in 2005, when he was 16. I was a wee bit surprised that he had won this sole time. I said this out loud as I surveyed the honours board.
"He only entered it once," came the laconic response from a member standing behind me.
This member turned out to be one of Rory's uncles, Colin. Colin is himself a past club champion. In fact he is a multiple Holywood club champ.
Another member later told me that Colin also holds the course record at Holywood. I was beginning to wonder if Rory, far from being the World No 1 golfer, was even the best golfer in his own family.
Maybe that is why Rory has donated replicas of his Major trophies, together with his MBE, to the club. To remind them that he can play a bit, too. They are on display in a delightful wee museum in the clubhouse dedicated to the various triumphs of the club's members.
I was taking some photographs in here. "Do you want me to get the key to the cabinet, so you can be photographed holding the trophies - we all have!" asked a passing member at this most welcoming of clubs.
Disappointingly the claret jug replica the R&A give winners is not full-size. The trick, apparently, is to hold it out towards the camera thus skewing perception, making it seem like the real thing.
But the USPGA and US Open trophies are full size. The replica Wanamaker Trophy, the USPGA one, has the lid sealed. Unlike the real thing - as Rory found out so memorably.
People will tell you to that Holywood Golf Club is not even the best course in Holywood. That is Royal Belfast. But Rory brings a star factor to Holywood - which is pronounced as in the place where film stars work in California rather as the letters look.
It's name is because it was a wood deemed to be holy. It was named by the Normans thus as it surrounded the monastery of St Laiseran.
Rory McIlroy remains a member of the club where his father and uncle are both members. His father, too, is a past club champion. Members have joined from as far afield as America and Australia, keen to say that are members of the same golf club as Rory McIlroy. It is not the course than draws them.
The course itself at Holywood is a simple affair. There is nothing grand about the place, though the club has a smart refurbished clubhouse, paid partly for by money from a golf day Rory McIlroy held here.
The front nine curves to and fro across the flatter part of the course. But there is some undulation here, which is utilised to great affect on the par 3 – 4th and 6th, which both descend steeply from the tee, and to a lesser extent the rising par-3 9th.
Then there is the final par 3, the 10th, one of the best holes at Holywood Golf Club. It is played to green defended by bunkers.
The back nine is more interesting and requires some tight shots at times. On the front nine you can wander more freely as if you stray you go onto another fairway. Whereas, for example, on the approach to 12 you end up in barbed-wire protected shrubland if you go right. Or rather, wrong
An advantage of the higher ground are the views over Holywood to Belfast lough. But it was so windy when we played it that when one of our players stopped to play her shot, her trolley overtook her as she played, taken by the wind.
Blown about the course we did wonder about Rory McIlory's famous comment in 2011 when he was blown out of contention in The Open that he would win it when it was better weather. Surely playing here would have given him plenty of experience of playing in the wind? And, whisper, it, rain. After all, it does a rain a fair bit in Ireland.
Get the Golf Monthly Newsletter
Tips on how to play better, latest equipment reviews, interviews with the biggest names and more.
Contributing Writer Golf courses and travel are Roderick's particular interests and he was contributing editor for the first few years of the Golf Monthly Travel Supplement. He writes travel articles and general features for the magazine, travel supplement and website. He also compiles the magazine's crossword. He is a member of Trevose Golf & Country Club and has played golf in around two dozen countries. Cricket is his other main sporting love. He is the author of five books, four of which are still in print: The Novel Life of PG Wodehouse; The Don: Beyond Boundaries; Wally Hammond: Gentleman & Player and England's Greatest Post-War All Rounder.