Ian Woosnam: US Masters champion 1991
Looking back at some of the great contests at Augusta, Bill Elliott speaks to Ian Woosnam about his famous 1991 US Masters win.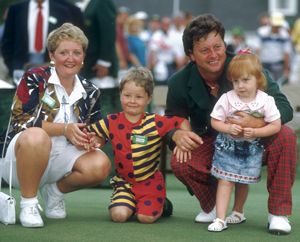 By the time they got to the 18th tee the pair were tied on 11-under, with Olazabal on the same score. Now the nice man sliced his drive into the trees while Ian, pumped up and slightly deranged with all that was happening, unleashed the finest drive I've ever seen given the circumstances, his ball flying – FLYING! – the fairway bunker Sandy Lyle had found a few years earlier and landing 40 yards further up the hill to the left. Ian then managed to hole from eight feet and fist-pumped the Georgia air. Many of us watching immediately forgave him for his choice of red plaid trousers that Sunday.
"I felt okay over that putt because I knew if I missed it I would still be in a play-off. It wasn't exactly a shot to nothing, but it was a bit easier to cope with."
By the time his British press conference took place that evening it was midnight. He had enjoyed – perhaps endured – dinner at the club. Invited to choose the wine he unerringly plumped for a bottle of 1975 Mouton Rothschild. Meanwhile, back at the Holiday Inn, I was ordering another Jack Daniels and ginger. The outcome was that we were both in a similar state by the time we met up for the interviews.
Apparently I asked the longest, most rambling and incoherent question ever. The only person who seemed to understand it was Ian, who then gave the longest, most rambling and incoherent answer ever. Neither of us cared much. "They were good days weren't they. Seems like yesterday but, sadly, it ain't."
Perhaps as well that this is the way it is. Certainly Ian feels that he would now struggle with the modern golf tours and the modern golf pro. "I suppose when I look back I could have dedicated myself a bit more to the game but, hell, I worked hard enough and I wanted to enjoy myself as well. I've had a few pints of Guinness along the way and I've been pretty successful.
Bill has been part of the Golf Monthly woodwork for many years. A very respected Golf Journalist he has attended over 40 Open Championships. Bill was the Observer's golf correspondent. He spent 26 years as a sports writer for Express Newspapers and is a former Magazine Sportswriter of the Year. After 40 years on 'Fleet Street' starting with the Daily Express and finishing on The Observer and Guardian in 2010. Now semi-retired but still Editor at Large of Golf Monthly Magazine and regular broadcaster for BBC and Sky. Author of several golf-related books and a former chairman of the Association of Golf Writers. Experienced after dinner speaker.