Ian Woosnam: From 'farmer' to US Masters winner
Looking back at some of the great contests at Augusta, Bill Elliott speaks to Ian Woosnam about his famous 1991 US Masters win.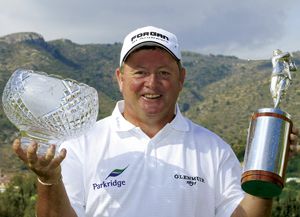 "Being 5ft 4ins wouldn't help me these days that's for sure. Now it seems like you've got to be around 6ft tall and exceptionally fit. Me, I'd be asking where is this Gym Pub then that everyone's going to?" He laughs again as he reflects on the journey he has made from the Welsh borders to where he is now. Some trip.
Not long after Woosnam had learnt how to toddle he was learning how to milk cows, how to stack bales of hay and then how to drive a tractor. Power steering was not available back then and it was this tractor that he admits created the enormous forearm and upper-body strength that made up for his lack of height when it eventually came to whacking the sweet bejesus out of a golf ball.
It also meant that when Woosie hit someone they tended to stay hit. Sooner rather than later the school toughs were writing letters applying to join Ian's gang. His dad, Harold, duly noted his son's pugilistic predilection and, while hoping that he had sired the next Welsh light-middleweight sensation, he settled in the end for a holiday-camp hero instead.
This occurred because the family breaks tended to be taken at Butlins at Pwllheli, where, in the 1970s, children's boxing matches were organised. "You're on holiday son," his dad would say, "so go and enjoy yourself – hit someone." Anyway, Harold entered Ian into the competition each year and regularly the tyro battered his way to victory and so secured a free family holiday for the next season. Then it was back to the cowshed. By this time his own sporting preference was for golf, the game he found when age forced his dad to turn from amateur football to the joys of Llanymynech Golf Club (opens in new tab), a borders course that has 15 holes in Wales and three in England.
He will tell you now that the farming community is a wonderful one, but he will tell you also that buying a ticket out of that cowshed was his inspiration as a professional golfer. First, though, he had to earn his player's card for the European Tour. This was not easy. Three times he won it and three times he then lost it.
Bill has been part of the Golf Monthly woodwork for many years. A very respected Golf Journalist he has attended over 40 Open Championships. Bill was the Observer's golf correspondent. He spent 26 years as a sports writer for Express Newspapers and is a former Magazine Sportswriter of the Year. After 40 years on 'Fleet Street' starting with the Daily Express and finishing on The Observer and Guardian in 2010. Now semi-retired but still Editor at Large of Golf Monthly Magazine and regular broadcaster for BBC and Sky. Author of several golf-related books and a former chairman of the Association of Golf Writers. Experienced after dinner speaker.