Bill Elliott: Masters preview
Golf Monthly's editor at large previews the 2012 US Masters at Augusta National in Georgia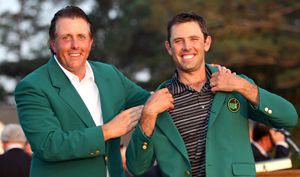 One of the great beauties of golf is also one of the old game's most irritating drawbacks. This is called time. It is not so much the time it takes to play - although heaven knows it often takes too much of the stuff to get round 18 holes - but the time golf allows for a man to think and to fret as opposed to the amount of time it takes to actually hit the ball.
The act of physically playing the game never adds up to more than a few minutes compared to the average four hours spent walking and thinking and double-crossing oneself. Meanwhile, in the professional game they somehow manage to stretch time so that everything takes longer.
Sometimes I wonder if I have enough life left in me to spend so many aching hours watching some of these guys fiddle around. And then the prospect of the Masters pops up and suddenly all is good again... or at least much better.
The season so far has not been without real interest but this year's Augusta carnival promises so much more. Indeed I cannot remember a more eagerly anticipated week in Georgia. Rory McIlroy will be back where it all went so dramatically wrong for him, but he'll be a definite contender again. Hell, he's probably going into Augusta as the number one ranked golfer. His title-clinching performance at the Honda Classic despite a genuinely classic last round from Tiger Woods was, shall we say, quite impressive. Lee Westwood and Luke Donald get another chance for one of them to reel in the Major that so irritatingly remains absent from their otherwise stunning curriculum vitaes. Phil Mickelson seems to be the correct side of happy with himself again, while Woods is still caught somewhere in between terminal frustration and eternal optimism.
How each of them performs remains to be seen and it's possible that this elite group will be turned over by one of the lesser names as happened last year when Charl Schwartzel won courtesy of an unrivalled four birdies over the last four holes. This incredible run was duly acknowledged at the time but not that much, the majority of writers and commentators preferring to focus on McIlroy's collapse rather than the South African's elevation. This was a fact I asked Charl about when we chatted recently. Quiet and considered as well as polite and understated, Schwartzel never has been afforded the proper acclaim his golf deserves. Impressively, he remains largely unconcerned. "It's not something I think too much about. Yes, a lot of guys concentrated on Rory but I still shot 66, so he would have had to shoot 69 to beat me. People don't seem to look at that."
This is a fair point. What also is a fair point is the intense preparation Charl put into the two months before the 2011 Masters. "Every week, wherever I was, I found the fastest putt on the practice green - usually a downhill putt - and practised forever. The biggest thing you actually learn is to make a small stroke at the ball and to be comfortable with that. All week I was comfortable making small strokes on those Augusta greens."
Of course, this small stroke stuff used to be the copyrighted prerequisite of Woods' Masters game, but while he has regained most of his old A-game, his putting stroke is no longer a thing of rare beauty. I have never seen a better putter than Tiger. It always has been the standout reason he has all those Majors.
Yet while the recent Accenture Match Play offered only a patchy guide to pre-Masters form there is no running away from the fact that Woods putted terribly by the stellar standard he set so brilliantly over more than a decade of high endeavour. Consider this: during his second round defeat in Arizona he missed eight putts from 15ft or less. The old Tiger would have been annoyed at missing more than one of those. Still, to dismiss him as a relevant player going into this Masters would be the far and loopy side of daft. Nowhere suits him more than Augusta, nowhere offers him more inspiration, while nothing over the last few years has offered him more legitimate reason to feel good than those 18 bravado-fuelled holes on Sunday at the Honda. This surely was a significant step forward and one he can now take with him into Augusta, a place he adores.
After all, it was in this corner of Georgia that he first established himself when he won in 1997, a slim, smiley, wide-eyed boy in the joyful epicentre of a man's world. Since then he has only finished outside the top five on five occasions, won three more times and has never missed the cut (as a pro), his worst finish coming in 2004 when he tied for 22nd. This, even analysed by a distracted toddler, is some record. Cut however you wish, the stats suggest he is still the man to beat. Certainly my own money is on him. The other big deal here is that a win for Tiger would be the best result for the game, setting up the rest of the year wonderfully with more sub-plots than even the average John le Carre novel. If there is such a thing as an average le Carre novel.
Bill has been part of the Golf Monthly woodwork for many years. A very respected Golf Journalist he has attended over 40 Open Championships. Bill was the Observer's golf correspondent. He spent 26 years as a sports writer for Express Newspapers and is a former Magazine Sportswriter of the Year. After 40 years on 'Fleet Street' starting with the Daily Express and finishing on The Observer and Guardian in 2010. Now semi-retired but still Editor at Large of Golf Monthly Magazine and regular broadcaster for BBC and Sky. Author of several golf-related books and a former chairman of the Association of Golf Writers. Experienced after dinner speaker.