The Best Masters Quotes
Some of the best quotes about Augusta National and The Masters.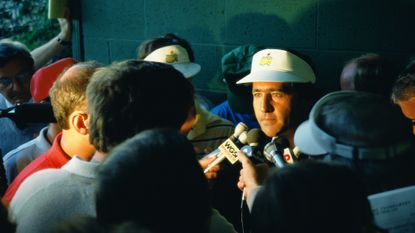 (Image credit: Getty Images)
The Best Masters Quotes
We take a look at some of the most poignant, memorable and amusing quotes about Augusta National and The Masters. From the players who have left Magnolia Lane with a Green Jacket to the players who have left with the odd demon or two.
It is easy to get lost in hyperbole when talking about Augusta and The Masters and the world's best are as liable to get lost in their praise of the 'National' as much as we do.
Bobby Jones, Augusta National co-founder
'I shall never forget my first visit to the property which is now Augusta National. The long lane of magnolias through which we approached was beautiful. The old manor house was charming. The rare trees and shrubs of the old nursery were enchanting. But when I walked out on the grass terrace under the big trees behind the house and looked down over the property, the experience was unforgettable. It seemed the land had been lying there for years just waiting for someone to lay a golf course upon it.'
Byron Nelson, two-time Masters champion
'The prestige one gets from winning The Masters is very great indeed. As for the beauty, the course stands far superior to anything I have ever played.'
Seve Ballesteros, two-time Masters champion
'I miss, I miss, I miss, I make.' (On his four-putt from 15 feet at the 16th in 1988)
Chi-Chi Rodriguez, 14-time Masters competitor
'The first time I played The Masters, I was so nervous I drank a bottle of rum before I teed off. I shot the happiest 83 of my life.'
Gary Player, three-time Masters champion
'I always said that if they have a golf course like this in heaven, I want to be the head pro. Every shot is within a fraction of disaster – that's what makes it so great.'
Jack Nicklaus, six-time Masters champion
'The Masters isn't just another tournament. It is something really special. I get as much excitement driving down Magnolia Lane now as I did 40 years ago.'
Fuzzy Zoeller, 1979 Masters champion
'I've never been to heaven and thinking back on my life, I probably won't get the chance to go. I guess winning The Masters is as close as I'm going to get.'
Rory McIlroy, 13-time competitor
'I felt like crying (on the 13th tee in 2011). Up to that point, I'd been optimistic. Even after what happened at 10, I was thinking there were a lot of chances coming in. But 13 took all that away.'
Arnold Palmer, four-time Masters champion
'Like the course itself, change at Augusta National takes the shape of a steady and quiet evolution, but the overall effect is one of gracious permanence that always makes coming here feel a little like coming home.'
Roberto De Vicenzo, 15-time Masters competitor
'What a stupid I am.' (On signing for a par at 17 instead of a birdie and missing out on an 18-hole play-off with Bob Goalby in 1968)
Nick Faldo, three-time Masters champion
'This is The Masters. It's got the beauty, it's got the colour, it's got the sound and it's got the breezes. Everything together makes this place special. The course is perfection and it asks perfection.'
Phil Mickelson, three-time Masters champion
'The winner of this tournament doesn't just win a major, he becomes part of the history of the game, and that's what excites me. This tournament creates something that is very special, and year in, year out, history is made here.'
Sam Snead, three-time Masters champion
'I hope I'll never get too old to want to take part in this event, and I don't think I will ever age that much.'
Johnny Miller, 19-time Masters competitor
On the 15th hole I started thinking how I'd look in the Green Jacket, the next thing I know, they're giving it to Charley Coody.' (On the 1971 Masters)
Ben Hogan, two-time Masters champion
'If The Masters offered no money at all, I would be here trying just as hard.'
Horton Smith, two-time Masters champion
'Augusta National has character, individuality and personality. It is one of the few courses that really presents two games on almost every hole; a game to reach the greens and another to figure out the ever-changing contours after reaching the greens.'
Tom Weiskopf, 16-time Masters competitor
'If I knew what was going through Jack Nicklaus' head, I would have won The Masters.'
Tiger Woods, five-time Masters champion
'Everyone knows what The Masters is, even if you're a non-golfer. People know what Wimbledon is. They know what the Super Bowl is. There are certain events that people just know about.'
Mac O' Grady, three-time Masters competitor
'This is where God hangs out.'
Mark has worked in golf for over 20 years having started off his journalistic life at the Press Association and BBC Sport before moving to Sky Sports where he became their golf editor on skysports.com. He then worked at National Club Golfer and Lady Golfer where he was the deputy editor and he has interviewed many of the leading names in the game, both male and female, ghosted columns for the likes of Robert Rock, Charley Hull and Dame Laura Davies, as well as playing the vast majority of our Top 100 GB&I courses. He loves links golf with a particular love of Royal Dornoch and Kingsbarns. He is now a freelance, also working for the PGA and Robert Rock. Loves tour golf, both men and women and he remains the long-standing owner of an horrific short game. He plays at Moortown with a handicap of 6.