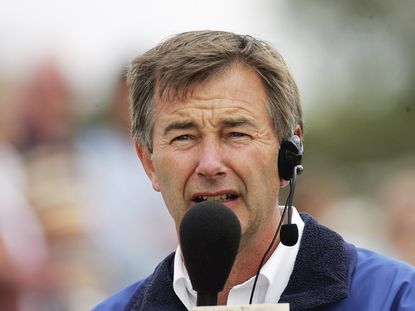 In this article we ask the question who is Ken Brown? He is one of the lead commentators for the BBC but what is his background in golf. Jezz Ellwood takes a look.
Ken Brown – he of 'Ken on the Course' fame - has been playing out his amusing little cameos to highlight the challenges and intricacies of the world's greatest golf holes like at the US Masters for so long now that it's easy to forget he once trod those same fairways and greens himself as a fine player. So it is worth asking who is Ken Brown?
Indeed, the now 60-year-old Scot wasn't even out of his teens when he played his maiden full season on tour in 1976, before making the first of five Ryder Cup appearances the very next year.
Over the following decade and a bit, he enjoyed considerable success not only in Europe, where he won four times, but also out in America on the PGA Tour. He played there for six years from 1984 to 1989, winning once and racking up a decent number of top tens long before it was fashionable or, indeed, easy for Europeans to ply their trade out in the States.
Then it was over all too soon, with Brown making his final European Tour appearance at the 1993 Carrolls Irish Open, the event that had given him his first victory 15 years earlier. This time, he shot 79, 79 to finish T139th, and that was that. Brown hung up his clubs, and looked for something else to while away the hours at the modest age of 36.
Here, as we ask who is Ken Brown? - we look back, with Ken on his early years in the game, his American adventure, his early retirement and how his second career as a TV pundit came about…
How did your career in golf start?
When I left school, first of all I was a greenkeeper for six months at my home club of Harpenden Common - I worked in the morning and golfed in the afternoon. After six months, there was a job advertised at Verulam Golf Club for an assistant professional and I thought, 'Let's go for it!' I got the job at £10 per week in 1974, and just did what an assistant club professional does.
How did you end up on tour so quickly?
You had to do two years as an assistant before you could try to pre-qualify for tournaments, and that was my aim. I played and practised and after about 12 months I'd done quite well in the local Alliance, I'd won the Herts Pros and I was the Southern Assistants Champion. Alex Hay, who was on the board of the PGA, said, 'Would you like to have go on the circuit?' I ummed and aahed and thought, 'That's what I'm hoping to do at some stage,' so I said yes. They gave me three tournaments to play in 1975, and if I did okay they were going to say I was fine for the next year. I made the cut here and there, got my card for 1976 and finished in the Top 60, so that was me exempt for the following season. The next year I was in the Ryder Cup team! I went from assistant to Ryder Cup player in about two and a half years.
Did you think you had the ability to do that?
I had no concept that that was a possibility. I just hoped I was perhaps good enough to pre-qualify for a few tournaments.
What was the tour like in those days?
It started in April and finished at the World Matchplay in early October. A big tournament had a £30,000 total purse, so if you weren't in the Top 10 or so you weren't really making a living. It was like a sort of travelling family really. You went to the continent – Portugal, Spain, Italy – but most tournaments were in Britain and you could drive to them, so it was a very different affair.
When did your first win come?
In the 1978 Irish Open at Portmarnock - I was 21. Seve had posted an early 65 and that was the score to beat. It was a proper man's course, Portmarnock, so for me to win there in those days – it would have had probably the second strongest field after The Open – was a real boost to the confidence. I'd moved to another level. By that stage I knew I was competitive but I wasn't expecting to win, particularly on a course like that.
How did you end up going to America?
Mark James said he was going to go and get his card for America. I'd just finished playing in the 1983 Ryder Cup and hadn't really thought about it, but I said, 'I'll come with you.' IMG entered us, but at the last minute, he didn't go. I thought, 'I might as well go.' In those days, the fact you'd played in three Ryder Cups didn't count for tuppeny ha'penny, and it was very tough to get in. I had to do an initial qualifier at a course called Bear Creek in Dallas, and got through that. The next one was a few weeks later at TPC Sawgrass and it was six rounds there to get through. I got the 20th card.
How did you find it out there?
I hardly got into any tournaments to start with in 1984 as you needed the early cards. Then they had a reshuffle and I went from 20th to 47th. I thought, 'I'm not going to get any starts,' so I made a decision that I wasn't going back to America unless I was in two tournaments in a row as it was just too far to go backwards and forwards. But after the US Open, it opened up a little and I started to get into a few tournaments, make some cuts and feel a little more comfortable. The last tournament – the Pensacola – I had to finish 1st or 2nd to keep my card. I should have won, but I finished 2nd. That was the last tournament of the year, and all the work in the end paid off.
How long did you stay over there?
I played from 1984 to 1989, but in my endeavour to play the Ryder Cup in 1989 I got caught between there and Europe. That was the turn of my career. I should have carried on in America as it was so hard to get your foot through the door. I was playing a few over here and a few over there and in the end I got caught between the devil and the deep blue sea. I didn't come close to making the Ryder Cup team, and didn't play 15 tournaments in America, so I got a letter from Deane Beman saying, 'You're the same as Seve. If you don't play 15 tournaments, you can't play here next year.' That was America written off and I was in no man's land in Europe as well. I got a bit of a wrist injury; I had a young family – all sorts of little bits, none of which should have stopped me from doing it if I wanted to carry on - but it all came together and I thought, 'I'm not doing it'.
What happened next?
I'd been involved in designing a couple of courses locally and that's where I thought I was going to head. I really enjoyed it. I'd gone through the PGA course at The Belfry too with all the 20-year-old assistants, and that's one thing I could have done. I actually really enjoyed that too. Just as I was going to have to make a commitment, Sky took on the American golf at the end of 1992. A chap called John Davies, who was head of golf at the time, said, 'Would you be interested in doing some studio stuff?' So I sat in the studio with David Livingstone and we started doing the Sky golf. With great honesty, we were pretty crap and probably wouldn't have survived the Sky of now. But we learnt the trade going through the business, and that's when it started.
How did Ken on the Course evolve?
From quite humble beginnings. Once Sky started sending on-course reporters to the Majors, there were a lot of American adverts and bits and pieces to fill. At one stage, we were doing them live at the Majors, which was really quite exciting. No-one knew what I was going to do. I had a good cameraman called Brian, and we used to say, 'When they need the next one, we'll do x and y,' and off I went with whatever was going on. I've got it all in my head – I've no idea what I'm going to say, but I know what I'm going to show.
How has the BBC's move away from golf affected you?
It's disappointing. Personally, it's a shame not to go to some of these events, but the real shame is that the person at home doesn't get to watch events that they used to see. But it's an expensive thing to put on - the BBC hasn't got an endless supply of money and something gets dropped.
Who is Ken Brown? 5 Career Highs
When asking who is Ken Brown? - Here are the top moments from Brown's tour career, which spanned 18 years from 1976 to 1993…
1977 Ryder Cup
With seven top tens in just his second full season on tour, Brown played his way into a Ryder Cup debut at Lytham at 20 years of age.
1978 Carrolls Irish Open
In his third full year on tour, Brown shot rounds of 70, 71, 70, 70 at Portmarnock to fend off Seve and local favourite, John O'Leary, to claim his first tour title.
1983 Ryder Cup
The most successful of Brown's five Ryder Cup appearances yielded two points from four, Brown paired up with Brian Waites to win his Friday fourball before taking down Ray Floyd 4&3 in the singles.
1984 Glasgow Open
Rounds of 63, 65, 67, 71 saw Brown destroy the field at Haggs Castle, claiming the third of four European Tour titles by a massive 11 strokes from countryman, Sam Torrance.
1987 Southern Open
The week after the Ryder Cup, Brown enjoyed the pinnacle of his PGA Tour career, shooting four rounds in the 60s to win the Southern Open by seven strokes at Green Island Country Club in Georgia.
In his current role, Neil is responsible for testing drivers and golf balls. Having been a part of the Golf Monthly team for over 15 years and playing off a handicap of 3, he has the experience to compare performance between models, brands and generations. For 2022 he thinks the main trend in drivers is: "In a word, consistency. Whilst all the brands are talking about ball speed (and the new drivers are certainly long), my biggest finding has been how much more consistent the ball flights are. Mishits don't seem to be causing the same level of drop-off or increase in the spin numbers. This means that more shots seem to be flying the way you want them to!" As far as golf balls are concerned the biggest development is in the, "three piece, non-Tour, urethane-covered section. For regular golfers, these models offer superb performance at both ends of the bag without denting your wallet quite as much as the premium Tour-played options."
Originally working with the best coaches in the UK to produce instruction content, he is now the brand's Digital Editor and covers everything from Tour player interviews to gear reviews. In his time at Golf Monthly, he has covered equipment launches that date back well over a decade. He clearly remembers the launch of the Callaway and Nike square drivers as well as the white TaylorMade driver families, such as the RocketBallz! If you take a look at the Golf Monthly YouTube channel, you'll see his equipment videos dating back over a decade! He has also conducted 'What's In The Bag' interviews with many of the game's best players like Rory McIlroy, Dustin Johnson and Jon Rahm. Over the years, Neil has tested a vast array of products in each category and at drastically different price-points.

Neil is currently playing: Driver: TaylorMade Stealth Plus Fairway Wood: Titleist TSR2 Hybrid: Titleist TS3 Irons (4-9): Mizuno JPX 919 Forged Wedges: Titleist Vokey SM7 46˚, 50˚, 54˚, 60˚ Putter: Odyssey Triple Track Ten Ball: Titleist Pro V1X