Greg Norman's 1996 Masters Collapse
It was one of the darkest days in Major championship history as Greg Norman surrendered a six-shot lead at the 1996 Masters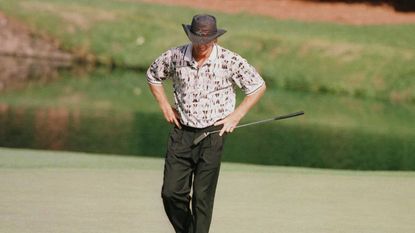 (Image credit: Getty Images)
Greg Norman's 1996 Masters Collapse
To Greg Norman's eternal irritation, he is perhaps best remembered for his consistency in letting an advantage slip, rather than the 90 titles he won worldwide.
On no fewer than nine occasions did the towering Australian hold the lead going into the final round of a Major. But for all his bite and tenacity, the Great White Shark became all too brittle and erratic when there was any sniff of an opening for his rivals.
Only once did Norman's Saturday supremacy see him over the finishing line in one of the 'big four' – at the 1986 Open. But during that same year, he would surrender third-round leads in all three of the other Majors - at Augusta National he was charged down by a relentless Jack Nicklaus, Raymond Floyd smothered hopes at the US Open and a miraculous bunker shot from Bob Tway thwarted victory at the PGA Championship.
However, he was still regarded as the man to beat. There was also the accepted wisdom that his shortcomings were often the result of his opponents' skill being sprinkled with a savage dose of bad luck on his part.
But then on April 14 1996, the golfing world witnessed perhaps the most notorious Sunday crumble in Major championship history when the-then 41-year-old blew a six-shot lead to Nick Faldo at Augusta National.
Just as Sports Illustrated's Rick Reilly had commented: "Where there is a Sunday lead for Norman, there are always Sunday banana peels."
COLLISION COURSE
Coming into the 1996 Masters, Nick Faldo and Greg Norman had endured contrasting fortunes. The Englishman's much-publicised split from his wife Gill early in the year had become a tabloid soap opera when news broke of his relationship with 20-year-old Arizona golf student, Brenna Cepelak.
Norman, meanwhile, had won three times on the PGA Tour that season. The Great White Shark still reigned dominantly at the top of the Official World Ranking.
SETTLING A DEBT
After firing opening rounds of 63 and 69 – the first of which equalled the course record – Norman held a four-shot lead over Faldo going into Saturday. Faldo had endured an uncomfortable Thursday and Friday walking the fairways of Augusta with John Daly, who had out-driven the Englishman by up to 100 yards.
Despite this, a Friday 67 was enough to set up a third round duel with Norman, whose workmanlike 71 on the third day extended his lead to six shots. With Phil Mickelson a further shot back, there was little to suggest anything more than a gentle push was on the cards for the final 18 holes.
WAKE-UP CALL
Worryingly for the meticulous Faldo, he would turn up at Augusta half an hour late for his final round. Norman, by then, was firmly into his pre-match routine, and claimed to be "totally in control" when the two players stood on Augusta's opening par 4, Tea Olive.
But a snap hook into the trees resulted in a bogey. Faldo was impassively efficient, making par, birdie, par, par over the opening four holes.
Greg Norman: "My distance control was off. At Augusta, if you are not putting the ball within a four-foot radius of where you want to be, then you are going to run into trouble."
Nick Faldo: "I could feel the nervousness emanating from Greg. He gripped and regripped the club, as though he could not steel himself to hit the ball."
CHIPPING AWAY
It wasn't long before uncomfortable mutterings turned to genuine fear. Faldo birdied the 6th before drilling in a 20-footer on the 8th. Norman was now only three-up. The Australian fidgeting intensely, taking an age over routine approaches.
Then, from the 10th to the 12th, matters would deteriorate to the extent where a four-shot swing would see Faldo take control.
Heavy with an uphill chip on the 10th, Norman was unable to hole the ten-footer for par. Another bogey. One-shot lead. Then at the par-4 11th, he reached the green in regulation before shaving the lip with a 12-foot birdie effort. Even worse, the returning three-footer also stayed out. Bogey. The lead was now gone.
Greg Norman: "The turning point was on the 11th. I came close to making birdie and then I missed a short putt and made bogey. That was when the trouble really started to hit."
Nick Faldo: "Once I realised Greg was in trouble, then I was just getting harder – just doing everything a little better."
GOLDEN BELL
Despite his outstanding play in the first three rounds, Norman had flirted with danger at the par-3 12th: on Friday his ball missed the green and rested on the bank; on Saturday it slid into Rae's Creek.
After Faldo had left his tee shot to the left of the pin, Norman watched in horror as his 7-iron ran up short, gripped for a second and then gently slid back into the water. Double bogey. Faldo two-up.
Dale Concannon, Nick Faldo, Driven: "Watching the drama unfold, Faldo, like everyone else, could not believe what had happened over the last two holes."
ON HIS KNEES
After making birdie at 13 (which Faldo also did), Norman looked to be settling. In somewhat of a sympathy vote, the Augusta galleries were now firmly rooting for the victim of the carnage.
They had seen enough. No more so on the 15th, where Norman's chip for eagle glided past the hole when it had looked in all the way. As Norman collapsed to the ground, the groans from the crowd only served to emphasise that the final hope had gone.
Greg Norman: "The tide was really against me at that point. I thought it was in all the way. If that goes in, there is hope.
THAT'S CURTAINS
With Faldo still two-up at the par-3 16th, Norman's final nail came when he hooked into the water short and left. Double bogey. Faldo led by four.
Two holes later, the Englishman would close with a final birdie for a 67. From six behind he had won his third Green Jacket by a now emphatic five strokes.
Nick Faldo: "I feel for him [Norman] because he is a great guy. I was trying to enjoy it, trying to stay positive, but I do feel sorry for Greg."
Greg Norman: "I screwed up. It was my fault. Nick played great, give him all the credit; his precision and ball striking were fantastic.
Alex began his journalism career in regional newspapers in 2001 and moved to the Press Association four years later. He spent three years working at Dennis Publishing before first joining Golf Monthly, where he was on the staff from 2008 to 2015 as the brand's managing editor, overseeing the day-to-day running of our award-winning magazine while also contributing across various digital platforms. A specialist in news and feature content, he has interviewed many of the world's top golfers and returns to Golf Monthly after a three-year stint working on the Daily Telegraph's sports desk. His current role is diverse as he undertakes a number of duties, from managing creative solutions campaigns in both digital and print to writing long-form features for the magazine. Alex has enjoyed a life-long passion for golf and currently plays to a handicap of 13 at Tylney Park Golf Club in Hampshire.