Are these the best golf photos ever?
Legendary photographer Dave Cannon selects his most memorable golf photos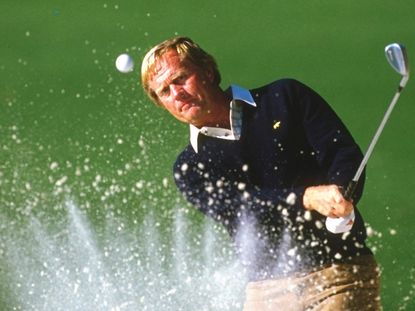 (Image credit: Dave Cannon, Getty Images)
Dave Cannon selects some of his most memorable golf photos. Each of these fabulous pictures has a story behind it and Dave tells them in his own words.
Fergus Bisset caught up with legendary sports and golf photographer Dave Cannon to talk through some of the most incredible pictures he's taken over the last 30 years. Here are Dave's most memorable snaps described in his own words:
1 Seve Ballesteros playing his second shot to the 15th hole during the second round of the Open Championship, Lytham 1988.
This is my favourite "action" shot of Seve who was my ultimate sporting hero. The moment I captured was so special because it caught Seve in full flow, ripping a long iron into the wind. The light was glorious and the best news of all was he had no hat on so you can really see his passion for the game and the absolute determination that's etched on his face.
Seve was the most charismatic and photogenic golfer I've photographed during my career and that's why I have multiple shots of him in this selection. It was just the pure joy he brought to the game. I played with him in a pro-am at the Leicestershire Golf Club in 1976, just before he came second in the Open. He could barely speak a word of English then, but you could just see it in his eye, in his smile.
2 Seve's final putt in the Open Championship, St Andrews 1984.
I remember being so excited and nervous as Seve lined up his putt. Luckily I had an inkling so loaded a fresh roll of 36 exposures and fired away the moment the ball approached the hole. As soon as he knew it was in, he let out this roar of joy like a matador at the kill. He stood there for a number of seconds just holding the pose and then he began punching the air. My camera, running at five frames per second, only had seven seconds of supply and I used every frame, but I got two totally iconic shots of Seve. I guess these might well be the most famous photos taken of the great man and I'm very proud of that.
3 Seve at home on the beach in Pedrena, Northern Spain.
This is my favourite portrait of Seve. He's crouching beside a hole made with a tin can and a flag made with a stick and a piece of cloth. He was demonstrating what he used to do back in the early 1970's when he was a young boy learning the game. I cannot explain the joy he took in showing this to journalist Richard Simmons and me. But I hope people can see it in his eyes as I so clearly do every time I look at this picture.
4 Two shots of Jack Nicklaus at the 1986 Masters. Firstly playing a shot from the practice bunker.
I only started golf photography in the early 1980's so I'd missed all Jack's Major wins, until the 1986 Masters. This shot displays how luck is so much part of my job. It was late on the Tuesday afternoon and Jack was in the practice bunker. He probably played 10 shots, but particular one had everything. To this day, in all the thousands of bunker shots I've snapped, I've never matched the symmetry of the sand in this picture – the best bunker shot I've ever taken.
Then later in the week:
Nicklaus stormed through the back nine and faced a putt for another birdie on the 17th hole. Almost at the same moment Seve, who I was following, was about to play his second to the 15th.
By luck, the right side of the 15th is next to the approach to the 17th green and I could see Jack was lining up his putt.
Being tall I can often get a picture others can't and my height served me well here. I made the decision to abandon Seve and watch Nicklaus putt. I squeezed into a position at the back of the huge gallery and held up my 400mm lens. It was very heavy and not easy to keep steady but luckily, I avoided the hands and arms that went aloft in front of me and caught this iconic image of Jack holing that magical putt and lofting his huge-headed putter.
It was a great decision to leave Seve, as he hit his second shot at the 15th into the water and effectively handed Jack his final Major.
5 Colin Montgomerie, 17th hole Irish Open Pro-Am, Druids Glen 1996.
This was a hilarious exchange between the big man and me. I'd spotted the lake beside the 17th green had a hidden dam with just an inch or so of water covering it. I thought it would be a great idea to get a picture the European Number 1 "walking on water," an effect I could achieve from a point by the 18th tee. So, as he approached the green, I asked him. "No no David, I don't think so," he said. "But Colin, I could make it look like you're walking on water." "No no David, I'm sorry I cannot possibly do that, no no no!" So I walked away with my tail between my legs. But I just felt I'd sown a seed so I waited in position. I saw him prowling around the lake so I knew I had a chance. Sure enough he just picked his ball out of the hole and headed straight for the dam. Eureka! One of many great moments with Colin.
6 Greg Norman – Johnnie Walker Classic, Singapore 1996.
It was the Friday night of the tournament and I was in my room when the phone rang – "Hello David, Greg here." My initial reaction was, 'Help what I have I done to upset him!'
"I just thought I'd let you know I'm riding to the course tomorrow morning, leaving at eight. You can use my courtesy car if you want and maybe get some snaps".
Greg had always been one of my favourite players to photograph so this was a great opportunity and I jumped at the chance and I got a brilliant exclusive of Greg. It cost me a few prints but I will always be grateful to Greg for thinking of me.
7 Jean Van De Velde – The Open Championship, Carnoustie 1999.
One of the saddest collapses in modern day golf, but somehow Jean managed to squeeze out a smile at the height of his misery whilst effectively losing the championship.
It was one of the craziest moments at the Open in many ways. In 1999 we were at the height of "Tiger Mania" and there were much tighter controls on photographers. We were all crammed in our pen at the back of the green when we saw Jean approaching the burn and beginning to take his shoes and socks off. It only took one of our breed to break the fence and the stampede had begun. I still recall the shrieks from an R&A official at the back of the green: "Stop them. Bloody stop them." No chance sir!
To be fair I also remember the words of Sir Michael Bonallack, then secretary of the R&A, in a post Championship de-brief – "I totally understand, you had to get that image. It was one of the great Open moments!"
8 Sergio Garcia and Michael Jordan in the pro-am for the Dunhill Cup at St Andrews in 1999.
This was on the Tuesday as a preview for the Dunhill Cup where a number of celebrities played in the pro-am.
The fun started on the first green where Garcia faced a six foot putt for birdie and just as he putted a loud cough from Michael Jordan was heard as the putt lipped out. They all laughed, but the competitive instincts of Garcia and Jordan were clear to see.
I followed this group all the way around and, after a while, I was the only photographer left. On the 13th tee I overheard great laughter and joking as Garcia and Jordan were discussing who could run faster! "You want a race boy?" Jordan asked.
Nothing happened but I decided to get myself ahead of the group just in case. Then, looking back down the 15th hole, I saw the start of a "race." I quickly climbed up one of the mounds beside the fairway and snapped away as Garcia kept the charging Jordan at bay.
Working for Getty Images we had the best back up team and a processing lab in the back of our van at the media centre. I literally ran the mile back and handed over the roll. Within no time the pictures were processed and pinging around the world.
The next morning was brilliant because I knew it was exclusive to me and Getty Images and many of the UK papers ran them across the back pages. As Michael Jordan was such a global star they transcended the sports pages and appeared in magazines and newspapers across the globe.
9 Tiger Woods Burj Al Arab Hotel before the Dubai Desert Classic 2002.
This has to be my best golf PR shoot. As a preview for the 2002 Desert Classic I had to photograph Tiger Woods firing balls from the helipad of this iconic hotel. The pictures effectively only work as a combination of two images: one to show the scale of the hotel and then another to show who is hitting. I understand this was the single largest PR hit for images that whole year with literally thousands of usages within 24 hours. So we had: a very happy photographer, a very happy office at Getty, a very happy Jumeirah hotel group, and a very happy tournament at the Dubai Desert Classic!
10 Ernie Els
I first met Ernie in 1989 at his home in South Africa. I was there on a hunch and a tip-off from his manager Sam Feldman. We've remained friends ever since and last year, when he wrestled the Claret Jug from the fingertips of Adam Scott, was one of the best moments of my career.
Definitely a great moment, but I want to include three images of Ernie who I admire as a person and as a supreme golfer. I've chosen the moment from Lytham – a remote image of his final putt; a cracking shot from Bay Hill last year when he extricated his ball from a muddy bank at the 17th hole; then the funny moment when I accidentally caught Ricci Roberts his long term bag man with a lion's head at the USPGA in 2009. I can't decide on the best one and, because I am so proud to be his friend, he gets three pictures!
...
David Cannon has been at the forefront of sports and golf photography for over 30 years. He's photographed almost 100 Majors and no less than 32 Open Championships. Many of the most iconic golfing images over the last few decades have come from his camera.
He's seen great champions come and go; he's captured them in triumph and failure. David is a legend in his profession and few people involved in the game have witnessed so many of the sport's defining moments first hand.
"Many of my favourites have come at the Open," he says. "Seve winning in both 1984 and 1988 will always stand out. But Justin Rose holing his pitch on the 18th at Birkdale in 1998 was perhaps the loudest and longest roar I've ever heard on a golf course. Then, what might have been with Tom Watson in 2009? I can remember going back the next morning to tidy up and just thinking, 'why am I here.' Stewart Cink is a lovely guy but that was about as depressing as it gets."
Golf photographers these days must be steely and thick-skinned. Despite their importance to the success of the professional game, players whose wealth the photographers help to generate sometimes treat them with impatience. The photographers are corralled and closely controlled, too often viewed as a menace rather than a valuable asset.
As such, you might expect the photographers to be equally intolerant. If you take David as an example, this is most certainly not the case. When I met him I encountered an extremely calm, considered and softly spoken man. David is quietly philosophical about the difficulties the modern golf photographer faces.
"Yes, we were certainly more appreciated in the early days of my career. Now we seem to be pariahs," he says. "The Tiger-factor has made it very difficult. We're restricted in where we can go and one click can set a player off. Sometimes they can be a touch unreasonable."
In his youth, David was an excellent golfer and for a time he held ambitions to make a career as a player.
"I was good at all sports as a teenager but I chose golf at 16, much to the cricket master's disgust," he chuckles. "I was down to scratch by 18 and, at that time, scratch really meant something. I got straight into all the big amateur events and my best finish was a fifth place in the British youths at Downfield. But I got the quick hooks, the yips with the driver. Every now and then I'd hit this shot that went 80 yards forward and 80 yards left. I can remember in the County Championship in Leicestershire, the first hole at Willesley Park. You've got about 90 yards to go down an avenue of trees. It looked like the eye of a needle to me and I couldn't think of any way I'd be able to get off that tee. It was a horrible feeling." Fortunately, David had another career in its embryonic stages that would allow him to experience golf at the highest level.
"I had a girlfriend who was very pretty, we played together in the Central England mixed foursomes and reached the final," he says. "I took some photos of her with my sister's Zenit, an awful thing it was, but the shots were pretty good and were used by the local paper. I was sent a fiver in the post and that started it for me." He got work photographing games at Leicester City football club and Leicester Tigers rugby club. Moving into golf was a natural progression.
"My first golfing assignment was a practice round at Lytham in 1979. I photographed Seve, Tom Weiskopf and Tony Jacklin. I was in heaven."
From the early 1980s, David has been a constant presence at the Open Championship and numerous other significant golfing events. He's a consummate professional, respected by players and officials. His photographs have illustrated the story of our sport over the last 30 years, and have revealed things about the greats of the game that TV footage has missed. Often only a still image can capture that moment of pure elation, agony of determination.
"I reckon there are three golfers who, through my 30 year career, I could say before heading out that I was going to get a memorable picture of – Seve, Greg Norman and Tiger Woods," David says.
"Tiger just makes pictures, his character on the golf course is rather mean but that looks great. With Seve it was passion, the pure joy of winning and Norman was, and is, just a striking figure."
Fergus is a golf obsessive and 1-handicapper. Growing up in the North East of Scotland, golf runs through his veins and his passion for the sport was bolstered during his time at St Andrews university studying history. He went on to earn a post graduate diploma from the London School of Journalism. Fergus has worked for Golf Monthly since 2004 and has written two books on the game; "Great Golf Debates" together with Jezz Ellwood of Golf Monthly and "The Ultimate Golf Book" together with Neil Tappin (also of Golf Monthly)... Fergus once shanked a ball from just over Granny Clark's Wynd on the 18th of the Old Course that struck the St Andrews Golf Club and rebounded into the Valley of Sin, from where he saved par. Who says there's no golfing god?