Final day of The Open: quotes
What they all said after Zach Johnson's victory at The Open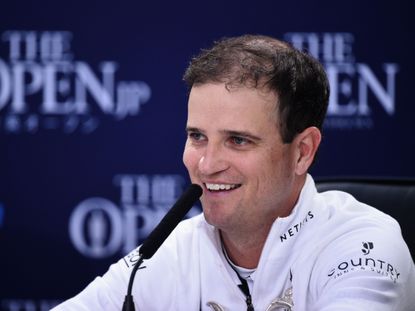 (Image credit: Stuart Franklin)
The major players of the final day's action reflect on Zach Johnson's victory
I was reading bits of scripture to myself, things like Psalm 24, Verse 7. I've been reading them all week. I thank God for the talent he has given me and I take it seriously. Zach Johnson
I am just a guy from Iowa and to have a Green Jacket and the Claret Jug is unbelievable. But it won't define who I am. It will not be my legacy, my wife and kids are my legacy. Zach Johnson
I won't beat myself up too bad because I have certainly closed plenty of tournaments out, and this just wasn't one of those, It's hard to do that every single time. Jordan Spieth on failing to make it three Major wins in a row (opens in new tab) this year.
I don't know how many guys have done three Majors in a year. I'm sure there's only been a few. So that would be the next goal as far as the history goes. Sights set on the PGA Championship. Jordan Spieth
It kind of just rattled me a little bit, I didn't really know where they came from and I just never settled in after it. I don't think there are many positives to put on a 78 in a final round but I'm sure there's still stuff I can learn from it that'll be positive going forward and help me in the future. Paul Dunne reflects on a calamitous start which put him out of the running for both the Claret Jug and then also the Silver Medal (opens in new tab)
I think he knew it would come down to a play-off. I knew he always had it in him. I kind of felt this was going to be his week, I can't believe it. Kim Barclay on husband Zach Johnson
I always had the number 16 in my head. I thought if I could get to 16-under you would be in a play-off or you might win it and I should have got there! Louis Oosthuizen, who just needed one more putt to have fallen
I was very confident. In a play-off you find a little bit of adrenalin, I felt I had that. But I didn't take advantage of that. Louis Oosthuizen
Wow. Almost. Nothing quite like The Open at St Andrews. Very proud of a role model and friend of mine, Zach Johnson. Spieth tweets
Peter made a light-hearted comment which was inappropriate and we apologise if anyone was offended. Spokesman for the criticised BBC (opens in new tab) reacting to the furore after Peter Alliss had commentated on Zach Johnson's wife watching a crucial putt with:"She is probably thinking if this goes in I get a new kitchen."
Lift up your heads, O ye gates; and be ye lift up, ye everlasting doors; and the King of glory shall come in. Psalm 24, Verse 7
Contributing Writer Golf courses and travel are Roderick's particular interests and he was contributing editor for the first few years of the Golf Monthly Travel Supplement. He writes travel articles and general features for the magazine, travel supplement and website. He also compiles the magazine's crossword. He is a member of Trevose Golf & Country Club and has played golf in around two dozen countries. Cricket is his other main sporting love. He is the author of five books, four of which are still in print: The Novel Life of PG Wodehouse; The Don: Beyond Boundaries; Wally Hammond: Gentleman & Player and England's Greatest Post-War All Rounder.