'You Can't Drive From Saudi To Chicago' - Spieth's LIV Golf Dig After Buying RV
Jordan Spieth will drive around the USA to PGA Tour tournaments in an RV with his family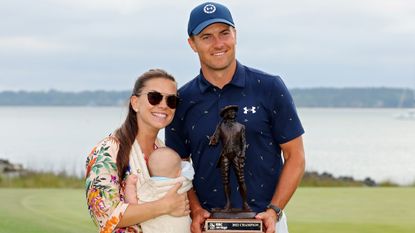 (Image credit: Getty Images)
Jordan Spieth couldn't resist a little dig at the departed LIV Golf players even when just talking about his new plan of travelling around PGA Tour events in an RV with his family.
With California and Florida swings and with a new baby, the Spieth family will be travelling around to events in a big supersized campervan – which will include having the same type of mattress at home and plenty of toys for his son Sammy.
Spieth seemed genuinely excited about the prospect of touring around, or 'glamping' as he called it at one stage, while he also said he'd take a turn in the driver's seat but only on an open stretch of road given how big the vehicle will be to handle.
The highlight though was when Spieth was talking about how many other PGA Tour stars also had RVs, and how a few had become available on the market after those players joined LIV Golf.
"I was by myself there [at the CJ Cup] so I had tons of room, and we didn't load it up yet," Spieth said.
"We had just got it in. Yeah, it'll be fun. There's a number - at one point, I think there was a dozen guys, four of them went to LIV and sold theirs because they don't really have the whole swings.
"It's hard to go Saudi to Chicago in a two-week stretch in an RV. I think that had a lot to do with it. But I don't know."
Spieth was looking forward to testing the new 'rig' out shortly when back from Hawaii – and it could come in especially handy at the Waste Management Phoenix Open, as that tournament is being played the same week as the Super Bowl so hotel prices have gone through the roof.
"Just glamping, you know," Spieth said. "Slumming it. Should be a lot of fun. The reason was kind of to have home on the road. Got the same mattress I have at home, and we'll leave a lot of Sammy's stuff on the bus, therefore won't to have pack a whole lot and can ride on it a lot in between events given the way the West Coast swing - and especially the Florida swing.
"Should make traveling and getting settled and packing up quite a bit easier. Yeah, look forward to it. I've already stayed in it once.
"I haven't driven it. I plan on driving it on an open-road stretch at some point when it's not pulling out of Phoenix and not into LA, but maybe switch and do like an hour just because it would be fun. We have a driver, yeah, a guy who has done it for some other guys."
Paul Higham is a sports journalist with over 20 years of experience in covering most major sporting events for both Sky Sports and BBC Sport. He is currently freelance and covers the golf majors on the BBC Sport website. Highlights over the years include covering that epic Monday finish in the Ryder Cup at Celtic Manor and watching Rory McIlroy produce one of the most dominant Major wins at the 2011 US Open at Congressional. He also writes betting previews and still feels strangely proud of backing Danny Willett when he won the Masters in 2016 - Willett also praised his putting stroke during a media event before the Open at Hoylake. Favourite interviews he's conducted have been with McIlroy, Paul McGinley, Thomas Bjorn, Rickie Fowler and the enigma that is Victor Dubuisson. A big fan of watching any golf from any tour, sadly he spends more time writing about golf than playing these days with two young children, and as a big fair weather golfer claims playing in shorts is worth at least five shots. Being from Liverpool he loves the likes of Hoylake, Birkdale and the stretch of tracks along England's Golf Coast, but would say his favourite courses played are Kingsbarns and Portrush.