Westwood Rubbishes Any Chance Of LIV Golf v PGA Tour Ryder Cup-Style Match
Lee Westwood told Liverpool FC legend Robbie Fowler that there is no chance of a LIV Golf v PGA Tour match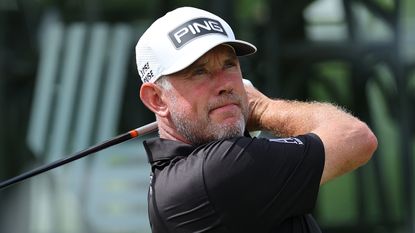 (Image credit: Getty Images)
Lee Westwood has rubbished any possibility of there being a Ryder Cup-style event between the PGA Tour and LIV Golf.
In an unusual turn of events, Westwood was asked the question by Liverpool FC legend Robbie Fowler on social media.
Fowler wrote: "could we see a Ryder cup style competition with @livgolf_league taking on the @PGATOUR? You'd get a few watching that".
It's a suggestion that has been mooted a lot ever since LIV Golf started, and there's no doubt that if it was somehow to happen then it'd be one of the most viewed golfing events on record.
There's more chance of you making a comeback and signing for Man Utd Rob! 😂😂March 24, 2023
See more
However, 49-year-old Westwood poured the coldest of cold water on the topic, with his response to liken a LIV Golf v PGA Tour Ryder Cup event to 47-year-old Liverpudlian Fowler putting his boots back on to play for arch-rivals Man Utd.
"There's more chance of you making a comeback and signing for Man Utd Rob!" said Westwood in response to Fowler's question.
Most suggestions for the would-be event have Phil Mickelson and Tiger Woods as the two team captains, with the top 12 players in LIV Golf going up against the top 12 remaining on the PGA Tour.
Mickelson obviously couldn't resist having a dig when the idea was first floated – posting on Twitter that: "It sounds great, but we would dominate them so soundly and it would be over so quick that TV would have to fill an hour of dead time. That's why it's not happening at this time."
Mickelson added that Woods could use a cart for the event, while adding a bit more trash talk in an attempt to try and drum up publicity for an event.
With legal proceedings between the two factions still ongoing, don't bank on LIV and the PGA Tour working on any joint projects any time soon, though, although golf fans do find it a fun exercise to speculate.
You could have former friends Rory McIlroy and Sergio Garcia going head-to-head as a marquee grudge match, but with the likes of Patrick Reed, Bryson DeChambeau and even Pat Perez, there would be plenty of LIV players who would be targets for their PGA Tour counterparts.
It's all pie in the sky for now though, with even Westwood, who has been a critic of the PGA Tour and DP World Tour along with Ian Poulter since moving to LIV, just dismissing the thought out of hand.
Paul Higham is a sports journalist with over 20 years of experience in covering most major sporting events for both Sky Sports and BBC Sport. He is currently freelance and covers the golf majors on the BBC Sport website. Highlights over the years include covering that epic Monday finish in the Ryder Cup at Celtic Manor and watching Rory McIlroy produce one of the most dominant Major wins at the 2011 US Open at Congressional. He also writes betting previews and still feels strangely proud of backing Danny Willett when he won the Masters in 2016 - Willett also praised his putting stroke during a media event before the Open at Hoylake. Favourite interviews he's conducted have been with McIlroy, Paul McGinley, Thomas Bjorn, Rickie Fowler and the enigma that is Victor Dubuisson. A big fan of watching any golf from any tour, sadly he spends more time writing about golf than playing these days with two young children, and as a big fair weather golfer claims playing in shorts is worth at least five shots. Being from Liverpool he loves the likes of Hoylake, Birkdale and the stretch of tracks along England's Golf Coast, but would say his favourite courses played are Kingsbarns and Portrush.