Jim Furyk On Ryder Cup Defeat: "It'll Always Bother Me"
The losing Ryder Cup Captain stands by his decision to split Jordan Spieth and Patrick Reed up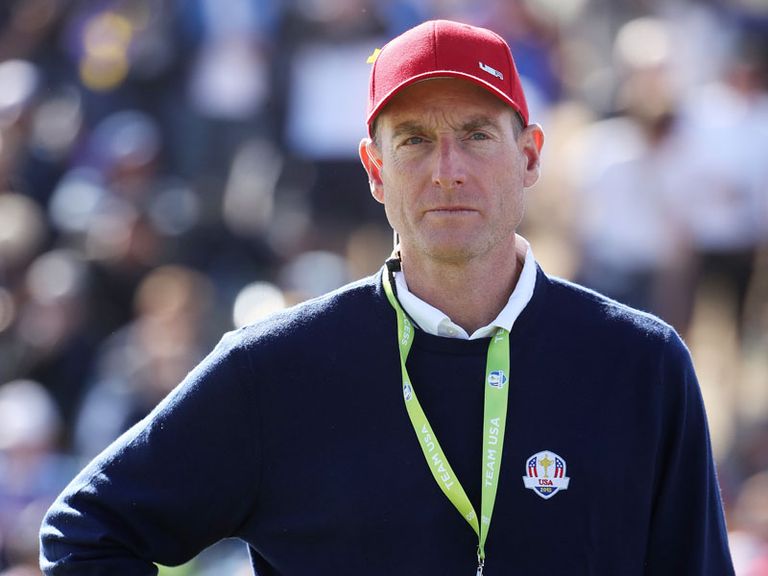 (Image credit: Getty Images)
The losing Ryder Cup Captain stands by his decision to split Jordan Spieth and Patrick Reed up
Jim Furyk On Ryder Cup Defeat: "It'll Always Bother Me"
It has been over a week since the Ryder Cup ended and there has been plenty of fallout from the defeated USA side who comprehensively lost 17.5 to 10.5 at Le Golf National.
Some USA Ryder Cup players and former players have spoken out about the defeat, but up until now Captain Jim Furyk has remained silent.
However, he has now had his say in an interview with the Golf Channel's Tim Rosaforte, where he admitted the defeat will always bother him.
"It's been tough," he said.
"I was the leader of that team, and it didn't go the way we wanted. It'll always bother me."
Furyk has been questioned for picking Phil Mickelson, both as a wildcard and in foursomes only, on a golf course with tight fairways and thick rough.
Related: Mickelson calls Le Golf National rough "almost unplayable"
He has also been criticised for separating the pairing of Jordan Spieth and Patrick Reed who were so influential for the Americans in the past two Ryder Cups.
Furyk said in the interview that he stands by his decision and the reason for their split was because Tiger Woods needed a partner.
"When I started looking at who [Tiger] would pair well with, I kept coming back to Patrick Reed," Furyk said.
Reed told the New York Times that he wished to play with Jordan Spieth again, with Tiger Woods his second choice.
The Masters champion said that Spieth didn't want to play with him.
Related: Patrick Reed: 'Jordan Spieth didn't want to play with me'
"There was always the idea that we could go Tiger and JT, and Patrick and Jordan, but ultimately they knew going into the week, weeks in advance, they knew they would start the Ryder Cup with Patrick and Tiger being partners," Furyk said.
In the end, that decision didn't quite work out for him.
The pairings of Spieth/Thomas and Woods/Reed won three points from six matches, with Woods/Reed picking up no points.
Furyk acknowledged that his decisions would be analysed and now that the dust has settled, some of his decisions look fairly poor now:
Mickelson in foursomes was a bad choice and picking him at all now looks questionable. Perhaps Xander Schauffele, Kevin Kisner or Brandt Snedeker may have faired better in Paris.
Spieth and Reed probably should have stayed together and Justin Thomas could have played with Rickie Fowler, continuing their impressive Presidents Cup team.
Reed, so influential in the previous two matches, could have been used in all five sessions rather than just three.
However, does it all come down to the fact that the Americans simply didn't play well enough and were nowhere near as good as the Europeans? Perhaps.
Would Furyk choose a different team next time? No.
"I'd take those 12 players into the fire any day, on any course. And I still would," he said.
Expand Ryder Cup Player Ratings
The Ryder Cup player ratings are in! We…
Expand Patrick Reed: 'Spieth Didn't Want To Play With Me'
Patrick Reed: 'Spieth Didn't Want To Play With Me'
Reed gave an interview with the New York…
Expand Phil Mickelson Calls Le Golf National "Almost Unplayable"
Phil Mickelson Calls Le Golf National "Almost Unplayable"
Lefty was unhappy at the setup of the…
Expand Team USA need to take the Ryder Cup more seriously to break their European jinx
Team USA need to take the Ryder Cup more seriously to break their European jinx
If there is one sporting event guaranteed to…
For all the latest golf news, check the Golf Monthly website and follow our social media channels