Coming to America
The Race to Dubai battle between Luke Donald and Rory McIlroy may be shaping up nicely but Golf Monthly's editor at large, Bill Elliott, is refusing to blow too many trumpets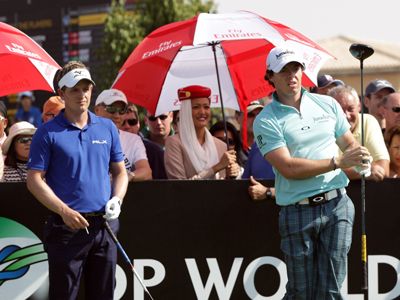 Has there been a greater contrast in sport, never mind golf, this year than the battle this weekend between Luke Donald and Rory McIlroy for the right to call themselves European number one? If there has, then I can't think of it.
Donald, self-possessed, self-critical, some might say a bit dull versus McIlroy, mercurial, occasionally outspoken, always gung-ho is a classic rivalry that promises much over the coming weekend in Dubai.
The Ulster golfer's victory last week to set up an unexpected shoot-out for the Race to Dubai's big prize has offered an unexpected bonus to a season that finally, surely, oh please, is heading towards what we in the trade call, a climax.
But while all this is fine there are a couple of things in the background that prevent me blowing too many trumpets about all this. The biggest of these things is the United States of America. Old Glory might be heading towards its own sunset as China and India expand and export but the US of A is still the big banana where most golfers are concerned.
Dubai World Championship Race to Dubai pictures
No matter how much the European Tour does to up the ante, sooner or later world class golfers tend to gravitate towards America. Donald, of course, already lives in Chicago while McIlroy is moving into Florida as he prepares to take up residency in 2012.
The reasons are obvious and principal amongst these is the fact it is easier to move around a single country than to navigate the rest of the world. The money is a bit better but it is the ease of life, relatively anyway, that is attracting the best of the rest.
It must be galling for European boss George O'Grady that the more he encourages a tour that is rich and tempting, the more he offers a cradle for improving talent, the more likely this talent is to to head west.
Galling also for him to know that whoever triumphs in the desert this weekend, the ultimate winner will be his opposite number on the US circuit, Tim Finchem. Sometimes life just isn't fair.
See also:
Golf opinion from Bill Elliott
Bill has been part of the Golf Monthly woodwork for many years. A very respected Golf Journalist he has attended over 40 Open Championships. Bill was the Observer's golf correspondent. He spent 26 years as a sports writer for Express Newspapers and is a former Magazine Sportswriter of the Year. After 40 years on 'Fleet Street' starting with the Daily Express and finishing on The Observer and Guardian in 2010. Now semi-retired but still Editor at Large of Golf Monthly Magazine and regular broadcaster for BBC and Sky. Author of several golf-related books and a former chairman of the Association of Golf Writers. Experienced after dinner speaker.