Serena Williams And Tony Romo Feature In Caddyshack Inspired Super Bowl Advert
Michelob Ultra have created a star-studded advert for the Super Bowl commercial season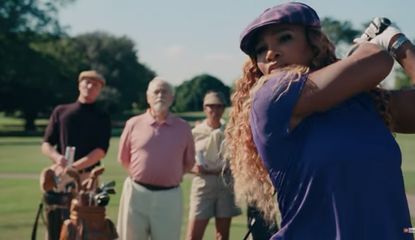 (Image credit: YouTube: @MichelobUltra)
USA beer brand, Michelob Ultra, has brought the world of sports and celebrities together in a new advert that offers a collaboration of earth's greatest sports people and a red carpet star.
The advert will hit US screens during the annual Super Bowl commercial season and Michelob Ultra will be hoping they can become an historic addition to the list of other popular commercials with their team of sports stars and… Brian Cox (not the physicist).
Serena Williams, Canelo Alvarez, Tony Romo and Alex Morgan will star in the advert alongside the award winning actor - uniting all golf, tennis, boxing, NFL and soccer fans in what is almost guaranteed to be interesting viewing.
Williams, Alvarez, Romo and Morgan are no strangers to golf and have all had some involvement within the game at some point. Tiger Woods and Rory McIlroy named Williams, Romo and Morgan as big-name investors (opens in new tab)in their new sports company TMRW Sports.
Boxing world champion, Alvarez, featured in the AT&T Pebble Beach Pro-Am (opens in new tab) last year and NFL legend, Romo, qualified for a USGA event (opens in new tab) which will be played later this year at Kiawah Island.
The commercial tips its hat to arguably one of the greatest golf films of all time in Caddyshack and the scene is even set at the home of the gopher which is of course - Bushwood Country Club.
There is one big name missing from the golf-heavy advert, though. Former PGA Tour and now LIV golf star, Brooks Koepka (opens in new tab), who previously starred in a Michelob Ultra commercial back in 2018, where he sang about beer.
If you are intrigued as to why all of these stars are marauding the fairways of Bushwood Country Club, you'll have to wait for the answers. Up to now, we have been blessed with small snippets from the ad and the full version is set to air on February 12th.
Cieran joined the Golf Monthly team having previously written for other digital outlets like Reach PLC and Northern Golfer. After studying Journalism at Northumbria University, Cieran went on to complete an MA at the University of Sunderland. A big golf fan, he currently plays at Blyth Golf Club, where he holds a handicap of 8. Citing his favorite golfer as Tiger Woods, Cieran regards himself as the best snap hooker of a ball in the North of England.