Proposed changes to the Rules of Golf from 2019
Many radical revisions will take place if The R&A's proposed changes to the Rules of Golf from 2019, as revealed today, go ahead as currently envisaged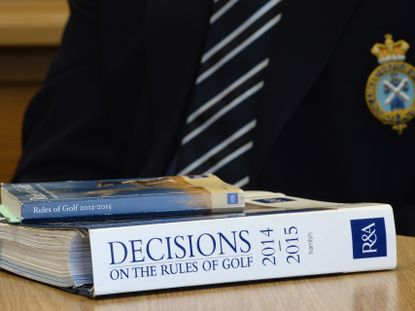 (Image credit: Getty Images)
Many radical revisions will take place if The R&A's proposed changes to the Rules of Golf from 2019, as revealed today, go ahead as currently envisaged
The R&A's and USGA's Rules modernisation initiative has been rumbling away in the background for many years, and today both organisations have announced many significant proposed changes to the Rules of Golf from January 1, 2019.
Among the underlying reasons for the desire for change are:
The sheer length of the current Rule book, with the Decisions on the Rules of Golf then running to many more pages covering less common scenarios.
The complexity and tone of language at times, which some golfers find difficult to fully comprehend and digest.
An increasing desire not to see unwitting, and perhaps relatively minor breaches in the overall scheme of things, attract seemingly harsh penalties.
The chance to perhaps address some of the game's current pace of play concerns through the Rules themselves.
Golf is played in an arena where anything can and often does happen, so the Rule book is never going to be a concise volume, but some of the fairly radical proposed changes announced today would go some way to making it a little more concise, manageable and digestible.
There are too many proposed changes to cover here, so we have picked out the ten that most caught our eye and asked David Rickman, Executive Director – Governance and Chief of Staff at The R&A, for further exclusive information about the rationale and reasoning for these ten changes…
(1) Ball in Motion Accidentally Deflected Your ball in motion accidentally hits you, your equipment, your caddie, someone attending the flagstick for you or a removed or attended flagstick: There is no longer a penalty (such as when your ball bounces off a bunker face and hits you).
David Rickman: "It's been one that we've looked at a few times over the years. We used to have loss of hole or a two-stroke penalty, and that was moderated some years ago to one stroke in both forms. This felt like the right time to go to the final stage of saying, okay, there's no penalty. Our thinking is that it's an accident, the outcome of which is entirely random – whether it ends up being a good or a bad break. And we felt that in those circumstances, no penalty is appropriate."
(2) Ball at Rest Accidentally Moves Accidentally moving your ball while searching for it: There is no longer a penalty.
David Rickman: "We were troubled by the current position whereby players themselves are almost discouraged from actively looking for their golf ball. If you then marry this with the idea that we wanted to reduce the amount of time available for a search, the two concepts, when you put them together as a package of changes, appeared to be fair, intuitive and appropriate: 'Okay, let's get everybody involved in this process and if the ball is moved, let's just put it back and there doesn't need to be a penalty'."
Watch our current 'ball moved during search' video
(3) Taking Relief Dropping a Ball in a Defined Relief Area: Relaxed dropping procedure - the only requirement is that you hold the ball above the ground without it touching any growing thing or other natural or artificial object, and let it go so that it falls through the air before coming to rest; to avoid any doubt, it is recommended that the ball be dropped from at least one inch above the ground or any growing thing or object.
David Rickman: "As part of this shift we've talked about placing even greater emphasis on player honest and integrity. We like the idea of making the dropping process quick and simple. We're not setting out a detailed process here. We're just saying, you need to drop the ball and it needs to stay in this relief area. And it's really as simple as that. So just drop it – that's all you need to do. Don't worry about precisely what height; just drop it. That has many attractions for us, particularly as in the current Rules you get into this whole process of redropping, which has nine elements to it."
(4) Lost Ball Reduced time for ball search: A ball is lost if not found in three minutes (rather than the current five minutes) after you begin searching for it.
David Rickman: "We're conscious that it's quite a reduction in time and maybe one of our concerns is that if golfers know any Rule, they know that you've got five minutes to search for a golf ball! But despite that, we think that three minutes is enough, and that the vast majority of balls, if they're going to be found, are going to be found within that time."
(5) Embedded Ball Relief for embedded ball in the general area: You may take relief if your ball is embedded anywhere (except in sand) in the general area (which is the new term for "through the green"), except where a Local Rule restricts relief to the fairway or similar areas (this reverses the default position in the current Rules).
David Rickman: "The Rules are now being written with an increasing focus on the game as a whole, and it's clear on talking to our international constituents that, while embedded balls may be rare on links courses in the British Isles, they're a common occurrence inland and elsewhere in the world. So we feel now that the Rules should give relief, while still giving the local committee an opportunity to limit the application in future if that is considered appropriate."
Watch our current embedded ball Rule video
(6) Putting Green Putting with flagstick left in the hole: There is no longer a penalty if you play a ball from the putting green and it hits the unattended flagstick in the hole.
David Rickman: "The ability to leave the flagstick in, particularly for regular play, could have a positive impact on pace of play. Players could be getting ready themselves without having to attend the flag for somebody. From distance, I think most amateur golfers would happily putt with the flag in, so we feel that's a good change."
Watch our current 'do's and don'ts' of the putting green video
(7) Putting Green Repairing damage on the putting green: You may repair almost all damage (including spike marks and animal damage) on the putting green (rather than being limited to repairing only ball-marks or old hole plugs).
David Rickman: "If there is a concern here it would be over a potentially negative effect on pace if play. But overall we think that if everybody is able to repair damage as we go along, the overall condition of the putting green as the day goes on is going to be higher, so there will be less damage of this kind to repair. We think that it's a positive change. We expect the ball to be played along the ground on the putting green, so it feels intuitively right, and we think that any pace of play issues are containable. But it's perhaps a proposal where we will be very interested to hear what the golfer reaction is."
(8) Bunkers Removal of special restrictions on moving loose impediments: There is no longer a penalty if you touch or move loose impediments in a bunker.
David Rickman: "In simple terms, looking forward we've separated our current water hazards - which will become 'penalty areas' - from bunkers. Bunkers will have their own identity and their own Rule. In terms of loose impediments we feel that the challenge presented by a bunker is about playing from sand, and dealing with that. It's not so much about then having to deal with the vagaries of perhaps having a pine cone right next to your golf ball, or a twig. On balance, we felt that for most golfers, bunkers are a pretty difficult challenge anyway, so let's allow the removal of loose impediments."
Watch our current 'do's and don'ts' in bunkers video
(9) Distance-Measuring Devices DMDs allowed: You may use DMDs to measure distance, except when prohibited by Local Rule (this reverses the default position in the current Rules).
David Rickman: "It's a shift in emphasis and recognition that for golf as a whole, DMDs have come into the game and been good for the game. Golfers like them and use them, and the Rules can easily accommodate that. Therefore it seemed appropriate to shift the emphasis and have the minority position - if I can put it that way - that committees are fully entitled to opt out, so there is still an element of choice preserved."
(10) How You Prepare for and Make a Stroke Expanded restriction on caddie help with alignment: Your caddie is not allowed to stand on a line behind you from the time you begin taking your stance until you have made your stroke.
David Rickman: "As we looked through all of this, a recurring theme was to promote player skill and judgement, and that's particularly relevant here. We felt that alignment should be a player skill, therefore we are proposing this particular prohibition."
Details of all the proposed changes for January 1, 2019 can be found on The R&A's website at www.randa.org
Jeremy Ellwood has worked in the golf industry since 1993 and for Golf Monthly since 2002 when he started out as equipment editor. He is now a freelance journalist writing mainly for Golf Monthly across the whole spectrum from courses and Rules to equipment and instruction. He also edits The Golf Club Secretary Newsletter, a highly regarded trade publication for golf club secretaries and managers, and has authored or co-authored three books and written for a number of national papers including The Telegraph and The Independent. He is a senior panelist for Golf Monthly's Top 100 UK & Ireland Course Rankings and has played all of the Top 100 plus 91 of the Next 100, making him well-qualified when it comes to assessing and comparing our premier golf courses. He has now played well over 950 golf courses worldwide in 35 countries, right across the spectrum from the humblest of nine-holers in the Scottish Highlands to the very grandest of international golf resorts, but put him on a links course anywhere and he will be blissfully content.
Jezz can be contacted via Twitter - @JezzEllwoodGolf
Jeremy is currently playing...
Driver: Ping G425 LST 10.5˚ (draw setting), Mitsubishi Tensei AV Orange 55 S shaft
3 wood: Ping G425 Max 15˚ (set to flat +1), Mitsubishi Tensei AV Orange 65 S shaft
Hybrid: Ping G425 17˚, Mitsubishi Tensei CK Pro Orange 80 S shaft
Irons 3-PW: Ping i525, True Temper Dynamic Gold 105 R300 shafts
Wedges: Ping Glide 4.0 50˚ and 54˚, 12˚ bounce, True Temper Dynamic Gold 105 R300 shafts
Putter: Ping Fetch 2021 model, 33in shaft (set flat 2)
Ball: Varies but mostly now TaylorMade Tour Response