Motocaddy Vs PowaKaddy - What To Expect In 2023?
Dan Parker takes a look at the Motocaddy vs Powakaddy electric trolley battle for 2023 to see which models, old and new, you should be considering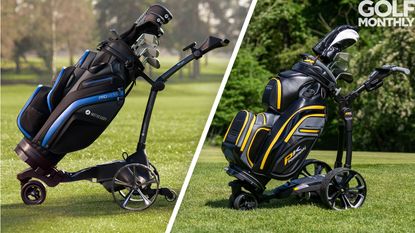 (Image credit: Future)
Motocaddy Vs PowaKaddy - What Can We Expect In 2023?
Motocaddy and PowaKaddy are two of the largest and most successful electric golf trolley manufacturers in the world. Both have been making some of the best electric trolleys and best push trolleys in the business for decades and the two brands have been head-to-head when it comes to sales and respective product lines in that time too. With so many new and returning golfers taking up the game since the start of the pandemic in 2020, there will be a lot of golfers out there who are ready to purchase their first electric trolley or upgrade in 2023.
Both PowaKaddy and Motocaddy locked on to this potential trend last year, with both brands flexing impressive entry-level electric trolleys. The latest trend for 2023 is undoubtedly the remote electric trolley with both brands launching all-new remote models for 2023. Here, we're going to take a look at the full ranges from Motocaddy and Powakaddy to help you decide which electric trolley is best for you in 2023. We'll focus purely on electric models here, but you can check out our guide on the best push carts if motorised models aren't for you - our reviews of the Motocaddy Cube Push Cart or the PowaKaddy Micra should give you an idea of the benefits of pushing.
We'll start with the latest remote golf trolleys in the shape of the Motocaddy M7 GPS and PowaKaddy RX1 and RX1 GPS respectively. We'll also cover entry-level versions like the 2022 Motocaddy S1 and PowaKaddy FX3 while also taking a detailed look at GPS models and ultra-compact models from both brands. With the Powakaddy CT8 GPS and the Motocaddy M5 GPS having stellar 2022s, it's an equally exciting time to be investing in compact GPS electric trolleys too.
Motocaddy Vs PowaKaddy - Remote Electric Trolleys
It seems as if 2023 is the year of the remote electric trolley with both PowaKaddy and Motocaddy launching all-new remote trolleys for 2023. Undoubtedly these models will represent the best in modern electric golf trolley technology with the merging of remote functionality, slimline folding system and touchscreen GPS all coming together to make a comprehensive golf course companion
PowaKaddy has revealed the RX remote range for 2023, the brand's first foray into the remote electric trolleys with the standard RX1 (RRP £1,199.99) and RX1 GPS (RRP £1,449.99) making up the flagship range. Bar the different screen interfaces the RX1 and RX1 GPS share a lot of the same features including a slimline remote handset for control of the trolley, a swivel front wheel and Slope Traverse Assist to keep the trolley stable on all terrains. Other key features include a USB charging port, an anti-tip rear wheel, height-adjustable handles and a two-year manufacturer warranty.
Another key addition to the RX range is PowaKaddy's next-generation Plug 'n' Play XL Plus battery which comes in 40 percent smaller than the previous model and in the thinnest, lightest and most powerful lithium battery ever featured on a PowaKaddy trolley. While the RX1 features a 3.5" full-color widescreen display, the RX1 GPS features PowaKaddy's 3.5" touchscreen display loaded with 40,000 courses worldwide that require no annual fees or subscriptions. The RX1 GPS also benefits from a Bluetooth-connected app that allows for quick golf course updates.
Image 1 of 2
For 2023, Motocaddy has launched the M7 GPS, taking the already popular M7 remote model and adding the brand's excellent GPS system into the handle. It's a GPS system we have become familiar with on models like the M5 GPS and features a 3.5" touchscreen that offers information like green visuals, front, middle and back distances, hazard information and 40,000 preloaded courses. Much like the M5 GPS, the M7 GPS will gain access Motocaddy's Performance Plan free of charge for the first 12 months after activation. The Performance Plan unlocks full-hole mapping, detailed dynamic green view, drag and drop pin positions, score and stats tracking as well as real-time updates and updates on the go. Once the 12-month trial ends, there is no obligation to continue it but those who do choose to continue with the added features will enter a £59.99 per year subscription programme.
As part of the brand's 'M' series, the M7 GPS also benefits from a compact-folding chassis and the pocket-sized remote is similarly compact too. It also boasts a wider wheelbase than other models in the M Series for more stability over different terrains and also features Down Hill Control technology to stop the trolley going too quickly down hills. Some final features with noting include USB charging and a lightweight lithium battery that can be charged without having to be removed from the chassis (something we loved on last year's S1 model). Our full reviews of both the RX1 GPS and M7 GPS will be live on the Golf Monthly website very soon.
Image 1 of 2
Motocaddy Vs PowaKaddy - Entry Level Electric Trolleys
Each brand's simplest and most cost-effective electric trolley in the range comes in the shape of a few so-called 'entry-level' models. They are an easy and affordable way for new or existing golfers to have the simplest experience of an electric trolley out on course and they are often characterised by an easy, quick folding mechanism as well as a simple but effective display and controls.
Image 1 of 4
Motocaddy's entry-level trolley comes in the shape of the 2022 S1. Launched in - you guessed it - 2022, it was a new look model that brought the S1 moniker directly into the 2020s after its first launch in 2006. The S1 features Motocaddy's quickest ever 1-step folding system which can reportedly have golfers ready with their bag and trolley in seconds. It also folds 16 per cent smaller than the previous S1 trolley, meaning less worrying about space in your car or garage. Included in this space-saving technology are the wheels that can be inverted during transportation or storage. While the S1 doesn't fold down as small as the compact M-Series trolleys, it will still be a well-sized trolley for most golfers.
The S1 also features Motocaddy's newest 'Click-'n-Connect' lithium battery. What definitely makes Motocaddy's new entry-level model stand out from the crowd is that, when the S1 trolley folds up, the battery automatically becomes disconnected, allowing for charging to take place without removing the battery from the chassis. It's the small quality-of-life changes like this that can make a model stand out in this crowded market.
PowaKaddy's entry-level electric trolley for 2023 remains the FX3, one of the UK's most popular models. Originally launched at the start of 2020, the FX3 features a similarly excellent 1-click folding system while also measuring in at 20 percent smaller than previous FX models. PowaKaddy also uses a cable-less 'Plug-'n-Play' lithium battery across its range which offers a lightweight and easy-to-access battery that really allows users to simply plug it into the chassis and play golf. If you read our full reviews of the Motocaddy S1 and Powakaddy FX3, you'll see which we think is the best entry-level electric trolley of 2023.
Image 1 of 3
Motocaddy vs Powakaddy - GPS & Compact Electric Trolleys
Looking at the entry level models barely scratches the surface when it comes to electric trolley offerings from Motocaddy and Powakaddy. As well as the launch of the RX Range for 2023, the Powakaddy CT8 GPS, launched in 2022, will be available if you're after a more-compact non-remote model that features GPS technology. It will join the Powakaddy CT6 in the brand's super-compact trolley range and boasts a fully-integrated GPS system accessible via a 3.5" touchscreen display. When it launches later this year, the CT8 GPS will be the smallest, most intelligent ultra-compact golf trolley on the market.
Image 1 of 3
Competing directly against the CT8 is the Motocaddy M5 GPS. Both trolleys offer a really compact folding mechanism with an inbuilt GPS, so differentiating between the two is tough. One element that we think helps distinguish the M5 GPS from the CT8 GPS is the M5's cellular capabilities and the Performance Plan. This is the first electric trolley in the world and gives users access to full-hole mapping instead of just greens as well as offering real-time updates and performance tracking. While this feature comes at a £49.99 a year subscription fee after a 6-month free trial, it's updates like this that can help you differentiate between the models from these two manufacturers at the top of the game.
Dan is a Staff Writer and has been with the Golf Monthly team since 2021. Dan graduated with a Masters in International Journalism from the University of Sussex and primarily looks after equipment reviews and buyer's guides, specializing in golf shoe and golf cart reviews. Dan has now tested and reviewed over 30 pairs of golf shoes for the website and magazine with his current favorite pair being the Ecco Biom C4. A left-handed golfer, his handicap index is currently 8.5 and he plays at Fulford Heath Golf Club in the West Midlands. His best day in golf so far was shooting 76 at Essendon Golf Club on his first-ever round with his Golf Monthly colleagues. Dan also runs his own cricket podcast and website in his spare time.
Dan is currently playing:
Driver: Ping G425 Max
Fairway: Ping G425 Max
Hybrid: Ping G425
Irons: Ping i59 (4-PW)
Wedges: Ping Glide Forged Pro
Putter: Wilson Staff Infinite Buckingham
Ball: TaylorMade TP5 Pix