Take on Rory in your monthly medal
New free Golf GameBook app allows players to take on Tour pros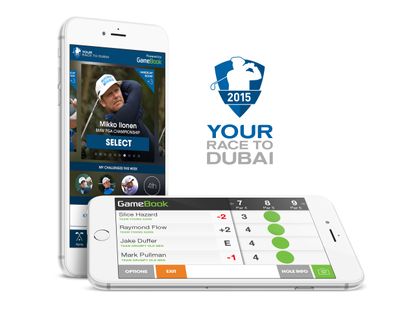 A new free Golf GameBook app allows players to take on European Tour pros in match play and to enter Your Race to Dubai and win rewards for success
A new free Golf GameBook app allows players to play matches against European Tour pros from playing their monthly medal – or a maybe simply after having a friendly round with friends, or maybe playing a round on their own one evening.
Golfers input their scores on each hole and then challenge a specific pro playing in that week's European Tour event.
The golfer can then watch the tournament on TV or online, and by simultaneously using the Golf GameBook app, can see their match play round unfold hole by hole.
Each result counts towards a global 'Your Race to Dubai' ranking, ending at the DP World Tour Championship at Jumeirah Golf Estates, November 19-22.
The Golf GameBook iPhone app user gets 10 pros to choose from to challenge. The app user can challenge up to four pros.
How it works:
Using the Golf GameBook app, fans challenge a nominated European Tour professional to a match play round at a European Tour event, selecting a specific tournament day
Fans play an 18-hole round at least one day before the nominated tournament round, keeping score with the Golf GameBook live-scoring app
Using the app on iPhone or iPad, the fan can then watch the match play round unfold live during the European Tour event, hole by hole, sharing comments, score updates and results on social media.
The scores of professionals will be updated automatically on the Golf GameBook app, so fans watching tournament rounds in real time will know whether they are up or down in their match play. The app has been specially configured to automatically adjust for amateur handicaps as well as the different courses being played by fans and professionals.
Your Race to Dubai awards points per challenge match, with a win worth 100,000pts, a tie 50,000 and a loss 20,000.
If you win or tie your match with your pro, and he wins the tournament your points total is trebled. If the Tour pro finishes otherwise in the top 10 your points total is doubled.
Only the GameBook's players best result of the week counts – so if they challenge four Tour pros their best result from the four challenge matches counts toward Your Race to Dubai.
The season is divided into six ranking periods, of 4-6 weeks long. At the end of each ranking period the most successful players will be rewarded
Kalle Vainola, co-Founder of GameBook, said: "For most golfers, the thought of playing with the likes of Rory, Justin or Henrik is a dream; but with our Your Race to Dubai match play all golfers can go head-to-head with some of the best professional golfers in the world."
Tim Hunt, Marketing Communications Director of The European Tour, said: "Developing this concept into a global 'Your Race to Dubai' weekly game, available in 26 countries, is a great way for fans to engage with the Race to Dubai and inspire them to play their best golf."
Golf GameBook was recently shortlisted for both 'Best Use of Technology by a Sponsor' and 'Best Sports App' at the Sports Technology Awards 2015.
Contributing Writer Golf courses and travel are Roderick's particular interests and he was contributing editor for the first few years of the Golf Monthly Travel Supplement. He writes travel articles and general features for the magazine, travel supplement and website. He also compiles the magazine's crossword. He is a member of Trevose Golf & Country Club and has played golf in around two dozen countries. Cricket is his other main sporting love. He is the author of five books, four of which are still in print: The Novel Life of PG Wodehouse; The Don: Beyond Boundaries; Wally Hammond: Gentleman & Player and England's Greatest Post-War All Rounder.