Pinnacle unveils new Rush and Soft golf balls
The Rush and Soft models will give players increased distance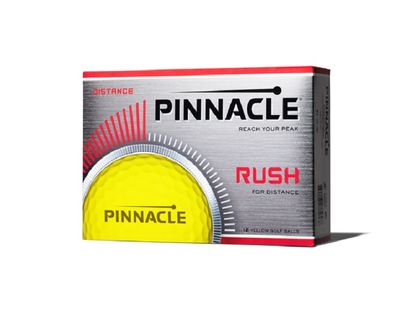 The Rush and Soft models have been designed to offer golfers improved distance.
Pinnacle unveils new Rush and Soft golf balls
Pinnacle have unveiled their new golf balls, the Rush and Soft models, designed to improve upon distance for all players.
The Rush makes use of high-energy core technology that allows for high velocity and as a result improved distance, plus an advanced dimple design for consistent flight.
A soft ionomer cover is one of the primary features of the Pinnacle Soft, allowing for low spin and long distance.
Michael Mahoney, Director, Golf Ball Product Management, said: "Pinnacle has been a longstanding leader in its segment of the market.
"Pinnacle Rush is either longer, or longer and softer, than other top selling distance competitors that retail from £15 and below. Pinnacle Soft is longer and softer than the leading competitive products positioned as extremely soft or low compression."
All of the balls are designed and tested by Acushnet Company's R&D and Operations team in the company's own state-of-the-art facilities in Massachusetts.
The Rush will enable golfers to hit the ball further regardless of what club they're using.
An advanced icosahedral dimple design gives golfers a powerful ball flight, with Scott Cooper, Titleist R&D's Product Development Manger adding, "Pinnacle Rush is designed to max out a golfer's distance potential.
"It's a distance-focused construction with a low compression core and a firm cover. That combination gives you high initial velocity off the clubface with very low spin, which is the perfect recipe for hitting it long."
The Soft features Pinnacle's lowest compression core ever, allowing golfers to get low spin for long distance.
Cooper said: "It's the softest core we've ever manufactured, combined with one of our softest cover blends. The ball just feels fantastic no matter which club is in your hands.
The Rush model will be available to purchase in optic yellow, with the Soft model available in white.
The balls can be found in golf shops from January 2016. Both models are offered in a standard dozen with an SRP of £15 per dozen.
Will Medlock graduated from UEA with a degree in Film and Television before completing a Masters in Sports Journalism at St Mary's in London. Will has had work published by The Independent and the Rugby Paper.