Ping Glide 2.0 Stealth Wedge Revealed
The new Ping Glide 2.0 Stealth wedge has been revealed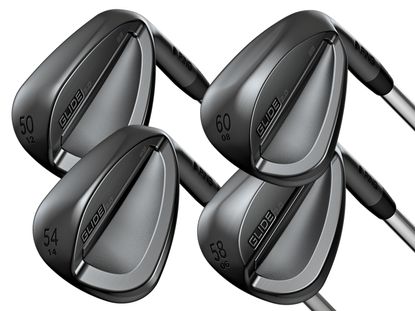 The Ping Glide 2.0 Stealth wedge has been revealed, with its new glare reducing finish helping the head to appear more compact than the standard Glide 2.0 wedge
The Ping Glide 2.0 Stealth wedge has been revealed, with its new glare reducing finish helping the head to appear more compact than the standard Glide 2.0 wedge.
The Ping Glide 2.0 Stealth wedge is made from an 8620 carbon steel and has precision-milled grooves to deliver a softer feel and higher spin for greater control.
New though for this version is the tour-inspired Stealth finish that yields less glare and makes the head appear smaller. The finish is applied using a 'Quench Polish Quench' process, which Ping says adds durability.
You'll also notice a half groove near the leading edge on the 56°, 58° and 60° lofts that boosts spin on shots struck low on the face. The half groove has been wheel-cut, a milling process developed by Ping's engineers, to enable grooves with a sharper edge radius for improved spin.
The grooves in the lower lofted wedges (46°, 50° & 52°) are also milled with a 20° sidewall to optimise spin on full pitch shots, while the higher lofted heads (54°, 56°, 58° & 60°) have a steeper 28° sidewall to impart more spin on shorter shots around the greens.
As with the standard version, the Ping Glide 2.0 Stealth wedge will come in four sole grinds (SS, WS, ES and TS) to suit different golfers' attack angles and the different turf conditions they face.
Ping Glide 2.0 Stealth Wedge Specifications
The SS GRIND (46°, 50°, 52°, 54°, 56°, 58° and 60°) is a mid-bounce sole to create greenside versatility and is ideal for moderate attack angles.
The WS GRIND (54°, 56°°, 58° and 60°) is a wider sole design for players with a steep angle of attack, with its reduced camber helping to reduce unwanted digging.
The TS GRIND (58° and 60°) is a half-moon grind that facilitate shot making, with heel relief aiding open faced lob shots to difficult pins or from firm lies.
Finally the Eye 2-inspired ES Grind (54°, 56°, 58° and 60°) has a dish profile and tapered hosel to suit bunker shots.
The stock shaft options will be the Ping AWT 2.0 Wedge and the PING CFS graphite. You can also get aftermarket steel shafts from True Temper, Nippon and KBS at no upcharge.
The Ping Glide 2.0 Stealth wedge will cost £130 per club (steel) or £140 per club (graphite).
Jake O'Reilly specilaises in equipment coverage, and joined the Golf Monthly team in 2013. Before this he graduated from the University of Huddersfield with a Sports Journalism and Media degree, and worked at a number of British golf magazines. Follow Jake on Twitter
@jake0reilly