New Scotty Cameron Futura X5 putters
Titleist has announced the launch of two new Scotty Cameron Futura X5 putters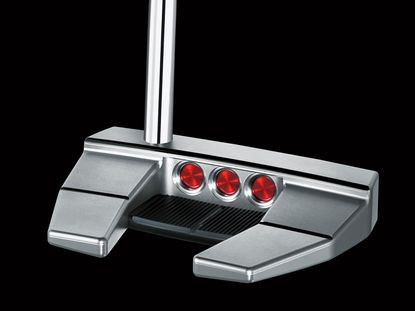 Titleist has announced the launch of two new Scotty Cameron Futura X5 putter models that use advanced perimeter weighting to increase stability
The new Scotty Cameron Futura X5 putters combine a multi-material construction with a modern, wing-back design to provide high Moment of Inertia (MOI) performance in a refined shape.
The Futura X5 and X5R models provide stability through advanced perimeter weighting with solid, forgiving feel, and vertical and horizontal sightlines for easier alignment.
The X5 model is angled in the rear (above), while the X5R features a rounded shape (below right). The Matador Red Midsize grip complements the face-balanced mallet design for those players looking to achieve a more square-to-square stroke.
"The Futura X5 mallet is for someone who likes the stability of a bigger head, the feel of a bigger grip, and likes to look down and see more lines for alignment purposes. X5 is more of a mechanical shape where the X5R is a softer, rounder shape.
"There's no right or wrong; same performance, same weight, same feel. It all depends on what you like to look at," Cameron said.
"We're finding that mallets make up as much as 50 percent of the putters used on the PGA Tour each week – and for good reason.
The size of the head is larger so it looks and feels more stable on the ground. The bigger the head, the more lines you can add for alignment. We worked with many players on tour and in the Putter Studio during the development of X5 and they all told us the same thing: tt adds confidence."
Additionally, the new Scotty Cameron Futura X5 Dual Balance (DB) putter (below) combines the X5 head style with Dual Balance technology to provide optimum stability for players who struggle to make a consistent stroke with a conventional length putter.
Like all Dual Balance models, Futura X5 DB has a 50-gram heavier head and a 50-gram counterweight in the butt of the shaft.
This configuration helps many golfers to make a proper stroke where the butt of the shaft remains pointed at the midsection.
Dual Balance putters have a standard length of 38 inches with a 15-inch grip that allows the player to grip down below the counterweight for a more stable stroke.
Titleist Scotty Cameron Futura X5 putters essentials:
Futura X5 & X5R
RRP - £278
Available: October 31st
Futura X5 Dual Balance
RRP - £315
Available: October 31st
Tom Clarke joined Golf Monthly as a sub editor in 2009 being promoted to content editor in 2012 and then senior content editor in 2014, before becoming Sports Digital Editor for the Sport Vertical within Future in 2022. Tom currently looks after all the digital products that Golf Monthly produce including Strategy and Content Planning for the website and social media - Tom also assists the Cycling, Football, Rugby and Marine titles at Future. Tom plays off 16 and lists Augusta National (name drop), Old Head and Le Touessrok as the favourite courses he has played. Tom is an avid viewer of all golf content with a particularly in depth knowledge of the pro tour.