Motocaddy to offer frame customisation service
Motocaddy now offering a unique customisation service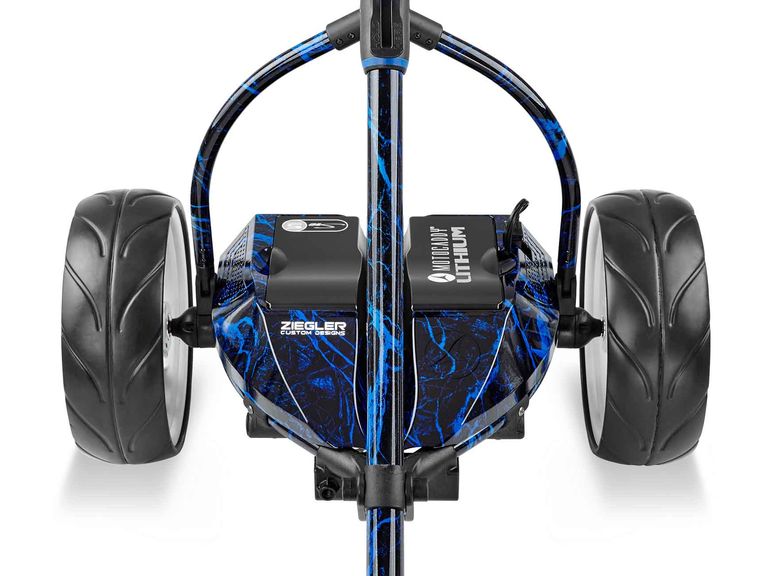 By Joel Tadman
Add a splash of colour to your electric wheels as leading trolley brand Motocaddy now offer a unique customisation service on certain S-Series trolleys
Golfers can now add more colour and personal style to their Motocaddy electric trolley, thanks to an exciting new customisation service available with the brand's popular S1, S1 PRO and S3 PRO models.
An exclusive partnership between the market-leading trolley brand and custom design firm Ziegler means golfers now have the choice of hundreds of different colour and pattern combinations when ordering a Motocaddy S-Series trolley on www.zieglercustomdesigns.co.uk.
Every trolley is customised using special Hydrographic painting – a method of applying complex paint designs onto three-dimensional objects. High-quality durable paints and strong Polyurethane Lacquers provide a long-lasting glossy finish that has been tried and tested in a range of extreme temperatures and weather conditions.
The service allows golfers to decorate their Motocaddy trolley with Matt, Gloss, Candy and even Chameleon finishes, along with several colours that promise 'standout' on the course, including Lime, Cobalt Blue, Red, Lilac, Green and Orange. The design service can also imprint company or sporting club logos, text and graphics onto the trolleys, using a process that ensures durability.
Each trolley is hand-crafted in a specialist UK facility and delivered to the golfer within four weeks of the design being ordered.
"Many golfers now want to personalise their golf equipment and that's why we've teamed up with Ziegler, who are masters in custom paint work and design," said Oliver Churcher, Motocaddy Marketing Manager. "The website is extremely easy to use and allows golfers to play around with different colours and patterns that match their trolley with their bag, golf equipment or clothing."
The price of a customised S1 trolley starts at £649.99, while the S1 PRO and S3 PRO models with QUIKFOLD technology start at £699.99 and £749.99 respectively. Orders can be placed on the Ziegler website or through Motocaddy stockists.