Lee Westwood What's In The Bag?
We take a look at the clubs Lee Westwood currently has in the bag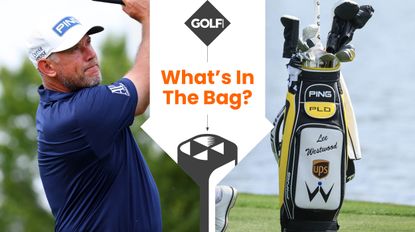 (Image credit: Golf Monthly)
Golf Monthly Newsletter
Golf tips and expert instruction, golf club reviews and the latest golf equipment.
Thank you for signing up to . You will receive a verification email shortly.
There was a problem. Please refresh the page and try again.
Lee Westwood What's In the Bag?
The Englishman has been a Ping staffer for his entire career and currently has a full bag of the company's products.
Lee Westwood What's In the Bag?
Driver
Ping G425 LST
Westwood currently plays the Ping G425 LST driver (opens in new tab) and has done for some time. One of the biggest strengths in Westwood's game is his driving and the G425 allows him to maintain his distance without hindering accuracy. In our review the entire G425 range feels more stable than the previous G410 models, and we got a tighter dispersion as well.
Fairway
Ping G425 Max
He also carries a Ping G425 Max 3-wood which has 14.5 degrees of loft. It is a model which made our Editor's Choice list for 2021 because it is the most forgiving and universally playable fairway wood in the G425 family. It is made with a one-piece face, rather than the steel face insert used in the G410 models, and this has increased ball speeds across the face by up to 1.5mph - a significant amount in an evolutionary model. Ping has also done away with the Turbulators that dominated the crown on last year's G410 fairway wood and have replaced them with a simple, clean three dot system. This is great for lining up the ball consistently in the centre of the face.
Hybrid
Ping G425
Westwood also decides to carry a G425 hybrid (opens in new tab) as well which has 19 degrees of loft. We found it to be extremely forgiving, surprisingly long and pulled off successful shots from many different lies. Admittedly it does create quite a loud sound at impact but overall we didn't think this was a massive issue.
Irons
Ping i210
He occasionally carries around a driving iron which is a Ping G Crossover but this comes in and out of the setup regularly. His irons are the Ping i210 model which he has from 4-iron through to the U-wedge. What separates Westwood in the iron department is he actually writes his stock yardages onto each iron.
Wedge
Ping Glide Forged
Westwood carries a 60 degree Ping Glide Forged lob wedge as his only pure wedge. When we caught up with Westwood he said of his wedges: "I have a U-wedge that goes 121 yards and sand wedge that goes 106, and I carry the new Glide lob wedge 60 degrees. I have used this particular lob wedge for a long time with this particular sole, gives me a lot of variation around the greens and its great out of bunkers as well. Very rarely do I hit my lob wedge full out, occasionally I do and it goes around 91-92 yards."
Putter
Ping Sigma 2 Tyne
His putter situation has recently changed. He had been using a Ping Sigma 2 Fetch putter which has the added feature of getting the ball out of the hole for you. However he now has a Ping Sigma 2 Tyne putter which has a mallet, fang shape to it.
When discussing moving into newer models or keeping older ones, Lee went on; "It depends what it is, with having been with Ping for so many years, generally they bring along a club and it fits me immediately I don't need to do much tinkering around. I do change but I try not to change too often, I like the clubs to stay the same, and then I know if I'm hitting them bad, its me."
Ball
Titleist Pro V1x
Moving to the golf ball, Westwood uses a Titleist Pro V1x (opens in new tab). A ball that received five stars in our review, the Pro V1x is an excellent all-rounder, as you would expect. We were particularly impressed by the improved ball flight in the long game which didn't come at the cost of any short game control or feel.
Shoes
FootJoy
Westwood uses FootJoy golf shoes and since they have been released, the Englishman often switches between the Premiere Series Flint's or the Packard's. The Packard is inspired by Frederick Packard, FootJoy's founder and a shoe pioneer who drove the adoption of many modern manufacturing and design innovations that are still used today. The Flint's are the spikeless option which are super stylish, elegant and surprisingly lightweight.
Full Specs
*Note - this comes in and out of the bag
Driver: Ping G425 LST, (10.5 degrees at 8.75 flat) with Mitsubishi Tensei CK Pro Orange 60 TX shaft
3 wood: Ping G425 Max, (14.5 degrees) with Aldila NV 2KXV Green shaft
Hybrid: Ping G425, (19 degrees at 19.7) with Aldila Tour Green Hybrid 85 X (40.5 inches) shaft
*Utility iron: Ping G Crossover with Ping JZ Stiff shaft
Irons: Ping i210 (4-UW), with Ping JZ Stiff shafts
Lob Wedge: Ping Glide Forged, (60 degrees), with Ping JZ Stiff shaft
Putter: Ping Sigma 2 Tyne
Ball: Titleist Pro V1x