Gear Talk: David Lynn
After claiming the Portugal Masters with a final round of 63, David Lynn talked exclusively to Golf Monthly about the gear in his bag including the new TaylorMade SLDR driver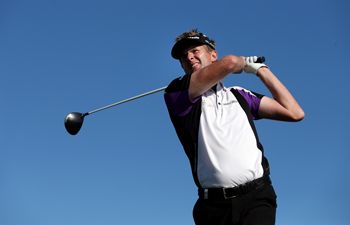 After claiming the Portugal Masters with a final round of 63, David Lynn talked exclusively to Golf Monthly about the gear in his bag including the new TaylorMade SLDR driver.
Congratulations on a fantastic win. You, like many other tour players, put the new TaylorMade SLDR driver straight in the bag. Can you tell us when you first saw it and why you liked it?
I first saw the driver around the time of the Open Championship.
It's a different sort of driver to the R11s that I was using previously. It has more of a meaty sound to it, which I like.
I certainly doesn't spin as much, which is a good thing if you can get the launch angle right. That's exactly what I have managed to do and it has resulted in more distance.
When I released it was longer it was inevitable that it was going to go in.
The head says 10.5 on it but I have it set at 11 degrees compared to the 10 degree setting I was using on the R11s.
You can see that there is less spin on the ball through the air, it is a hotter looking flight.
Are you more of a fan of the traditional colour option compared to the previous white TaylorMade offerings?
I got that used to the white one to the point where I was a bit disappointed when the traditional colour came back in.
It is like anything though, if it performs you get used to the finish very quickly and it doesn't bother me at all.
The putter was clearly hot on Sunday, how long has the TaylorMade TM-110 Ghost been in play?
Someone asked me this the other day, I thought it had been just over a year but was amazed when we worked out that it had been in the bag for over three years.
I have always been a fan of centre shafted putters and have used quite a few over the years. It's a measure of how much I like this one that I haven't even tried another model in that three-year period.
You have also used your TaylorMade R9 irons for a long time. Are you someone who tends to stick to equipment when you find something that you like?
I am, but I am also open to trying new things.
I tried out the new TaylorMade SpeedBlade irons when I was in America and I was amazed at how soft they felt for a cast iron.
That soft feel is very important for me, so I'm looking forward to trying those again over the coming months.
You are playing the TaylorMade RBZ Stage 2 fairway wood, how much has that, and the previous RBZ had on the way you think about your fairway wood?
It has made an unbelievable difference. I have been a relatively average hitter in terms of distance over the years.
If I was faced with 250-260 yards into a par 5 I knew that I had to bust one with a draw, which is not a shape I like to hit, to get there.
Since using the RBZ when I am faced with that sort of yardage I am thinking of cutting it to take a bit of distance off!
Off the tee as well they are a great option if you are looking for a bit of control but don't want to sacrifice distance.
It is the first time that I have had a fairway wood that has changed the dynamics of my game.
You have been wearing Galvin Green clothing this season, how have you found that?
I would say out of all of the clothing deals that I have had, I have enjoyed wearing the Galvin Green range more than anything.
The colour options they have, and the combinations you can put together, are great and I've enjoyed putting together outfits this year.
The clothing fits me really well and the outerwear is second to none.
If you look good and feel good on the course it certainly can't have a negative effect on your golf.
David Lynn Line Up
Driver: TaylorMade, SLDR 10.5 1st Fairway Wood: TaylorMade, RBZ Tour Stage 2 14.5 1st Hybrid: TaylorMade, Burner Rescue 18 1st Utility Iron: Mizuno, Fli Hi MP 18 4 - 9 Iron: TaylorMade, R9 TP Pitching Wedge: TaylorMade, R9 TP Sand Wedge: TaylorMade, XFT 54 Lob Wedge: TaylorMade, XFT 60 Putter: TaylorMade, TM-110 Ghost Ball: TaylorMade, Lethal Shoe: adidas
Paul joined Golf Monthly in 2006 in a junior role and has since worked as senior staff writer and now as technical editor. He writes equipment and instruction content and tests the vast majority of golf clubs that are introduced every year.