Lee Slattery To Use Leica Pinmaster II Pro Laser Rangefinder
Leica Sport Optics have announced a partnership with Lee Slattery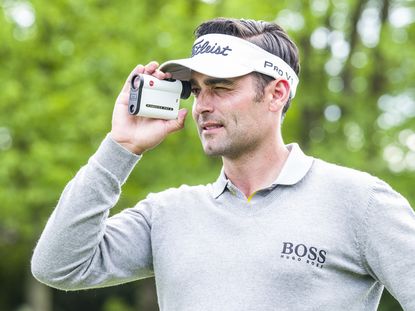 Leica Sport Optics, the makers of the Leica Pinmaster II Pro laser rangefinder, have announced a new partnership with two time European Tour winner Lee Slattery
Leica Sport Optics, the makers of the Pinmaster II Pro laser rangefinder, have announced a new partnership with two time European Tour winner Lee Slattery.
Leica Product Manager for Golf, Julian Burczyk, told GM: "Last year I met Lee during a Pro-Am and I was impressed by his game, personality, attitude and attention to detail.
"As a premium brand, these fundamental qualities appeal to us greatly. Leica constantly strives for excellence in design and performance, so the partnership with Lee is the perfect fit for us."
Lee Slattery and his caddie will be using the Leica Pinmaster II Pro Laser Rangefinder on the course during practice rounds.
The Englishman will also record his European Tour exploits with a Leica Q digital camera and will share these images on Leica's social media channels to give the public a great insight into life on tour.
"Naturally, I feel extremely privileged to be representing Leica, a brand which is globally recognised as the leader in the field of cameras, lenses and sport optics," said Slattery. "I am very much looking forward to sharing my life on tour through Leica", he added.
The partnership will coincide with Leica Sport Optics building a national retail network of Leica Pinmaster stockists in the UK and America.
Lecia's rangfidners face stiff competition from the likes of Bushnell and Nikon, but it does have the advantage of being a brand that resides at the pinnacle of optics design, chiefly specialising in cameras and binoculars.
As well as measuring distances, its flagship model, the Pinmaster II Pro laser rangefinder, has 'First Target Logic Technology', which locks on to the first target sighted to prevent potential errors, such as measuring a tree behind the flag.
The Leica Pinmaster II Pro also has 'Angle Compensated Distance Technology' to measure slopes and uses a a discreet optical signal in the unit's LED display to show the flag has been measured, for confimation without distracting your playing partners.
Its housing is also made of carbon-fibre, with its optical and mechanical systems integrated for ease of use and to ensure clarity in adverse weather conditions, made possible through a water-repellent AquaDura lens coating.
The Leica Pinmaster II Pro can also boast a range of 725m, 7x magnification, a weight of just 220g, and it is watertight to a depth of 1m, just in case...
Jake O'Reilly specilaises in equipment coverage, and joined the Golf Monthly team in 2013. Before this he graduated from the University of Huddersfield with a Sports Journalism and Media degree, and worked at a number of British golf magazines. Follow Jake on Twitter
@jake0reilly