Nike Golf VR Pro Limited Edition fairway woods launched
Nike Golf has announced the launch of the VR Pro Limited Edition fairway woods as used by Tiger Woods, Francesco Molinari and Simon Dyson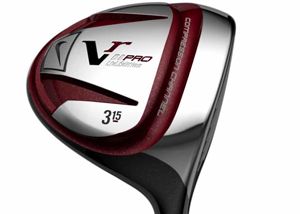 Nike Golf has launched the VR Pro Limited Edition fairway woods, for golfers who want to achieve top-level performance on every shot in the arsenal.
The VR Pro Limited Edition fairway woods provide shot-shaping distance, green-seeking accuracy and consistent reliability.
Top tour players including Stephen Ames, Stewart Cink, Simon Dyson, Francesco Molinari and Tiger Woods are already using the VR Pro Limited Edition fairway woods, which are available immediately.
The design of the VR Pro Limited Edition fairway wood has a head shape that is slightly pear, with a mid-to-low face height made from 455 stainless steel all designed to address the tour athlete's need for great feel and maximum confidence to attack the target from anywhere.
Nike Golf has also increased the speed at more spots on the club face to deliver greater distance shot-shaping, utilising the variable Compression Channel technology.
It is the full-length Compression Channel combined with the variation in depth of channel in specific locations which allows the user to generate more ball speed.
The stock shaft is the new MRC Diamana 'Ahina which incorporates Mistsubishi Rayon's signature Multi-Dimensional Interlay technology (MDI) to deliver a stiffer mid and tip section than its predecessor.
The Nike VR Pro Limited Edition fairway woods come in a variety of loft and flex options and have an RRP of £169.95.
Betting experts, writers and video producers. Couple of guys in our early 20's looking to bring the sport that we love into a new era.'