5 Reasons To Attend The 2018 Ryder Cup in Paris
There are so many reasons for golf fans to visit Paris next year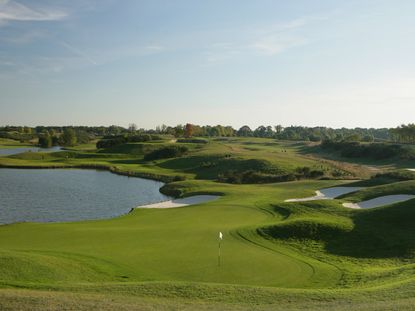 There are so many reasons for golf fans to visit Paris next year for the 2018 Ryder Cup. Golf Monthly hopped on the Eurostar to give you a little teaser
5 Reasons To Attend The 2018 Ryder Cup in Paris
The countdown to the 2018 Ryder Cup in Paris is on. With Your Golf Travel (opens in new tab) expected to release some fantastic packages for the biennial contest in the coming weeks, Golf Monthly jumped on the Eurostar to give you a teaser as to what you can expect from a trip to The City of Light.
Aside from the many tourist hotspots, here are our top five reasons to attend the 2018 Ryder Cup...
The host city - Paris!
This will be the first time the Ryder Cup has been held in the host country's capital – and what a city to visit. Paris needs no introduction. Let's just say it's one of the most culturally rich cities in the world.
Paris boasts a large number of world-famous attractions. Amongst the most distinctive and unique include Notre-Dame, the Eiffel Tower and the Arc de Triomphe. If you're struggling to cram everything in, one of the best ways to explore the city is with a river cruise at Bateaux Parisiens (opens in new tab).
There's no doubt the French capital will bring its "art de vivre" to the Ryder Cup and you don't want to miss it.
The venue - Le Golf National
If you're staying in the capital, and why would you not, then your only concern should be dragging yourself away from the many delights of the city itself to make the short trip out to Le Golf National.
Once there, this stadium golf course is made for the drama that only the Ryder Cup can offer. Risk-reward is constant throughout the stunning Albatros course, home to the Open de France.
Any matches going the distance will be even more absorbing with the final three holes perfectly set up to maximise the drama further still. If you're lucky enough to be perched near the stunning par-3 16th, you might just have the perfect spot to watch the fireworks unfold.
Golf, golf, golf!
You're taking your clubs, right? France has over 730 golf courses to date, 22 of which are ranked in the 1,000 best courses in the world. Furthermore, Le Golf National (opens in new tab) is situated in an area boasting the largest number of golf course in France; 78 in total.
Golf Monthly was fortunate to play the delightful tree-lined l'Exclusiv Golf du Château de Cély situated 45kms south of Paris, close to the beautiful forest of Fontainebleau. This vast 55-hectare estate includes a 14th century chateau and a super clubhouse. Golf here doesn't get more relaxing.
Then there's Golf de Fontainebleau (opens in new tab), one of the oldest golf courses in France. Located on ancient imperial hunting ground, this traditional club oozes charm. If you can add this to your Ryder Cup itinerary then you should make the effort, you won't be disappointed.
The stretch connecting Saint Germain-en-Laye to Versailles, a highly sought after area just outside the capital, is home to the country's golfing haven. It's safe to say Your Golf Travel (opens in new tab) will have some enticing packages comprising a number of world-class golf courses that will live long in the memory.
Recommended websites for your trip:
yourgolftravel.com (opens in new tab)
laroutedesgourmets.fr (opens in new tab)
golf-national.com (opens in new tab)
golfdefontainebleau.org (opens in new tab)
bateauxparisiens.com (opens in new tab)
The Eurostar
Not to be compared to your commute to work, the two-hour journey from London to Paris is all part of the experience. 'Sit back, relax and enjoy the journey'. For once, you can do just that – and maybe with a glass of champagne, too.
The food… and drink
Few cities can claim greater stature on the food and drink front.
Golf Monthly did not visit every restaurant in Paris, although we did have a good go.
We recommend a food shopping tour in La Madeleine district. During a two-hour guided walking tour you will discover the history of some famous French brands such as Fauchon, La Maison de la Truffe and Maille. This is the perfect spot to take home a few special gifts.
Michael has been with Golf Monthly since 2008. As a multimedia journalist, he has also worked for The Football Association, where he created content to support the men's European Championships, The FA Cup, London 2012, and FA Women's Super League. As content editor at Foremost Golf, Michael worked closely with golf's biggest equipment manufacturers, and has developed an in-depth knowledge of this side of the industry. He's now a regular contributor, covering instruction, equipment and feature content. Michael has interviewed many of the game's biggest stars, including six world number ones, and has attended and reported on many Major Championships and Ryder Cups. He's a member of Formby Golf Club.