Golf Betting Blog: Dave Plane
Golf betting enthusiast Dave Plane uses market movements to make sense of the goings-on around the greens in this golf betting blog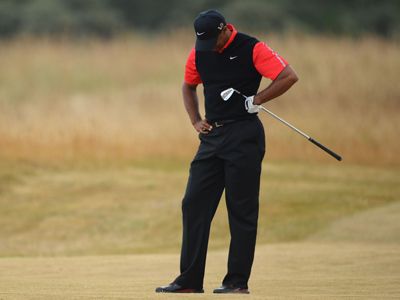 Golf Monthly Newsletter
Golf tips and expert instruction, golf club reviews and the latest golf equipment.
Thank you for signing up to . You will receive a verification email shortly.
There was a problem. Please refresh the page and try again.
Golf Betting Blog
Lee Westwood might not seem too bothered about missing out on a career-defining prize, a major championship - his major championship - when he was so beautifully poised to do so.
But surely his apathy, conveyed in TV interviews following his closing round of 75 and to the myriad reporters with sharpened pens and blunt headlines, was merely a cover up?
He must be gutted. I have to believe that.
Yet his "these things happen" attitude seemed so palpable on Sunday night, and so brutally juxtaposed to Phil Mickelson's clear delight at his own achievement that it prompted Lynn Truss to write about the matter in Monday's Times.
The Eats, Shoots and Leaves author posited that failure in golf should lead to admonishment or perhaps even a ban.
Instead the Worksop Wonder or Nottinghamshire Nearly-man received a standing ovation for his efforts as he walked up the 18th fairway to put himself out of his misery. Mickelson, addressing BBC anchors by their first names, oozed classy emotion in abundance at Muirfield as he gripped tightly on the coveted Claret Jug he adapted his smash & grab game so well to be able to hold aloft.
When he missed out on the US Open last month he was similarly transparent with his polar-opposite feelings – you knew it mattered to him because he told you it did – these traits endear normal folk to the sportsmen we admire and attempt to emulate.
Well, like Lee, I try to put a brave face on too. When things don't go my way with the wagers, I attempt to conceal my true sentiment and shrug my shoulders with indifference.
But not this week.
Tiger Woods let me down with such severe inconsideration to the faith I showed him that I can't help but use this opportunity as my Andy Murray moment of misery (at last year's Wimbledon final, not this one).
I'm laying it down straight: I'm devastated. Some each-way profit was made, and I shrewdly identified Jiminez for top matador, but the outright near-miss is what penetrates deepest into my gambling gut.
I'd rather Tiger had missed the cut than got so close and failed to bring home the booty, a £300 each-way investment at 10/1 and £50 outright at 11/1 would have made the forthcoming weekend in Ibiza an epic celebratory experience. How will I properly enjoy it now? (I'll be fine!)
My hope, dear readers, is that by conveying this melancholy so overtly, I might return victorious in the near future.
Murray did it, but the fear of the golf community is that Westwood never will. I intend to follow in Andy's footsteps, the big question is, can Lee?
Twitter @planey2k (opens in new tab)
Dave has blogged for the past few years at Palphabet.blogspot.com (opens in new tab) on the many ups and downs associated with betting on a mulititude of sports.
Dave is an enthusiastic sports writer who enjoys golf betting. He also love horse racing and owns several horses.