Fergus Bisset: Beware the injured golfer
A past injury aids Fergus in the first event of the Golf Monthly Final Series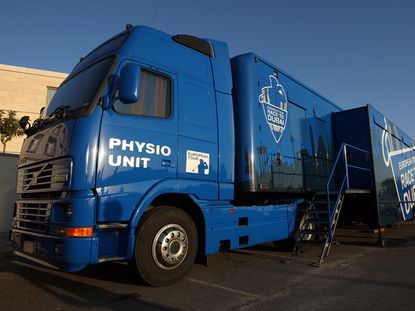 (Image credit: Getty Images)
The North East Alliance Championship in the Golf Monthly Final Series is underway, Fergus is benefiting from a past injury and continues to suffer golf-based anxiety dreams.
Last October I hurt myself pretty badly while outside in the dark. I won't go into too much detail but the accident involved a watering can, a gentle slope, some gravel and the edge of a curb. Whatever happened, and I can't exactly remember, I ended up with torn intercostal muscles – those are the ones between your ribs. It was more debilitating than your average muscle injury as you use your intercostal muscles for breathing and that meant every breath was painful.
The injury took quite a while to heal – probably longer than it should have done because I kept trying to play golf before I was totally better. It may have prolonged the pain, but now I'm very glad that I did as it has taught me something very interesting about my game.
When I tried to play with my ribs not properly stuck together, I couldn't make much of a swing. I could only prod it down the fairway from the tee and I required at least three more clubs on approach shots owing to my waist-high backswing and curtailed follow through. But this approach was amazingly effective. There were no wild, high slices out-of-bounds, no pull-hooked approaches careering into the bushes through the green. I just plodded away and tried to minimise the mistakes and I actually posted a couple of pretty decent scores.
How tension and the slice are linked:
Now that I'm recovered I'm trying to put a little of what I learned into practice: reminding myself that I don't always need to give it the full treatment off the tee and that it's often sensible to take more club and hit it easy. At my level, if I concentrate on staying on the straight and narrow rather than going for the heroic carry or getting caught up in long drive competitions, I will score better.
I proved that in the first round of the North East Alliance Championship in the Golf Monthly Final Series yesterday at Inverallochy. In pretty gruesome conditions (cold and raining with a chill wind) I focused on keeping the ball in play with shortened swings and low, controlled shots. I got it round in 66 and, apart from one bit of incredible good fortune which I'll come on to, I felt in pretty reasonable control of what I was doing. Often when I'm on a decent score I feel like I'm at the wheel of a speeding lorry with shoddy brakes. If the road stays straight, and clear of obstacles, I might just get away with it, but the smallest bend or change in the surface could result in a terrible smash.
But yesterday I kept it together fairly well… OK, there was that piece of good fortune... On the 15th tee, I briefly lost discipline and decided that if I really caught one I could reach the green – it was 250 yards, but into a strong and cold wind. I should have been put off by the fact we were being waved through by guys searching forlornly for a ball in the dunes on the left, but I wasn't. Ignoring my strategy of playing within myself I gave it the big heave-ho and produced a raking hook that headed directly for the searching group. I shouted fore and they spotted it coming. Even though they watched it into the rough it took them some time to find my ball – I would never have found it had they not been there. They left a marker on it and I was able to hack out and get up-and-down for par. Thanks guys!
After the first of two rounds of the Championship, I'm two off the lead which is jointly held by young amateur Chris Lamb from Newmachar, Sean Lawrie who is nephew of new Golf Monthly columnist Paul Lawrie, Kris Nicol of the Paul Lawrie Golf Centre and defending champion John Duff. Round two is at Craibstone next Wednesday where I will be attempting to play it cool but will mainly be crumbling like a cheap biscuit and falling right back into the pack.
In this week's golfing anxiety dream I had somehow earned a start at one of the big amateur events. It might have been the Lytham Trophy or maybe even the strokeplay section of The Amateur Championship. It began on a links that seemed to be a mix of Royal Lytham and Buckpool (yes, a rather unlikely combination) and I was paired with two young whippersnappers who couldn't conceal their disgust at being saddled with an ageing buffoon who was so obviously out of his depth.
I hit a couple of very skanky shots down the first but scrambled a par with a good putt. Then, off the second tee my ball veered miles off course and I eventually found it through a door that led me into an office corridor.
My ball was up against a photocopier and I was sure I was entitled to a drop. John Paramor (who had just appeared) agreed, so I looked for my nearest point of relief. It was on an unmade single bed adjacent to the photocopier. I asked John if I could make the bed before taking my drop but he said no. I dropped and my ball nestled in the duvet. I tried to hack out down the corridor but my swing was hampered by a window sill and the ball squirted out and ricocheted off a water cooler. A couple of swipes from under a desk and I finally had a clear shot down the passageway.
I knocked my ball out towards sunlight and what I assumed to be the golf course. But it turned out to be an open-air swimming pool surrounded by stands occupied my people I had been to school with. My ball was lying nicely on the pool's edge but, before I could get to it, a kid with red hair, who I didn't recognise, grabbed it and dived into the water. I followed him in and began wrestling for my Titleist… I woke in a cold sweat.
Fergus is a golf obsessive and 1-handicapper. Growing up in the North East of Scotland, golf runs through his veins and his passion for the sport was bolstered during his time at St Andrews university studying history. He went on to earn a post graduate diploma from the London School of Journalism. Fergus has worked for Golf Monthly since 2004 and has written two books on the game; "Great Golf Debates" together with Jezz Ellwood of Golf Monthly and "The Ultimate Golf Book" together with Neil Tappin (also of Golf Monthly)... Fergus once shanked a ball from just over Granny Clark's Wynd on the 18th of the Old Course that struck the St Andrews Golf Club and rebounded into the Valley of Sin, from where he saved par. Who says there's no golfing god?