Paul Lawrie: new Golf Monthly columnist
Golf Monthly is delighted to announce that 1999 Open champion and two-time Ryder Cupper, Paul Lawrie, is joining the team as magazine columnist for the 2016 season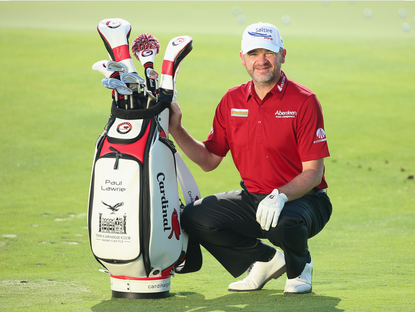 Golf Monthly is delighted to announce that 1999 Open champion and two-time Ryder Cupper, Paul Lawrie, is joining the magazine as a regular columnist in 2016
Paul Lawrie has been on tour non-stop since 1992 enjoying some incredible highs over the last quarter of a century, most famously that extraordinary Open win in 1999 at Carnoustie in which he shot a final-round 67 to come from ten shots back to defeat Jean van de Velde and Justin Leonard in a play-off.
That victory catapulted the then three-time tour winner into the limelight of the infamous Ryder Cup Battle of Brookline, where he acquitted himself superbly in partnership with Monty, before taking down Jeff Maggert 4&3 in the Sunday singles.
Since that encounter, Paul has entered the winners' circle five more times, tasted Ryder Cup victory at Medinah in 2012, set up his own successful Foundation to help youngsters in both golf and other sports, invested in the Paul Lawrie Golf Centre up in Aberdeen, and last year, helped stage his own matchplay tournament on the European Tour for the first time with the support and assistance of Saltire Energy.
We look forward to Paul sharing his thoughts on the game and life on tour over the coming months, with his first contribution featuring in our May 2016 issue.
In the meantime, GM's Fergus Bisset who hails from Banchory, the same Aberdeenshire club as Paul, caught up with him last year before the inaugural Saltire Energy Paul Lawrie Matchplay for this exclusive magazine feature...
I first met Paul Lawrie in the pro shop at Banchory Golf Club when I was a pesky wee whippersnapper back in the late 1980s. It's a massive cliché but I think he might have sold me a Mars Bar. Paul turned professional off a five handicap and began his career working as assistant professional to the late Doug Smart at my home club in 1986. 13 years on, while I was working in the same pro-shop, I watched Paul win The Open Championship on a grainy portable TV I'd set up out the back between the spare grips and shoeboxes.
A further 16 years have passed and Paul has been twice a Ryder Cup player and has won over €12 million on the European Tour. He's the most successful golfer ever to come out of North East Scotland.
But it's not just on course he's excelled. He has his own Golf Centre, a thriving Foundation and is a mentor to an impressive elite squad of young professionals. He's also host to a European Tour event in 2015 and, in my opinion, there's no active professional doing more for golf than him.
And the great thing about Paul is how down to earth he's remained, despite achieving global fame through golf. Any working day he's not travelling on Tour, you'll find him at The Paul Lawrie Golf Centre on the outskirts of Aberdeen, mucking in with the team…
Was hosting your own Tour event something you always had in mind?
I've been out there a long time, since 1992. And I think for anybody who's been on Tour that long, having your own tournament is something you think about. You know, 'The Arnold Palmer Invitational,' sounds pretty cool, doesn't it?
We started the Paul Lawrie Invitational on the Tartan Tour and my initial plan was that event might move up to the Challenge Tour, then perhaps the main tour. But then this opportunity presented itself.
But it's not as simple as clicking your fingers and having your own Tour event is it?
Not exactly. I arranged a meeting with Mike Loggie of Saltire Energy; I couldn't sleep the night before I was so excited. I explained what he would get for his contribution and he liked the idea. I then went to the Tour to talk dates and that takes some time. I also spoke to Gonzo (Gonzalo Fernandez Castano) as he had his own tournament in Madrid for a number of years. His initial reaction was 'God, don't do it, it's so much work.' But then he said, 'you know it's great though, and there should be more guys doing it.' I knew he was right about the work though, I've become aware of how much I need to get involved in.
And was it always going to be a matchplay contest on a links course?
There's no matchplay on the regular schedule for the guys, and I know a lot of them love the idea. So, yes, I always wanted it to be a matchplay.
Obviously I love playing events on the links and Murcar was the obvious choice for us, as they've been supportive to the Foundation and other tournaments I've been involved in. It's maybe a little too short for a strokeplay contest on the European tour, but it's ideal for matchplay. There should be a lot of birdies (as long as the wind doesn't get up,) so it should be exciting.
With a prize-fund of €1 million, what sort of field will this event attract?
Well I'm fully aware we're not likely to get Rory and those boys playing for €1 million. And I don't think we'll get too many who are playing in the Bridgestone and the USPGA the following two weeks. But I'd like to think some of the guys will support it. I've been on the Tour for a long time and I know that, for instance, if another Scottish pro was putting on an event I'd play, even if I was in the Bridgestone and the PGA. I'm hoping some of the guys will see it that way. If they don't, that's not a problem.
Tell me a little about how The Foundation came into being
I was lucky to have help when I was starting out from guys like Stewart Spence (a successful Aberdeenshire hotelier and businessman.) He helped me out with a car and a credit card to pay my petrol and bits and pieces. I could see from an early age what he did locally and how many people he helped and that rubbed off on me. I always wanted to be able to do something similar.
So that's where the Foundation came from and it's grown every year, quite steadily to the point where it's now full on and we have Michael McDougall, formerly Secretary of the PGA in Scotland as Foundation Manager.
It used to be just Paul Lawrie Junior Golf. But I wanted other sports involved so we changed the name to the Paul Lawrie Foundation and now we do quite a bit of football, we do table tennis and tennis. We've got a swimmer and we even support a rhythmic gymnastics team.
But you've always been very determined to give back to golf…
I think a lot of pros could do a little bit more to be fair, not naming any names. But I think there are quite a few who don't really see, or haven't really seen, it that way and I didn't want to be like that. I didn't want people to think: he's had a great living out the game, made a lot of money and he's doing nothing about it. No, I didn't want to be like that.
And what about your elite squad?
Yeah we've got a great team of players who are trying to make it as professionals. When these youngsters are elite amateurs they get quite a bit done for them – they're taken everywhere, equipment is paid for them etc. Then they turn pro and they can be left a little to their own devices. I wanted to try and give some support. We pay them all the same retainer, provide balls, gloves, clothes, those sorts of things. They get bonuses for good finishes whichever tour they're competing on.
And you can share your experience and expertise…
I absolutely love to. Our son Craig is a Foundation sponsored player and our other son Michael is coming along. It's the most fun I have, taking them out for a game. But I also love getting out there with Philip Mclean, David Law or Laura Murray or any of the squad members, passing on what I've learned.
And, again, that's another one of my biggest disappointments with some people. I could still learn things off some guys, who will remain nameless, but they don't want to do it and I can't understand that.
So my guys have all got my mobile number, they can contact me any time to ask advice. I've always promised that I'll be honest with them. Sometimes it's not what they want to hear but there's no point me filling their heads with bullshit.
Aside from all your off-course work, are you still hungry to compete as a player? Do you have one eye on the seniors?
My plan is to keep playing right up until I turn 50. I get a year on the Champions Tour through my Open victory and I plan to use it. But I still feel I'm competitive on the regular tour. A lot of guys when they've got to my age haven't been. I'm 46 now. When you look back, I mean, Sam, Woosie, Faldo, Lyle, all those boys were perhaps a little uncompetitive by about 44 or 45. Well, I kind of feel I can still do it. I still feel I'm getting better and I've probably never felt better than I do right now swing-wise.
How satisfying was your resurgence in 2011 and 2012, culminating in your second Ryder Cup appearance?
The Open will always be the biggest thing I achieve as a player I think. But to get in that team for Medinah and then to win a point on the Sunday was the most satisfying thing I've done in my career. By far, in fact, because I was 300 and something in the world when I decided to have another go. There have been a few times in my career where I've thought, I've had enough of this, I've done my bit. And I've had serious conversations with Marian when I've said 'I've had enough.'
Then I went to see Adam Hunter (Paul's former coach and great friend who died of cancer in 2011) in hospital and he tore strips off me. I had done the Ryder Cup commentary for Sky and the Foundation was taking a lot of my time. He loved what I was doing with the Foundation but hated how much time I spent on it. He thought I was wasting my talent. For the first time ever he was a bit upset with me and let me know. He said 'you're 40, not 60: Get on the range, get to the gym.'
He was lying there with tubes coming out of him having a go at me for being lazy and I just thought, 'God, I've got to push on here.' And the next day, I started giving it 100%.
Then, after Medinah you struggled a bit with injuries. How are you feeling now?
I feel I'm getting better again. I'm back and fit, hitting balls. There was a long spell maybe 18 months where even hitting 20 balls was an effort and you can't be competitive against these guys if you're not able to put the time in.
When you're playing and you're hurt, it's just a hellish feeling. When you're playing against guys who are pitching it 300 and your back's killing you and you're out there tipping it 250 and trying to run it a bit: It's just horrible.
What's the key issue in golf today?
The pace of play. And that comes down from watching the Tour pros on telly take four minutes to hit a straightforward 130-yard wedge shot.
It's not how long the whole process is. It takes a long time to travel with your kid to go play football or rugby or attend a swimming meet. But it's the frustration of how long it takes to get round, watching mid-handicappers taking an age to hit a putt or to tee off.
Do you think a stronger line needs to be taken at the top level?
Yes. I've suggested to the Tour that, for just one week (because I'm aware of the expense), let's have an official timing every game and see if pace of play improves. I guarantee there are guys who don't know they're slow. Nobody admits to being a slow player do they? Of a 156-man field, I reckon at the moment there are 120 guys not playing in their time.
How about a shot clock like in some snooker events? A lot of the guys right now just wouldn't be able to do that.
And who is slowest?
I'm often asked that. Well it's impossible to answer because every week, there are hundreds of them taking too long. If you had someone to say, "That's it. That's your time up." I bet a lot of them wouldn't even have their club out of the bag or their glove on their hand. Some of them would get a big shock.
You play with guys all the time who don't do anything until it's their turn. They've been trained or taught to do it that way. Then it's four swings, changing the club, throwing up the grass. You just can't do all that in your allotted time. If you have three players doing that… 100 players doing that… Oh man! They need to address it somehow.
Jeremy Ellwood has worked in the golf industry since 1993 and for Golf Monthly since 2002 when he started out as equipment editor. He is now a freelance journalist writing mainly for Golf Monthly across the whole spectrum from courses and Rules to equipment and instruction. He also edits The Golf Club Secretary Newsletter, a highly regarded trade publication for golf club secretaries and managers, and has authored or co-authored three books and written for a number of national papers including The Telegraph and The Independent. He is a senior panelist for Golf Monthly's Top 100 UK & Ireland Course Rankings and has played all of the Top 100 plus 91 of the Next 100, making him well-qualified when it comes to assessing and comparing our premier golf courses. He has now played well over 950 golf courses worldwide in 35 countries, right across the spectrum from the humblest of nine-holers in the Scottish Highlands to the very grandest of international golf resorts, but put him on a links course anywhere and he will be blissfully content.
Jezz can be contacted via Twitter - @JezzEllwoodGolf
Jeremy is currently playing...
Driver: Ping G425 LST 10.5˚ (draw setting), Mitsubishi Tensei AV Orange 55 S shaft
3 wood: Ping G425 Max 15˚ (set to flat +1), Mitsubishi Tensei AV Orange 65 S shaft
Hybrid: Ping G425 17˚, Mitsubishi Tensei CK Pro Orange 80 S shaft
Irons 3-PW: Ping i525, True Temper Dynamic Gold 105 R300 shafts
Wedges: Ping Glide 4.0 50˚ and 54˚, 12˚ bounce, True Temper Dynamic Gold 105 R300 shafts
Putter: Ping Fetch 2021 model, 33in shaft (set flat 2)
Ball: Varies but mostly now TaylorMade Tour Response