Assessing the 2010 Top 100 Golf Courses
Our detailed guide to how we assessed the golf courses for the 2010 Top 100 Golf Courses Rankings in the UK and Ireland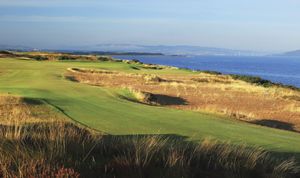 Golf Monthly Newsletter
Golf tips and expert instruction, golf club reviews and the latest golf equipment.
Thank you for signing up to Golf Monthly. You will receive a verification email shortly.
There was a problem. Please refresh the page and try again.
Throughout its 99-year history, Golf Monthly has produced articles and lists of the top courses. The magazine has always recognised the excitement and enjoyment courses bring to readers and how golfers relish debating the relative merits of course 'A' over course 'B'. However, it was not until 2002 that the magazine launched a formal course rankings programme with the first numbered list published in November 2004. The aim was to bring a new perspective and to produce a golfer's guide to the best courses we are so lucky to have on our doorstep.
Traditionally course rankings have been heavily influenced by the opinions of 'industry experts' such as golf course architects and elite players, and while we of course respect the views of those whose job it is to either create these works of art or to get round them in as few shots as possible, Golf Monthly wanted to offer independent rankings that club golfers could relate to. So our panel is made up of Golf Monthly readers, all of whom are very experienced, knowledgeable and enthusiastic golfers.
The current reader panel range in age from 27 to 72, and in handicap from 1 to 18. All are members of golf courses that span almost the entire geographical reach of the UK & Ireland: from Royal Dornoch in the north, to Tiverton in the south, from Rosapenna in the west, to Gog Magog in the east.
They are supported by Golf Monthly staff and a senior advisory panel that comprises Malcolm Campbell and Colin Callander, two former Golf Monthly editors; Michael Coffey, publisher of the Golf Club Secretary newsletter; and Derek Dobbs, who brings the experience and insight of being a course rater for the highly respected US publication Golfweek. This quartet have almost unparalleled golfing CVs. All have played the majority of courses on our list, though none can beat Derek Dobbs, who has notched up 97 of the new Top 100 and boasts a worldwide tally of over 3,000 courses played. Well travelled and well respected though the senior advisory panel are, they remain at the heart of club golfers.
The GM reader panel has never been more active and by the time the assessing window for the 2010 rankings closed at the end of September, they had played over 1,250 rounds of golf on contender courses. To play this much golf takes a rare effort, but the result is that almost all of our panel have now played more than 50 of the Top 100, with Tim Browne leader in the clubhouse having played 92.
Being a panellist may seem like a dream job as they get to play some of the best courses in the world, and they are of course extremely privileged. But they are not paid any remuneration or expenses and undertake their task for the love of the game. I thank them sincerely for their efforts.
How the courses are assessed
Golf Monthly insists that our reader panel complete detailed assessment forms after each visit. These reports can run to thousands of words and provide the senior panel with detailed insight of everything, from the condition of the bunkers to the facilities on offer to visitors.
Contender courses are judged by the following criteria: quality of test and design, presentation, visual appeal, enjoyment, and ambience. Panellists are briefed in detail on what elements to pay particular note to when assessing each criterion.
Every course received at least one visit during the assessing period to ensure our reviews are as current and accurate as possible. We believe it has never been more important to make up-to-date visits, since many clubs are investing significant amounts of time and money into improving their courses and facilities. As a result, standards have never been higher and competition for a place in the Top 100 never more intense.
Our Top 100: Subjective not definitive
No matter what other lists may claim, course rankings by their very nature can never be definitive. We acknowledge that this subjectivity will prompt much debate. However, that is the point of the rankings, and as such we welcome feedback and views from golfers and clubs alike, either by email or by posting comments on the Top 100 Courses section of the Golf Monthly website, golf-monthly.co.uk/top100
Before scrolling through our new Top 100, I would like to thank FootJoy for their fantastic support of the rankings. Their generous sponsorship has allowed us to produce more pages then ever and to invest in the very best photography available.
Finally, my biggest thank you goes to the clubs who hosted our panellists. Without their kind co-operation, producing these rankings would simply not have been possible.
Where next?
Golf vouchers: greenfree.co.uk 2 for 1: 2 for 1 golf vouchers
Mike has been a journalist all his working life, starting out as a football writer with Goal magazine in the 1990s before moving into men's and women's lifestyle magazines including Men's Health, In 2003 he joined Golf Monthly and in 2006 he became only the eighth editor in Golf Monthly's 100-plus year history. His two main passions in golf are courses, having played over 400 courses worldwide, and shoes; he owns over 40 pairs.
Mike's handicap index hovers at around 10 and he is a member of four clubs: Hartley Wintney, Royal Liverpool, Royal North Devon and the Royal & Ancient Golf Club of St Andrews.