Tiger Woods 2023 Masters Odds, Betting Preview, and Predictions
Tiger Woods returns to Augusta in the search of a sixth Green Jacket. Can Woods perform miracles once again, or is his time in the major championships up?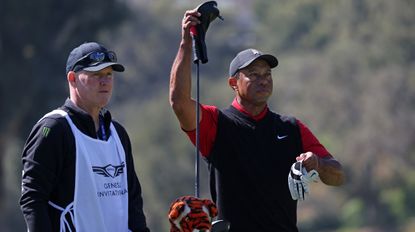 (Image credit: Getty Images )
Tiger Woods won the 2019 Masters, 14 years after his last win at Augusta. That was considered a miracle at the time, following his injuries, but he was in good form and had won the 2018 Tour Championship not that long before. Now, he's bouncing back again and maybe this time we need to temper expectations.
Last year Woods put a smile on many a golf fan's face when he made the cut for the 23rd time in his career at this course, with 1996 being the only time he's ever missed the weekend at The Masters. This time though he's got to put his body through immense pain again, and will it all prove too much, as it did at the PGA Championship and Open Championship in 2022?
Let's look at the latest Tiger Woods Masters Odds to see if there is a sensible way to bet on Woods, without needing him to perform heroics once more at The Masters.
If you are looking to bet on Tiger Woods this week, but don't know where is best to do so, then check out the Masters odds comparison grid now, for all the odds you need.
For the very best Masters betting promos see our exclusive offers below, which allow you to win bigger on Tiger Woods at Augusta this week.
Tiger Woods Masters Odds
Swipe to scroll horizontally
| Market | Odds | Implied Chance |
| --- | --- | --- |
| Tiger Woods to Win | +9000 | 1.1% |
| Tiger Woods Top 5 | +1400 | 6.7% |
| Tiger Woods Top 10 | +700 | 12.5% |
| Tiger Woods Top 20 | +240 | 29.4% |
Tiger Woods Masters Odds: Winner (+9000) Bet $100 to Win $9,100 at DraftKings
He couldn't again, could he? It seems so unlikely that Tiger Woods wins a sixth Green Jacket, especially with the leg injury he is currently dealing with.
He made the cut in his last start when making the weekend at Riviera, but in his past two major starts, he has missed the cut or withdrew, with injuries halting his ability to get around the course.
We should not be looking for Woods to win this weekend, with so much young talent chasing a Masters win, and with the likes of Rory McIlroy, Jon Rahm, and Jason Day still looking for their first Green Jacket, it would be a shock to see Woods win a sixth instead.
Tiger Woods Masters Odds: Top 5 Finish (+1400) Bet $100, to Win $1500 at DraftKings
Again this still seems unlikely. Chances are, even if Woods made it to Sunday within a few shots of the top 5, the stress on his body would likely take over and a tough final round could be on the cards.
Woods shot 72-76 over the weekend when defending in 2019, and he shot 78-78 last year when making the cut. This suggests his body does not allow him to compete at the very top for four rounds anymore.
Tiger Woods Masters Odds: Top 10 Finish (+700) Bet $100, Win $800 at FanDuel
Tiger Woods has played at Augusta 24 times in his career, and finished inside the top 10 on 14 occasions, including his five wins.
That means he has finished inside the top 10 over 58% of the time. Can he improve on that record, or will father time catch up with Woods this week at Augusta?
Tiger Woods Masters Odds: Top 20 Finish (+240) Bet $100 to win $340 at DraftKings
17 out of 24. That is the amount of times Tiger Woods has finished inside the top 20 at Augusta. That is almost a 71% strike rate, as he very rarely fell out of the top few pages of the leaderboard at The Masters.
If you are looking to play any plus-money Masters Bets this week on Tiger Woods this might be the one, as he could just about hang on for this finish, if he can recover ahead of his Sunday round in time.
Last year Woods was 19th heading into the weekend, but he was playing for the first time in 17 months that weekend, and rust certainly caught up with him.
Woods took another seven-month break after missing the cut at St. Andrews at last year's Open Championship, but he did play as recently as February, as he made the cut and posted two rounds in the 60s at Riviera.
Will that be enough to see him on over the weekend, if he finds himself inside the top 20 again? Again this looks a tough task even for the GOAT, but this is the best plus-money bet you can place on Tiger, unless you want to take the pessmistic appeoach and wager on him to miss his second Masters cut in 25 attempts.
In addition to hosting the Lost Fore Words golf podcast, Tom Jacobs has been writing betting articles on golf for the past decade. Tom also co-hosts the DP World Tour Picks & Bets show on the Mayo Media Network, and has his finger on the pulse on all the major Tours. A long-suffering Nottingham Forest fan, Tom also enjoys watching Soccer on the weekends!