2023 Phoenix Open DFS Picks and Targets: Top Plays for FanDuel and DraftKings
Matt MacKay provides the best DFS picks for the Waste Management Phoenix Open at both FanDuel and DraftKings for this week's stop on the PGA Tour.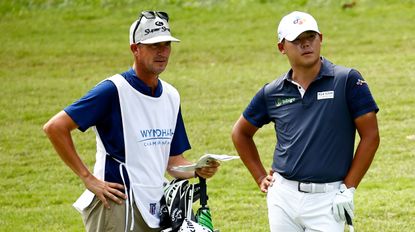 (Image credit: Getty Images)
After hosting three consecutive events in the Golden State, the PGA Tour will depart from California and relocate southeast to Scottsdale, Arizona, for the 2023 Waste Management Phoenix Open (opens in new tab). It's one of the most entertaining courses on the Tour circuit and will have a jam-packed field filled with top players like Jon Rahm, Rory McIlroy, and Scottie Scheffler, to name just a few. Players and fans will be treated to a more traditional, standard format at the WMPO, as the host course, TPC Scottsdale Stadium Course, will be played all four rounds, with the cut-line enforced after the first two rounds conclude. 136 professionals will tee off starting Thursday morning with their sights set on claiming the $3.6 million purse as the outright winner.
We haven't seen a field this packed in quite some time, as defending FedExCup champion Rory McIlroy will return from the DP World Tour, where he's been crushing opponents with ease. Meanwhile, Scheffler returns to defend his title at the WMPO, where he earned his first of four outright wins in 2022, sparking a lucrative year and worldwide recognition. The last time we saw a back-to-back winner at TPC Scottsdale was Hideki Matsuyama, who rattled off wins of -14 and -17, the latter occurring after outlasting Webb Simpson in a four-hole sudden-death playoff round. Of course, we can't forget Sam Ryder's first career Ace on the par 3 16th hole, sending thousands of fans into a frenzy as he sunk a hole-in-one. The energy will be palpable after a rain-soaked, windy weekend at Pebble Beach, where professionals were paired with amateurs, slowing the pace of the event and forcing play into Monday afternoon.
It's always fun to construct PGA DFS lineups on a slate like the one we're getting at the 2023 Waste Management Phoenix Open. The course rewards powerful tee shots and accurate ball striking. It has TiffDwarf Bermuda greens mixed with two-and-a-half-inch rough, surrounded by desert vegetation, 70 sand bunkers, and six bodies of water throughout its 18 holes. The par 71 track tips to 7,261 yards without any additional extensions this offseason. The higher altitude and warmer conditions should see tee shots, drives, and approach shots soar with precision while putting could gain velocity on the over-seeded putting surfaces. Historical winning scores fluctuate between -14 to -19-under-par, so there will be plenty of birdie opportunities for players.
I've identified six of my favorite prospects who will have a lot of red in their scorecard to help us cash out our DraftKings and FanDuel lineups. Let's find out why each of these players should be prioritized ahead of Thursday's opening tee times.
DraftKings - $50,000 Maximum Salary (6 players)
Rory McIlroy ($10,800)
We've only seen the reigning FedExCup champion play in one other PGA Tour event this season, where he collected the outright win at The CJ Cup in October, going 17-under-par for the win. McIlroy has been playing golf on the European leg, named the DP World Tour, where he's continued racking up outrights, T5s, and T10s. We've only seen the 33-year-old Irishman compete once at TPC Scottsdale, earning a T13 finish (-13) back in 2021. McIlroy is right behind Jon Rahm with the highest odds to win outright at the 2023 WMPO at +850, which means oddsmakers expect a flurry of birdies and sharp irons. McIlroy's game has hardly any flaws right now, so he's a safe blue-chip prospect to build your DraftKings lineups around.
Tom Kim ($9,100)
Tom Kim will make his debut at the Waste Management Phoenix Open on Thursday. The 20-year-old South Korean native burst onto the scene late in the season last year and wound up logging enough T10 finishes to qualify for the FedExCup playoffs, where he continued to deliver high-caliber performances. Kim is averaging over 92 FPPG on DraftKings and has only missed one cut, which he bounced back from with 26 birdies the following week. His irons are dialed, his driver is strong, and it's a course that allows players with Kim's skill set to thrive. Plug him in at a solid value of $9.1K on DraftKings.
Sahith Theegala ($8,500)
Sahith Theegala was one of the more impressive rookies in 2022 and has looked every bit at the part to start the 2023 season. Theegala has logged four T10 finishes in nine events and has only missed one cut while averaging 81.1 FPPG on DraftKings. In 2022, Theegala had a fantastic outing at the WMPO, drawing a T3 (-15) finish after starting off -12-under-par across the first two rounds. If he can maintain his composure down the stretch, expect another T10 at the Stadium Course, with an opportunity to challenge for the outright win, which would be the first win of Theegala's career. He's a huge value at $8.5K, so insert him into lineups with maximum confidence.
FanDuel - $60,000 Maximum Salary (6 players)
Scottie Scheffler ($11,800)
We haven't seen Scottie Scheffler play since The American Express a couple of weeks ago, but he's been posting elite numbers, logging three T10 finishes, including a T3, to start his 2023 PGA Tour season. Scheffler is the defending champion at the WMPO and will look to be the first player to defend his title since Hideki Matsuyama did it in 2016 and 2017. Scheffler is converting over 76 percent of greens in regulation, ranked seventh on the Tour, while also possessing an accurate, strong driver that gives him the ability to find the green in fewer strokes with minimal difficulty. Putting has been a bit of an issue, but with how tight his irons have been in recent events, expect Scheffler to linger near the top of the leaderboard throughout the weekend. Pay up to acquire the reigning champion.
Max Homa ($11,100)
Max Homa has an elite ball-striking ability and has also mounted comebacks in clutch moments, including most recently during his sixth career win at the Farmers Insurance Open. Homa has logged a T10 and a couple of T25 finishes at the WMPO while also falling outside of the top 25 on a few occasions. He's playing great golf right now, though, and his metrics reflect it. The 32-year-old native of California is ranked 23rd in strokes gained putting, 13th in strokes gained approaching the green, and ninth in strokes gained tee-to-green. He's a birdie machine, averaging 5.2 per round, and converts 73 percent of greens in regulation. Homa is 22/1 to win outright this weekend, but even if he doesn't achieve this feat, he'll still be producing at a high rate to be a massive asset in FanDuel lineups despite the elevated salary.
Si Woo Kim ($9,600)
My favorite salary-saver on FanDuel is 27-year-old South Korean native Si Woo Kim. We saw Kim earn an outright win at the Sony Open roughly a month ago, and he's logged consecutive T25 finishes at The AmEx AND Farmers Insurance Open since winning in Hawaii. Kim has logged previous finishes of T26, T50, MC, MC, and T62, so it'll be intriguing to watch him build off of recent momentum to crack a T25 finish at the WMPO finally. Kim is ranked fifth in total strokes gained, showcasing his accuracy with his irons while maintaining an accurate driver and converting over 71 percent of greens in regulation. At $9.6K on FanDuel, as long as Kim makes the cut and logs his first T25 finish at TPC Scottsdale, it'll be enough to keep your lineups in the green once Sunday's final round wraps up just before Super Bowl LVII kicks off down the road in Glendale, Arizona.
Matt MacKay is an avid writer, editor, and researcher. He enjoys analyzing the game from a fantasy sports and sports betting perspective. Music is another constant in his daily life. Matt loves spending time with his wife and three pets. He likes to read, listen to podcasts, and is constantly aiming to create the most accurate and engaging content in the sports betting industry.