Got £150 To Spend On Golf Gear? Here's What To Buy
We've compiled a comprehensive list of essential golf gear you can get for under £150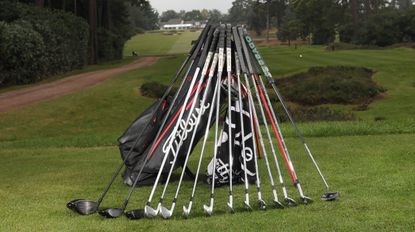 (Image credit: Golf Monthly)
Golf Monthly Newsletter
Golf tips and expert instruction, golf club reviews and the latest golf equipment.
Thank you for signing up to . You will receive a verification email shortly.
There was a problem. Please refresh the page and try again.
Got £150 To Spend On Golf Gear? Here's What To Buy
The cost of living crisis is a big issue all around the world. As everyone starts to feel the pinch, golfers especially might be thinking that they have to rein in their spending. We all know that golf is one of the most expensive sports around. From green fees, to a bag of new clubs, it is not the cheapest sport going.
But there are some awesome golf deals (opens in new tab) to be found if you know where to look. The constant innovation and increasingly short product cycles from manufacturers can be used to your advantage because 'old' stock that really isn't that old and is still fantastic quality can be had for knockdown prices. Also, it's a competitive marketplace out there so retailers are always offering deals to tempt you to spend your hard-earned cash – so why not spend it with them!
I've had a look through the special offers, clearances and sales at a whole range of golf-specific and more general retailers to identify a great selection of products that can be found right now for a total of £150. Each one individually represents fantastic value for money and it's great to see how far £150 can go if you're smart with your spending. There were loads of impressive deals to choose from, but I've set out below several of my favorites. You may also want to check out some of our other guides on how to beat the cost of living crisis and get good value golf gear. For example, check out our guides on the seven ways to make your golf gear last longer (opens in new tab), how often should you upgrade your driver (opens in new tab) and our guide on where to spend and where to save (opens in new tab).
Callaway Supersoft Golf Balls - £20.99
There are plenty of huge deals available on golf balls at the minute. Depending on what ball you want to play, there is certainly something on the market for everyone. In this case though we have found one of the best deals around and that is the discounted Callaway Supersoft golf ball (opens in new tab). This is a performance-enhancing golf ball that can provide great distance off the tee and superior control on the greens. Best of all though it is a very durable golf ball, that will last multiple rounds, meaning you'll not need to keep buying new golf balls.
You can pick up a pack of 12 from Amazon (opens in new tab) for a discounted price £20.99 with free delivery included. But if Callaway isn't your favored brand of golf ball, then why not take a look at some of the other great options we have featured in our guide on the best value golf balls (opens in new tab).
Cobra King PUR Wedge - £69.00
This is a fantastic wedge that was initially released back in 2017, but is still an excellent value option for any golfer looking for a high-quality wedge on a budget. Our Technical Editor Joel Tadman reviewed this club (opens in new tab) when it was first released and found that it offered excellent spin consistency and feel around the greens, in a similar vein to the original Cobra King wedges. And compared to modern-day clubs like the SM9, it can still hold its own as a high performing wedge that can help you score around the greens.
You can pick this club up for the very lucrative price of £69 from American Golf (opens in new tab) with free delivery. The club is only available in right-hand models, but you will be able to select which loft you'd like. American Golf currently have lofts available between 52º and 60º, so act fast before they sell out. If you're still wondering whether this wedge is right for you, then don't fret, our best golf wedges (opens in new tab) guide features a range of top-range wedges which you should also consider.
Stuburt Urban Flow Spikeless Golf Shoe - £24.99
The Stuburt Urban Flow Spikeless golf shoe is a lightweight offering that will provide you with excellent traction on the turf during the warmer months of the year. We had the pleasure of trying out the Stuburt Urban 2.0 shoes (opens in new tab), a very similar model to the Urban Flow, and found it to be a good quality offering from Stuburt, providing players with a summer golf shoe that was very comfortable to wear. And you can't go wrong a price of £24.99 (opens in new tab), if you're looking for a cheap and comfortable pair of golf trainers that will keep your feet cool during the summer months.
Adidas Tour Snapback Baseball Cap - £9.79
Having a good golf cap is very important on the course. Firstly it helps you look the part and secondly it can protect you from the elements. Adidas are one of the best sports apparel manufacturers in the world and you can almost guarantee a level of quality when purchasing their equipment. That is why I've chosen to add this brilliant and cheap offering to this list. This baseball cap is durable and will last a while, but will also give you great protection from the sun. The visor is long and shades your eyes, while its brilliant fit will stay on your head when you swipe through the ball. For that reason, it is an absolute bargain at £9.79 from Scottsdale golf (opens in new tab), that should not be missed. Take a look at our best golf hats guide (opens in new tab) for some of the best golf caps currently available.
Wilson Feel Plus Golf Glove - £5.99
Wilson are renowned as one of the best golf equipment manufacturers in the business and are also one of the most reliable. Golf gloves can wear and tear easily over time depending on how much you use them. For that reason, and if you're looking to make your equipment last to save money, you should invest in a good quality golf glove made by a reputable brand.
This glove fits that bill very well. It features a leather patch on its palm which will improve your grip on the golf club and reduce the amount of wear and tear the glove will experience over time. Plus the glove also has Cool Max Lycra inserts which are designed around the fingers of the gloves to wick away moisture. It can be purchased for as little as £5.99 and is a great option for any player looking to purchase top-quality golf equipment for a low price.
Yumzeco Golf Accessories Kit - £17.99
It can be very easy to spend a lot of money on the best golf accessories (opens in new tab). You can find some pretty hi-tech gadgets on the market, but being realistic, you don't always need the fanciest tools to play good golf. Really all you need are the basic tools to keep your clubs clean, put a square marker on your ball and a tool to repair the greens. In comes the Yumzeco golf accessories kit, available on Amazon for the fantastic price of £17.99. (opens in new tab) This pack includes six golf accessories including a microfibre towel, a divot tool, two permanent markers, 20 golf tees, a ball marker, and a club cleaning brush. That's incredible value for so many different tools.
Total Spend: £148.75!
So there you have it. Six core golf products (12 if you count each of the tools in the Yumzeco accessories kit) that you can purchase for under £150! Who said golf had to be an expensive sport, eh! But what's really great about this list is the quality of each of these items. From an excellent box of balls, to a top-quality and durable hat, you will certainly get value for your money here. All in all, any golfer would be happy to use and wear these products. And while I've given you a great run down of some of the best budget golf items, don't stop your search just here. Why not think about adding a cheap golf club set to your bag (opens in new tab), or a value-for-money golf cart (opens in new tab) to push your bag around on.