TaylorMade M2 Rescue Review
Watch the Golf Monthly video review of the new TaylorMade M2 Rescue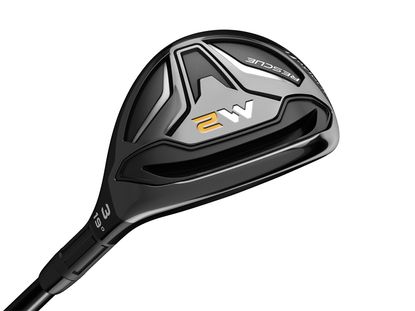 Watch the Golf Monthly video review of the new TaylorMade M2 Rescue
TaylorMade M2 Rescue Review
Built around a confidence-inspiring shape, the M2 Rescue was designed for players seeking power and forgiveness, with a new open-channel Speed Pocket on the sole that helps create a larger sweetspot and a lower centre of gravity for an easier launch.
Compared to the TaylorMade M1 Rescue, it has a larger shape at address from front-to-back that inspires confidence, but unlike the pricer M1 Rescue, it isn't adjustable, but instead has a fluted hosel that saves weight, which is used to boost its forgiveness further.
The new open-channel Speed Pocket has created a more noticebale sound at impact that took a little getting used to during our testing, as did the slightly larger profile, which looked great off the tee, but slighlty more cumbersome on tigher lies.
As with the M1 Rescue, a black gloss finish looks superb without reflecting too much glare from the sun. The black finish aso helps the white grooves on the sweetspot stand out more at address for better alignment, which is handy, as there is nothing to guide you on the crown.
Despite the larger slot design, it still feels great, and you can really feel it spring and power off the face into the distance when you find the middle.
Away from those lovely strikes it also perfromed admirably, epsecially from shots low off the face, where the Speed Pocket design comes into its own, meaning that all things consdiered, it has to be seen as offering good value at just £159.
Jake O'Reilly specilaises in equipment coverage, and joined the Golf Monthly team in 2013. Before this he graduated from the University of Huddersfield with a Sports Journalism and Media degree, and worked at a number of British golf magazines. Follow Jake on Twitter
@jake0reilly