Cheap Vs Expensive Putter Test - Inesis Vs Scotty Cameron
There is £385 in price difference, but how much difference is there in performance?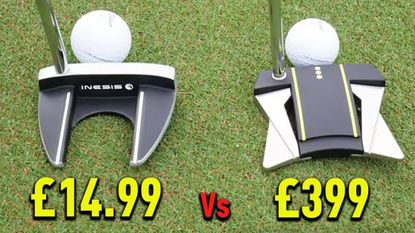 (Image credit: Golf Monthly)
There is £385 in price difference, but how much difference is there in performance?
Cheap Vs Expensive Putter Test - Inesis Vs Scotty Cameron
NEW FOR 2021 – FEATURED PRODUCTS
Golf Monthly is partnering with Titleist and FootJoy as our official golf ball, golf bag, footwear and apparel partners for this year.
Shop the featured FootJoy footwear and apparel worn in this video:
Cheap Vs Expensive Putter Test - Inesis Vs Scotty Cameron
In the video above, GM Editor Mike Harris pits the premium £399 Scotty Cameron Phantom X 12 putter up against the £14.99 Inesis 100 Mallet bought from Decathlon.
We see plenty of comments on our gear reviews that golf equipment is too expensive and stops people getting into the game, but a putter for just £15 shows that perhaps it actually isn't.
A £15 putter might be ridiculously cheap - but is it actually any good?
Watch our video test above.
We tested in three different categories on short, medium and long range putts.
The Scotty is a thing of beauty. A lovely design, a mix of aluminium and stainless steel to give it a great feel.
The Inesis is made out of zinc alloy and we could quickly tell that it is a lot lighter than the Scotty Cameron.
Short Range Test
We did a very non-scientific test to see how many consecutive putts we could hole with each on a dead-straight 3 1/2 footer up the hill.
The Inesis actually won this test, holing 10 in a row with the Scotty holing seven consecutive putts.
The Inesis 100 Mallet felt quite tinny and significantly lighter than the Scotty, which felt much smoother with a lovely feel and sound.
However, the proof is in the numbers and the Inesis did the job for its modest price tag.
Related: The Best Putters
Medium Range Test
We managed to hole one more putt from 12ft with the Scotty Cameron and felt like we had a little bit more control with it.
However, the results were very similar.
Long Range Test
We didn't notice much difference here either apart from the difference in feel between the models.
The Scotty feels very balanced with a lovely feel off the face whilst the Inesis sort of 'pinged' off the face.
Conclusion
The Inesis won the short range test but you'd probably say the Scotty won the medium and long range putts.
However, saying that, the results were close.
The Inesis 100 Mallet performed incredibly well for just £15.
It really is an entry level putter, perfect if you're just getting into the game or you're on a budget - this does the job.
Yes it feels lightweight, sounds a bit tinny, by contrast the Scotty Cameron is beautiful balanced, looks absolutely stunning and comes with a wonderful premium headcover too.
Scotty Cameron is all about great performance and beautiful aesthetics, and would be a great club to have in your bag.
But for £385 less you can get a putter that does the job.
If you are starting out in golf or are on a budget, you definitely don't need to spend hundreds of pounds on your flat stick.
Would you be happy playing with a £15 putter? Would you consider investing £400 in a putter? Let us know on social media
Location: Colmworth GC
Adrienne has playing and coaching professionally for over 30 years and she is now a PGA Fellow Professional which puts her in the top one per cent of PGA Members who has been accorded that status. She previously played on the Ladies European Tour for over a decade.
Greatest teacher:
As an amateur - and then as a player on the LET - I was taught to play (better) golf by the likes of Mickey Walker, Denis Pugh, Luther Blacklock and David Leadbetter. However, when I was an assistant PGA professional - learning my trade as a golf teacher - my first head PGA professional was (and still is) simply the greatest teacher I have ever known.
Jimmy was enthusiastic, engaging and enlightening, and his widespread know-how of golf and golf instruction - and how to connect with and truly inspire his students - was second to none. Jimmy would captivate his audience with ease and at that time his contemporary growth mindset was utterly infectious. I am deeply indebted to Jimmy for his help with my professional development and for his support in my becoming the impassioned golf teacher I am today.
Most common impact fault:
Incorrect weight distribution (i.e. leaning back through impact). So, I simply place a (model makers) matchstick in front of the golf ball and ask my students to 'strike' the match… and it works like a dream!)
Greatest teaching story:
John Willis, the founder and CEO of Power2Inspire, was born without fully formed arms and legs. As a 'direct result' (John's words, not mine!) of engaging in lessons with me - John is now striking the golf ball 100+ yards and is regularly enjoying playing the game at his local Par 3 course.