2015 Titleist Pro V1 golf balls launched
World's best-selling golf balls return with new cover for 2015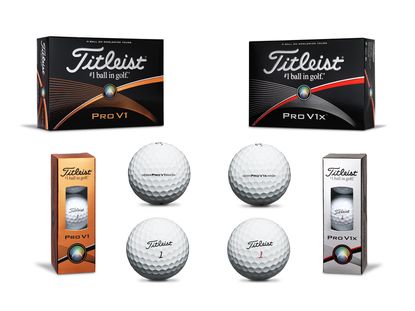 The 2015 Titleist Pro V1 balls feature a reformulated cover that offers a softer feel for better spin control, without affecting the distance on offer
The 2015 Titleist Pro V1 and Pro V1x golf balls have been introduced into the marketplace.
For nearly 15 years, these models have dominated the ball market across both the professional and amateur game.
With each launch there has been significant improvements, as you can see with our Titleist Pro V1 review from the last model in 2013.
So it's no surprise that for the 2015 Pro V1 models Titleist undertook unparalleled research and development, which included comprehensive testing with both professionals and amateurs.
The main enhancement for the new 2015 Titleist Pro V1 balls is a brand new thermoset urethane elastomer cover that delivers more short-game spin control and softer feel.
Related: 2015 Titleist Pro V1 review
Thanks to a new type of urethane, Titleist (opens in new tab) has managed to do this while still maintaining the distance, consistent flight and lasting durability you'd expect from a Pro V1.
The new softer cover formulation features on both the Pro V1 and Pro V1x, and is created by a chemical reaction that takes place during the casting process.
It differs from other premium balls as the 2015 Titleist Pro V1 utilises a thermoset urethane. This means the cover doesn't re-melt once set, which gives Titleist more control to dial in its desired properties of spin control, softness and durability.
Comparatively, the new Pro V1 has a softer feel, slightly more long game spin and a penetrating trajectory for a shallower angle of descent for more roll.
The Pro V1x offers a slightly firmer feel, lower long game spin and launches higher with a steeper angle of descent.
"Golfers often ask us what sets Pro V1 and Pro V1x apart from other golf balls," Bill Morgan, senior vice president of Titleist's golf ball R&D told GM.
"We have more people with more experience designing and making golf balls, the largest intellectual property portfolio and the most sophisticated precision manufacturing processes.
"The 2015 Titleist Pro V1 and Pro V1x golf balls are the culmination of all that knowledge and all of that technology."
2015 Titleist Pro V1 specifications
The Pro V1 and Pro V1x are both available from January 30th, and will retail at £51 per dozen.
Jake O'Reilly specilaises in equipment coverage, and joined the Golf Monthly team in 2013. Before this he graduated from the University of Huddersfield with a Sports Journalism and Media degree, and worked at a number of British golf magazines. Follow Jake on Twitter
@jake0reilly