Life's a Beach
Re-live the most astonishing of US Open golf tournament wins as Tiger Woods wins the 2000 US Open golf championship by 15 strokes at Pebble Beach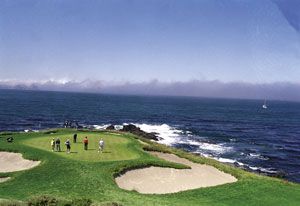 While Pebble Beach, as ever, looked at its immaculate best, the demons in the links layout would create a string of early problems for most of the field. The impossibly thick rough punished anything wayward from the tee; approach shots needed to be hit with deadly precision to hold the course's small and concrete-like greens.
As such, three-putts would become a common and repetitive issue for the mere mortals.
Colin Montgomerie It wouldn't pass a drugs test. [Commenting on Pebble Beach's rough following the opening round.]
Three years earlier, Woods had of course butchered Augusta National on his way to a record 12-shot victory in the US Masters. But such are Augusta's relatively wide fairways that a repeat – or anything approaching a similar margin of victory – seemed distant at PebbleBeach.
Still, Woods' brilliance throughout the opening round saw him head the field with a Thursday-low 65. For those who watched on, they could have been forgiven for thinking one man was playing a different course. He wasn't. But he was playing a different game.
John Garrity, Sports Illustrated On the Thursday afternoon the Monterey fog rolled over the course and forced a suspension of play that left Woods with a six-under-par 65 and the rest of the field with 4am wake-up calls.
Betting experts, writers and video producers. Couple of guys in our early 20's looking to bring the sport that we love into a new era.'