Michigan: Rock & Roll You'll Never Forget
Fourteen golf courses in 12 days, now that's my type of golf trip, golf, golf and more golf, but if you fancy a bit of fishing or any other outdoor activities, Michigan has all you need and much more. Throw in some stunning sunsets over the Great Lakes, great food and you have the perfect golf tour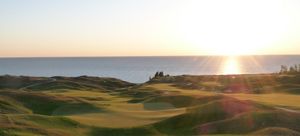 Up for a trip to America's awesome Great
Lakes? Come with us on a whistle-stop golfing tour of a lovely corner of north
central America bordered largely by water. Michigan's scenic Upper Peninsula is a
world away from the state's main centres of population and industry (which are
also worth a visit for their musical and automotive heritage) and offers a
superb selection of courses, on both natural and reclaimed land, to test and
hone your skills.
A warm welcome awaits, along with great value for money, too,
in this challenging economic climate.
James Mason is a senior contributor for Golf Monthly magazine and editor of planetgolfreview.com and has producing destination and equipment reviews for Golf Monthly, Greenside, and Middle East Golfer magazines. He has also produced destination features for Golf World and Going for Golf magazines and interviews for Middle East Golfer and Qatar Airlines. James was captain of Coventry university golf team and now plays off a 5 handicap.