Padraig Harrington and Gene Sarazen: Wilson Staff kit the best
From 1935 US Masters winner Gene Sarazen to modern-day great Padraig Harrington, Wilson Staff has kitted the very best golfers. Read all about the Generation Game and find out what's in the bag.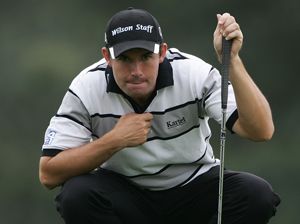 When Padraig Harrington steps onto the first tee at Augusta next month he will be doing so armed with the equipment that he believes will give him the best chance of chalking up the third leg of what has been described as the "Paddy Slam". Harrington is well known in equipment circles as a player who likes to have his gear set up "just so" and any kit that makes it into his Tour bag will have been rigorously tested by the man who won the Open Championship and USPGA in 2008. The line-up he will use in the Masters looks set to include a new set of prototype FG irons – which he has provided significant input on the development of – and the new Wilson Staff Smooth driver.
If Harrington does win the Masters it will be the 62nd Major championship that has been won by a golfer playing Wilson Staff irons – a record no other manufacturer can compete with. Indeed, when Harrington re-signed with Wilson Staff (opens in new tab) last November, he acknowledged the company's illustrious history at the top level.
"Wilson is more than just a brand name – it's a unique mixture of golfing heritage and modern research and development expertise that combines to produce outstanding clubs," he added. "I love being part of a tradition that includes the likes of Sam Snead and Gene Sarazen."
The evolution of golf equipment was put into its true perspective when Golf Monthly got to look at a set of vintage Wilson Staff clubs from the era when Gene Sarazen won the Masters in 1935 (and that Harrington was photographed with, opposite). Sarazen – who measured only 5ft 5ins to Harrington's 6ft 1in frame – was the first golfer to become a member of the Wilson Advisory Staff in 1922 and enjoyed a 75-year relationship with the company (the longest-running contract in sports history). He won all his 39 tournaments, including four Majors titles, using the brand.
The heavy leather bag has the words Wilson and Gene Sarazen embossed on it and inside are four 'Top Notch' woods (1-4) and three 'Sweepstakes' irons (4-6). The bag and clubs belong to Walton Heath club professional, Ken Macpherson. He was given them by his former boss and the legendary club maker, Harry Busson, who had brought them back from the USA in the late 1930s. Although there is no documentation to confirm that these were actually 'The Squire's' clubs, they were certainly the models played by the Wilson touring professionals of that era.
Padraig Harrington and former US Masters winner 'Gene Sarazen' pose with their Wilson Staff golf bags.
Looking at the irons, which seem ideal for buttering warm crumpets if not hitting golf balls, and the woods, of which the largest is roughly the size of a compact modern fairway wood, one wonders how the accomplished players of today would get on with them? If you were of Harrington's ability then the answer is quite well, according to Macpherson. "The old clubs had tremendous sweet spots and if you have the ability to consistently strike the ball from the centre of the clubs as the top players do, then I think the difference would be negligible compared to modern clubs.
"Where you do notice the difference is in the consistency. Modern players like to know down to the yard how far they will hit a club. With the old clubs, the difference in how far the ball goes between a perfectly struck shot and one not quite out of the middle is far too great for a modern game that relies so heavily on consistency and accuracy."
So, even though Harrington might well be able to card a good round with the vintage clubs you can be sure he'd want the very best equipment at his disposal come April 9. After all, playing Augusta can be unforgiving enough, even for a three-time Major winner.
Where next?
News: Wilson offer money back if Padraig Harrington wins Masters
Mike has been a journalist all his working life, starting out as a football writer with Goal magazine in the 1990s before moving into men's and women's lifestyle magazines including Men's Health, In 2003 he joined Golf Monthly and in 2006 he became only the eighth editor in Golf Monthly's 100-plus year history. His two main passions in golf are courses, having played over 400 courses worldwide, and shoes; he owns over 40 pairs.
Mike's handicap index hovers at around 10 and he is a member of four clubs: Hartley Wintney, Royal Liverpool, Royal North Devon and the Royal & Ancient Golf Club of St Andrews.