The birth of Arnie's Army
The original members of Arrnie's Army were quite literally in the US army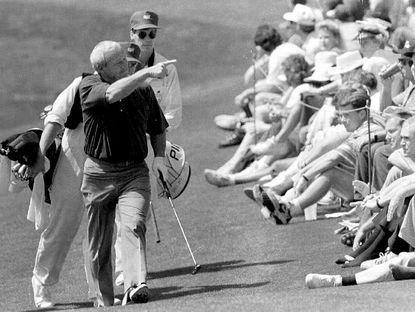 (Image credit: AFP/Getty Images)
The original members of Arrnie's Army were quite literally in the US army. Their recruitment came at the 1959 Masters
Arnie's Army is the name given to the fans of Arnold Palmer. Palmer's rise to golfing prowess came when golf was starting to be televised, and he grew a huge fan base as many more people began to see, rather than just read about, the top golfers.
Frank Chirkinian, who produced the US Masters for CBS for several decades, claims he knew that golf would be a success on television as soon as Arnold Palmer appeared on screen, cresting a hill at Augusta.
It was in the late 50s, and Palmer appeared silhouetted against the light, walking forwards purposefully, wide of shoulder, narrow of waist, strong of arm and hair neatly Brylcreemed. A television star had been found.
Added to his looks was his style of play - bold, adventurous, risk-taking. People found it, and him, compulsive viewing.
Jack Nicklaus came along and won more often than Palmer, but he never gained the support Palmer did. Jack was methodical, consistent, reliable. Palmer had a go-for-broke style. He could charge up through a leaderboard, he could win from unpromising situation. But he could also go broke on the course.
And they could celebrate that almost as much.
Palmer's performance on the 9th (now 18th) hole at Rancho Park during the Los Angeles Open of 1961 is celebrated by a plaque on the hole. His achievement there? He shot a 12, five times hitting the ball out of bounds.
Although 'army' can be a large amount of people, the army in the original Arrnie's Army was quite literally the US army.
In its early years, the Masters was not a popular tournament (opens in new tab). In order to attract people to come and watch, free tickets were given out.
Some of these went to the military from the nearby Camp Gordon (now Fort Gordon), where Augusta National co-founder Cliff Roberts had served for two years.
Augusta National had a history of supporting this base. The club used proceeds from the 1942 Masters to provide a putting green and driving range at Camp Gordon, along with golfing equipment. The GIs in return, manned the scoreboards at the US Masters.
Palmer recalls the 1959 US Masters, and those who had come as a free day out:
"A lot of the soldiers did not necessarily know a lot about golf, but when they found out that I was defending champion (opens in new tab) they joined my gallery. That prompted one of the GIs working a back-nine scoreboard to announce the arrival of 'Arnie's Army'."
"A year later, when I won my second Masters title, I thanked the 'army' of supporters who came out to follow me."
The Augusta Chronicle then ran a headline which referred to "Arnie's Army". The term Arnie's Army for those who supported Palmer had been well and truly born.
Contributing Writer Golf courses and travel are Roderick's particular interests and he was contributing editor for the first few years of the Golf Monthly Travel Supplement. He writes travel articles and general features for the magazine, travel supplement and website. He also compiles the magazine's crossword. He is a member of Trevose Golf & Country Club and has played golf in around two dozen countries. Cricket is his other main sporting love. He is the author of five books, four of which are still in print: The Novel Life of PG Wodehouse; The Don: Beyond Boundaries; Wally Hammond: Gentleman & Player and England's Greatest Post-War All Rounder.