Ian Woosnam: The US Masters winner on 2009
Looking back at some of the great contests at Augusta, Bill Elliott speaks to Ian Woosnam about his famous 1991 US Masters win.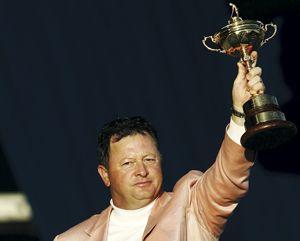 Through the second half of the 1970s he scrambled a living in Europe, but it wasn't much of a one. He travelled the continent in a creaking camper van and grew tired of eating baked beans cooked by his pal DJ Russell, who now works with Woosie on course design. But then the big ride began. In 1982 he won his first significant title. In 2001 he won his last. In all he has won 44 pro events around the world. The camper van has been traded in for his own plane and the cowshed has been trumped by a home in Jersey. The wee man has done very, very well indeed.
Never better, or prouder, than when he became the Ryder Cup captain of Europe, another ambition realised but one that came at a price. For Woosnam this was the media glare. He is not exactly comfortable when confronted by a microphone. Woosnam's natural habitat is the taproom, not the lounge. "You're right, but I was okay in Ireland," he says. "All I could do at the end of the day was be myself."
He says the captaincy is genuinely the biggest honour for him, bigger even than his Masters victory. "It stands higher than anything else. Yeah, even Augusta. Why? Because I was responsible for 12 other guys and, if you like, the European Tour. Christ, I was responsible for a continent. It was all about pride and passion. It was just terrific – and there's nothing fake about it either."
Just as there is nothing fake about Ian Woosnam. As a player, the Ryder Cup used to stress him out so much he usually suffered a painful outbreak of lipsores. Feeling this pressure always has been a problem and so he has learnt to try to relieve it using a technique known as HeartMath. He used this technique to help deliver his speeches in Ireland, thus providing evidence that it does work.
By the time you read this his 2009 season will have started for he plans a couple of Champions Tour events in California before playing in the European Senior Tour's DGM Barbados Open which, luckily enough, is at Royal Westmoreland. He finished number one in Europe in his first senior season last year, winning twice. His opening victory in Poland was his first strokeplay win for eleven, weary years. And it was hard. "I had a six-inch putt to win that one in Poland and, you know what, I was more nervous than the one I holed to win at Augusta. This game gets to you."
All this should mean he arrives in Augusta in great shape. "I'll see you there," he says. "We'll have a pint." Or maybe we'll break the habit of a lifetime and have a couple. Whatever, it will be fun. Always has been with Woosie.
Where next?
News: Latest Masters news Gallery: US Masters pictures US Masters history: Greg Norman 1996
Bill has been part of the Golf Monthly woodwork for many years. A very respected Golf Journalist he has attended over 40 Open Championships. Bill was the Observer's golf correspondent. He spent 26 years as a sports writer for Express Newspapers and is a former Magazine Sportswriter of the Year. After 40 years on 'Fleet Street' starting with the Daily Express and finishing on The Observer and Guardian in 2010. Now semi-retired but still Editor at Large of Golf Monthly Magazine and regular broadcaster for BBC and Sky. Author of several golf-related books and a former chairman of the Association of Golf Writers. Experienced after dinner speaker.